Missouri School of Journalism launches summer pop-up newsroom staffed by 11 current journalism students and recent graduates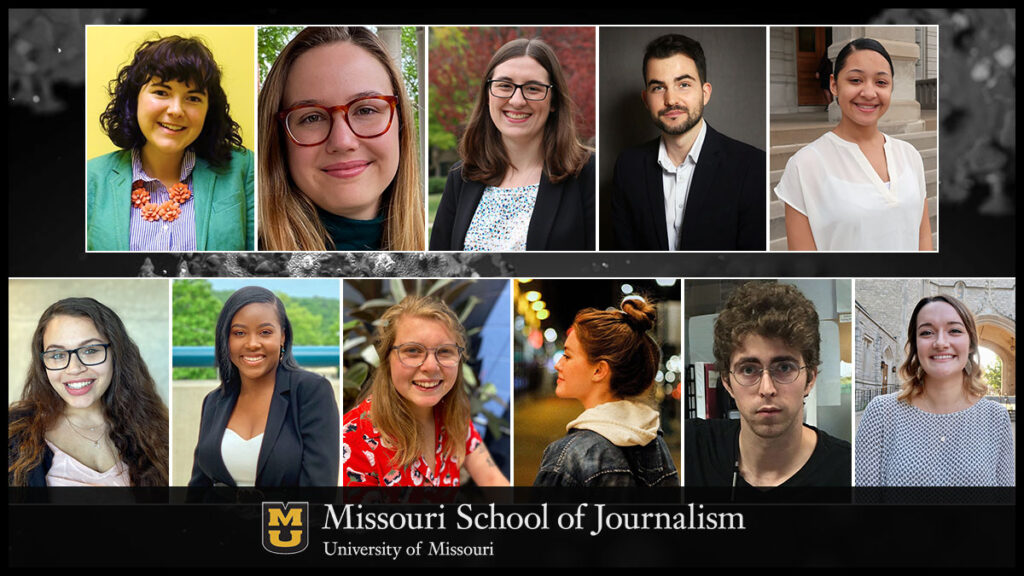 Working from May until August to cover the impact of the COVID-19 pandemic across Missouri, pop-up newsroom staff include Claire Colby, BJ '20; Madison Conte; Madison Czopek, BJ '20; Peter Georgiev, MA '20; Taylor Guidry, BJ '20; Regan Huston, BJ '20; Arin Jemerson, BJ '20; Madison McVan, BJ '20; Regan Mertz; Ty Stewart, MA '19; and Colleen Wouters.
The team will work from May to August to cover the impact of COVID-19 across Missouri.
Columbia, Mo. (June 2, 2020) — The Missouri School of Journalism has launched a summer pop-up newsroom – the Missouri Community Information Needs Project – staffed by 11 current MU journalism students and recent graduates to cover the impact of COVID-19 across Missouri.
The team is working from May until August, and is focusing their efforts on stories of statewide interest originating in smaller towns and counties that may be uniquely challenged by a lack of local media, local healthcare resources and broadband internet.
The stories, multimedia and data the team collects and produces will be made available for free to be used by any Missouri news outlet. This mirrors the approach taken by the School's Statehouse Bureau in Jefferson City.
"All citizens deserve access to high-quality information about and for their communities. These student journalists and recent graduates are helping to fill that niche during this unprecedented time," said David Kurpius, dean of the School of Journalism. "This is a way the Missouri School of Journalism can help our state, adding information resources at a time of great public need."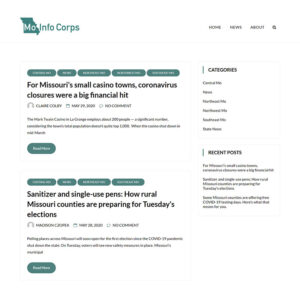 The collaborative newsroom will be working with partners both within the University of Missouri and around the state. This includes the School's newsrooms (community newspaper Columbia Missourian, NBC affiliate KOMU-TV 8, NPR-member station KBIA-91.3 FM), the Missouri Press Association, newspapers and broadcasters from Cape Girardeau to Maryville, and non-media partners such as the MU Office of Extension and Engagement.
"It's part of our mission to extend the resources of our university to support the citizens of our state," said Marshall Stewart, Vice Chancellor for Extension and Engagement at MU. "I'm proud that we're able to leverage our statewide network to collaborate with faculty, students and alumni from the School of Journalism to fill this critical need for Missourians in response to COVID-19."
The newsroom was created by Damon Kiesow, professor and Knight Chair in Digital Editing and Producing, and Kathy Kiely, professor and Lee Hills Chair in Free Press studies. Kiesow said they are calling it a pop-up newsroom (a term brought to Kiely and him by Reynolds Journalism Institute Fellow Fergus Bell) because it was created in response to the COVID-19 public health crisis and is currently expected to operate for a short period (three months).
"In the midst of a public health crisis, we need accurate information as well as inspiration more than ever," said Kiely. "This project gives our students and graduates an opportunity to put their training to use on behalf of our state. It's an investment in their future, and all of ours."
According to Kiesow the newsroom not only will benefit Missouri citizens, it will also benefit students. "The project provides these students with jobs and a sense of purpose in a time when both might be scarce."
The team will be led by graduate student Madison Conte and Ty Stewart, MA '19, as managing editors and will be supervised by Kiely and Kiesow.
Meet the student team:
Claire Colby, BJ '20, has been an assistant city editor at the Missourian and a staff writer for the Columbia Daily Tribune, the Boonville Daily News and the Virginian Pilot. This fall, she's enrolling in a program in law and public health.
Madison Conte expects to earn her master's degree in December 2020. She has been a supervising editor in the convergence newsroom and a podcast producer, reporter and anchor at KBIA.
Madison Czopek, BJ '20, has been a state government reporter, a Politifact reporter and an editor for Vox.
Peter Georgiev, MA '20, has worked as a reporter and anchor for Bulgarian National television and just completed an internship as an investigative reporter for NBC. Georgiev has also worked for the Investigative Reporters and Editors, conducting data analysis and cleaning data for newsrooms across the country.
Taylor Guidry, BJ '20, has worked on campaigns to boost the web presence and awareness of Shelter Insurance, the Initiative for Better Gun Violence Reporting, Red Robin and Spotify. She spent last summer in Tokyo working for the McCann ad agency.
Regan Huston, BJ '20, has worked as a creative manager at Vice Media, as well as a producer and reporter at Radio Health Journal, KBIA and Vox Magazine.
Arin Jemerson, BJ '20, minored in Spanish and worked as an editor and producer in the convergence newsroom. In January, she worked with a small Missouri newsroom to enhance its social media presence as a Reynolds Journalism Institute Potter Digital Ambassador.
Madison McVan, BJ '20, worked for the School's Statehouse a state government reporter for the Missourian, she broke a story about unsafe health conditions at the Smithfield meat packing plant in Milan, Missouri. She is proficient in Spanish.
Regan Mertz expects to earn her bachelor's degree in investigative convergence journalism next year. At Mizzou, she has worked in print (Vox), audio (KBIA and Global Journalist) and video (KOMU). She recently won election to the board of Mizzou's Science, Health and Environmental Journalism Club.
Ty Stewart, MA '19, worked as an assistant city editor at the Columbia Missourian. He is currently completing an internship as a statehouse reporter for the St. Louis Post Dispatch.
Colleen Wouters expects to earn her bachelor's in science, health and environmental journalism next year. She has worked at the Missourian and Vox and recently completed a semester at the UniLaSalle Institute in Beauvais, France, where she studied water and environmental science management as part of her environmental science minor.
The Missouri Community Information Needs project is being supported by the Walter B. Potter Fund for Innovation in Local Journalism, the 1908 Society and the School's Donald W. Reynolds Journalism Institute.
"It's an honor to be able to contribute to an effort that addresses both of my top concerns these days – fighting against the novel coronavirus and fighting for community news organizations," said Walt Potter, MA '81. "Supporting projects like this is what we created the Potter Fund to do."
About the Walter B. Potter Fund for Innovation in Local Journalism
In 2010, Walt Potter, MA '81, established the Missouri School of Journalism's Walter B. Potter Fund for Innovation in Local Journalism. The endowment supports teaching and research centered on journalism that serves small communities, such as towns in rural areas or individual neighborhoods in larger urban areas. Potter says his gift is in honor of his late father, Walter Sr., and is motivated by his career as a journalist as well as his positive experiences as a graduate student at the Missouri School of Journalism.
About the 1908 Society
The 1908 Society is a group of the School's most committed alumni and friends who make an annual investment in our priorities and critical needs. These flexible-use funds are directed by the Dean and allow us to continue our legacy of leadership, scholarship, training students and serving communities. You can learn more or join here.
Updated: November 12, 2020
Related Stories
Expand All
Collapse All
---