Pop-up newsroom serves MU students and state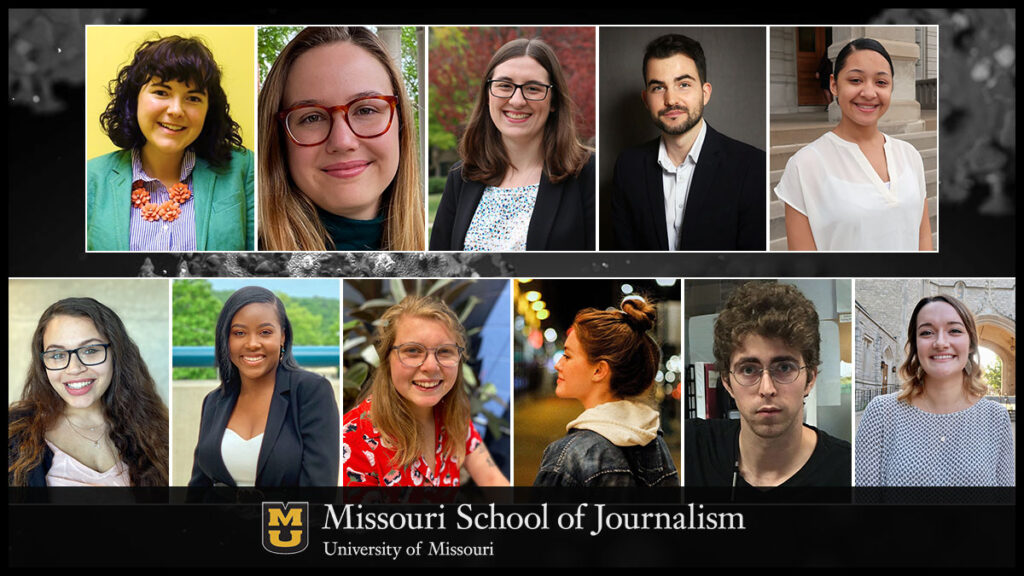 Working from May until August to cover the impact of the COVID-19 pandemic across Missouri, pop-up newsroom staff include Claire Colby, BJ '20; Madison Conte; Madison Czopek, BJ '20; Peter Georgiev, MA '20; Taylor Guidry, BJ '20; Regan Huston, BJ '20; Arin Jemerson, BJ '20; Madison McVan, BJ '20; Regan Mertz; Ty Stewart, MA '19; and Colleen Wouters.
The Missouri Info Corps put MU journalism students and graduates to work covering COVID-19's impact on small communities in Missouri
Columbia, Mo. (August 10, 2020) — Job prospects appeared grim this summer for some students and recent graduates from the University of Missouri School of Journalism.
A flailing economy awash in a pandemic doesn't bode well for bolstering young careers.
But savvy MU journalism professors recognized an opportunity that would not only support up-and-coming journalists, but also serve small communities across the state faced with their own challenges: a lack of local media, local health care resources and broadband internet.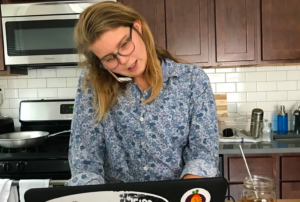 They created the Missouri Info Corps — a pop-up newsroom staffed and managed by 11 current MU journalism students and recent graduates charged with covering the impact of COVID-19 on Missouri. From May through Aug. 7, the team of eager young journalists virtually fanned out across the state, digging up stories and providing reliable information to local communities. The result was a plethora of stories, multimedia packages and data made available for free to any Missouri news outlet – the same approach used by the journalism school's statehouse bureau in Jefferson City. The stories appeared in more than 30 news outlets, ranging from USA TODAY to the Douglas County Herald.
Kathy Kiely, professor and Lee Hills Chair in Free Press Studies, and one of the originators of the pop-up newsroom, said the pandemic created the perfect storm for people stuck at home with their screens, searching for answers and falling prey to misinformation, a vulnerable situation especially true in small communities where traditional sources of information are increasingly hard to find.
"We are trying to step in to fill the gap and give students great experience," she said. "We know we are graduating really great journalists, so why not put them to work for the community and put them to work for the state of Missouri?"
The collaborative newsroom worked with partners both within MU and around the state, including the Columbia Missourian, NBC affiliate KOMU-TV 8, NPR-member station KBIA-91.3 FM), the Missouri Press Association, newspapers and broadcasters from Cape Girardeau to Maryville, and non-media partners such as the MU Office of Extension and Engagement.
Managing editors for the pop-up newsroom, Madison Conte, who expects to earn her master's degree in December, and Ty Stewart, MA '19, said collaboration with the other partners was key to developing sources and gathering reliable information. They even helped communities share information on local Facebook pages, such as how to properly wear a mask and where to find the closest COVID-19 testing site.
"Many areas don't have local newspapers anymore," Conte said. "So, we helped to put good information on social media and answer questions to help dispel misinformation."
Madison Czopek, who graduated in May from the MU journalism school and worked as a reporter for the pop-up newsroom, said the experience showed her the impact reliable information can have on a small community. Her coverage of COVID-19 in state prisons and elections in rural areas were eye-opening experiences for her and reminders that developing strong sources is integral to complete news coverage.
"It would be easy to cover this story without talking to prisoners, but I wanted to tell the complete story," Czopek said, who reached out to prison advocates to make contact with prisoners. "I feel really great about bringing awareness to an important population."
Damon Kiesow, another creator of the pop-up newsroom and professor and Knight Chair in Digital Editing and Producing, said the pandemic is the clearest example of an international story that is actually local.
"All the activity is local for every single person involved," he said. "It's just as important in New York as Jefferson City. It's an opportunity for communities and students to realize that all news is local."
Kiesow said the journalism school is interested in helping communities improve media literacy but acknowledges that the media industry needs to listen more carefully to how local communities want to consume news.
"There are not real gatekeepers anymore, which means you have to spend more time vetting what you read," he said. "The flip side is the industry needs to listen to the communities more and learn from them and look at our structure of local journalism. … It's a two-way conversation."
Learn more about how to contribute to the Missouri Info Corps and maintain a pop-up newsroom to support MU graduates and provide reliable information to small communities in the state.
A sampling of stories and multimedia packages created this summer by the pop-up news team:
Updated: November 13, 2020
Related Stories
Expand All
Collapse All
---