6 Missouri Journalism Students Win Dow Jones News Fund Internships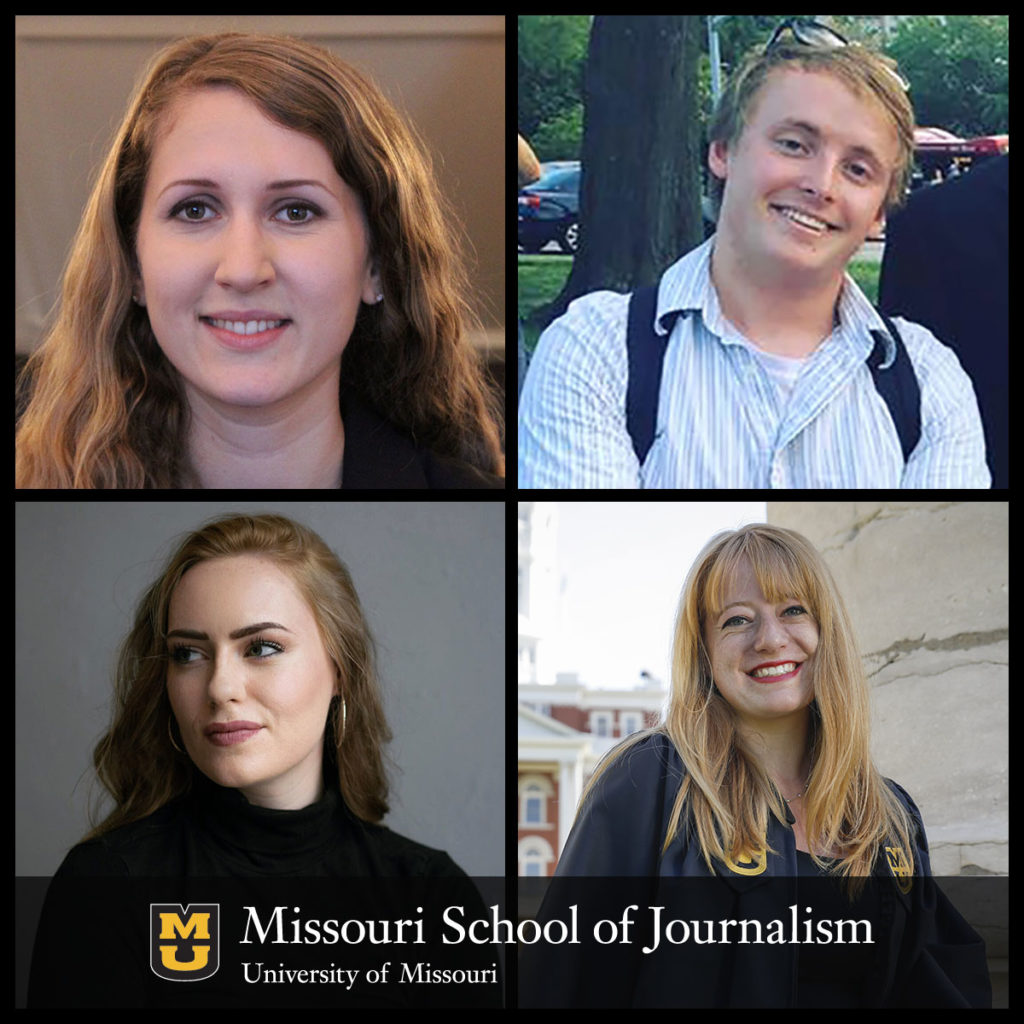 Clockwise from top-left: Iuliia Alieva, Alexander Derosier, Sarah Wynn and Rose McManus
The Program Includes a Paid Summer Internship and $1,000 Scholarship for Returning Students
Princeton, N.J. (May 18, 2017) — Six Missouri School of Journalism students are among the 85 undergraduate and graduate students who have won a nationwide competition for prestigious Dow Jones News Fund data and business internships for this summer.
They will work as data and digital journalists, business reporters and news editors in paid internships at 55 of the nation's leading news organizations. The News Fund received more than 750 applications last fall.
The summer internship program begins with a one-week training program before students report to work for at least 10 weeks at salaries starting at $400 per week. Those returning to college will receive $1,000.
Investigative Reporters and Editors, headquartered at the Missouri School of Journalism, will be the training site for the data journalism interns. These students will receive training in Excel, along with some deeper dives into SQL database analysis, mapping, data visualization and Python coding. The students will receive their pre-internship residence training at the School May 30 to June 4. This is the second year in a row that Missouri has served as the training site for data journalism.
Professor David Herzog will oversee the data journalism training program. The National Institute for Computer-Assisted Reporting is a joint program of the School and IRE. Other instructors will be Denise Malan and Cody Winchester, IRE training directors, and Charles Minshew, MA '13, IRE's data services director. Minshew was a part of the Denver Post news staff that won the 2013 Pulitzer Prize in the Breaking News Reporting category for coverage of the Aurora, Colorado, movie theatre massacre on July 20, 2012.
Among the national and regional news media partners are The New York Times, The Wall Street Journal, The Denver Post, Advertising Specialty Institute, Thomson Reuters, Philadelphia Inquirer, Philadelphia Daily News, the Kansas City Star, Barron's, The Salt Lake Tribune and The Dallas Morning News.
Iuliia Alieva and Alexander Derosier will attend the Data Journalism Program at the Missouri School of Journalism. Alieva will complete her internship at The Center for Public Integrity; Derosier, Southern California Public Radio (KPCC).
Rose McManus will attend the Digital Media Program at Arizona State before beginning her internship at The Palm Beach Post.
Sarah Wynn will participate in the DJNF Business Reporting Program at New York University and complete her internship at American Banker.
Kyle Brown and Emily Teoh will participate in the Centers for Editing Excellence training program at Temple University. Brown will complete his internship at The Kansas City Star; Emily Teoh, Pittsburgh Post-Gazette.
Updated: October 22, 2020
Related Stories
Expand All
Collapse All
---