Journalism: A ticket to see the world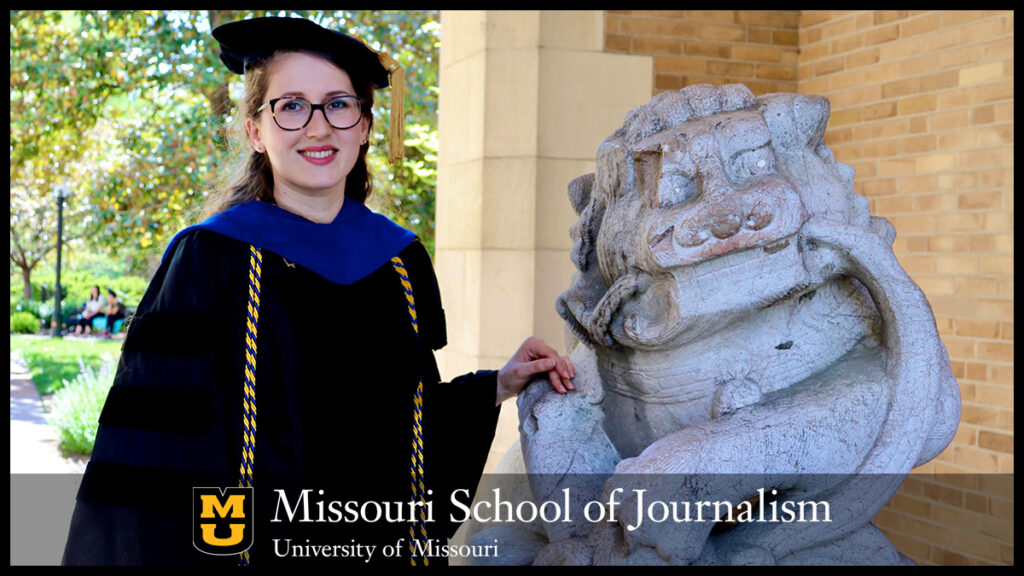 Doctoral candidate Iuliia Alieva lets her interests guide her way around the globe, one report at a time.
Columbia, Mo. (May 11, 2021) — As Iuliia Alieva, a doctoral graduate in the Missouri School of Journalism, approached her graduation in May, she didn't have much time to reflect. Teaching, writing her dissertation, searching for jobs and conducting research for her recently acquired fellowship occupied most of her thoughts.
One thing she did notice though, is that throughout her journey from Levokumskoe, Russia, to Columbia, Missouri, none of her accomplishments and professional experiences have been meticulously planned. Discovering new interests just led to one opportunity after another.
"It's just a lot of unexpected things happening in my life," Alieva said. "But I guess those are pretty pleasant, unexpected things."
This spring, Alieva was selected to be a 2020-21 Stanford-Russia Forum Fellow. She is one of 51 fellows chosen from a pool of students from more than 250 universities around the world.
The Stanford United States-Russia Forum (SURF) brings undergraduate and graduate students together to research topics that benefit the U.S. and Russia. It promotes collaborative dialogue between the two countries in order to develop mutually beneficial and innovative solutions. She says her research will examine "how international journalists overcome cultural, political and other personal biases in their professional work."
Over the years, Alieva has picked up skills in foreign languages, international relations, data journalism and politics. The SURF fellowship allows her to combine this unique, unexpected combination into one ambitious project.
Off to see the world
Alieva's interest in international journalism goes back to her childhood as a girl proficient at learning new languages and eager to see the world beyond her village of 10,000. Her mother helped her learn German, and her parents signed her up for private lessons with an English teacher. Her grandfather was the first to inspire her to practice these languages through travel – and to travel by being a journalist.
"He really liked reading newspapers," Alieva said. "And he would say, 'Oh, I can imagine you working for that newspaper, traveling and writing for them.' And I thought, wow, that would be a really nice idea."
So, when Alieva attended Pyatigorsk State Linguistic University, a university that specialized in international relations, she picked up a journalism minor and worked as a journalist part time. She completed a journalism internship in Prague and traveled to France to work on her French, both trips made possible by her university.
When the time came to look for a master's program, she decided to pursue a journalism program in the U.S. She applied for the Fulbright Scholarship and was chosen to come to Mizzou.
"That was their choice, but I really like their choice," Alieva said. "I'd heard that it's a very good journalism school, and I was glad that they chose Mizzou for me."
From Russia to Mizzou
Adjusting to Columbia took some time. Alieva had to move to a different apartment upon arriving when she realized that while in Russia, she'd selected an apartment too far from MU's campus. Getting around on a bike was a bit difficult at first, but with enough support, Columbia has become home. Getting a car has helped, too.
"I think Columbia is really nice and cozy," Alieva said. "I met a lot of people who helped me to actually settle here. I'm really grateful for all the support and help that I've received from the university."
While exploring the different specializations the MU School of Journalism offered, Alieva noticed a buzz around data journalism and the tools it offered to assist general and investigative reporting. It was a skill she wanted to try.
"I had one class, and then another class, and then I guess I had taken all of them from the journalism school's data track," Alieva said.
In 2017, she decided to apply her newfound interest to an internship with the Center for Public Integrity, an investigative journalism nonprofit covering money in politics. She received this opportunity after accepting the Dow Jones News Fund Data Journalism Fellowship.
Her biggest project to date, and her favorite, was with the CPI, researching the financial disclosures of lawmakers from across the U.S. She and her team coded the disclosures twice, once for lawmaker responsibilities and once more for their business interests, looking to see where they overlapped.
"I really liked the process, how we all were working as a team and somehow built the whole picture," Alieva said. "That was an incredible thing, to feel like you're a part of that work."
Broadening her skill set
After dipping her toe into the realm of politics, Alieva explored the field more by working full time for Voice of America, an international broadcaster funded by the U.S. From 2017 to 2019, she covered politics and U.S.-Russia relations, never knowing what the day would bring..
"And then I moved back to academia," Alieva said. "I thought it would be a great idea to mix all my interests together: data journalism, political communication, and all the professional experience I've gathered. I guess that I just continued developing my previous knowledge and building upon the previous expertise that I've got."
Now, as she completes her doctoral studies, Alieva looks forward to the work she can accomplish through the SURF fellowship, finding a way to apply all her interests and skills to an international initiative. Her next destination? She's sure to find it along the way.
"I think it's just a mix of luck and building on that knowledge and expertise," Alieva said. "We usually don't notice how it's happening. We are working on something, and we don't realize that it can be useful or helpful for something else. I guess, I will see where life will send me next."
Alieva was recently offered a postdoctoral associate position at Carnegie Mellon University.
Editor's Note: Iuliia Alieva is prounounced YOU-lee-yah   Ah-LEE-ye-vah; Levokumskoe is prounounced Le-yoh-KOOMS-koh-ye
Updated: May 11, 2021
Related Stories
Expand All
Collapse All
---