Missouri School of Journalism to recognize 403 candidates at May graduation ceremonies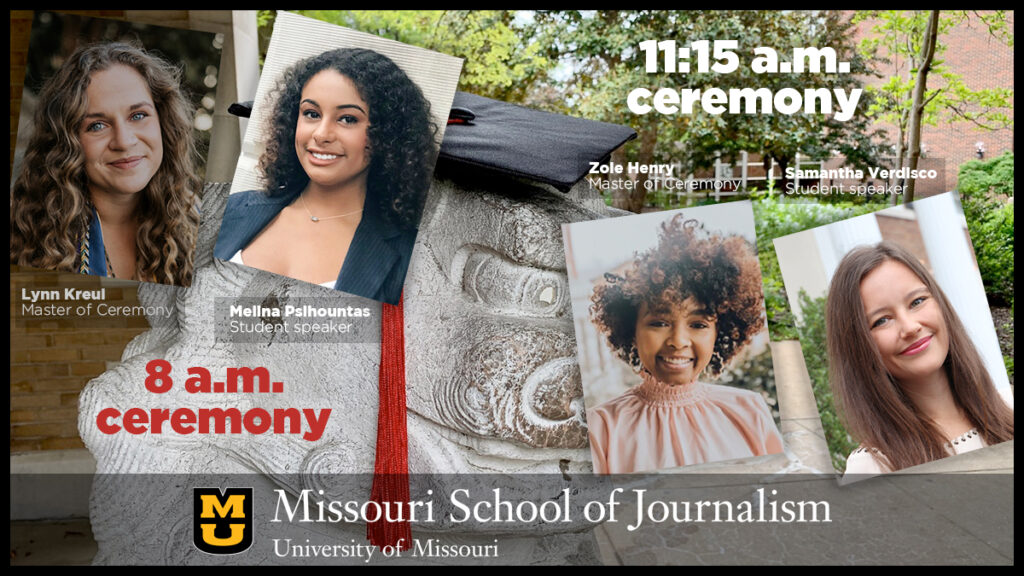 There will be two ceremonies to celebrate this year's class due to COVID-19 precautions.
Columbia, Mo. (May 11, 2021) — The Missouri School of Journalism will recognize its May and August 2021 graduates in two in-person ceremonies on Sunday, May 16. Both ceremonies will take place at Mizzou Arena.
Students whose last name begins with A – L will have an opportunity to walk in-person in a ceremony from 8 – 9:15 a.m.
Students whose last name begins with M – Z will have an opportunity to walk in-person in a ceremony from 11:15 a.m. – 12:30 p.m.
For those that cannot attend in person, a link to a live stream of the ceremony will be available on the MU Graduation and Commencement Live Streaming page.
To keep graduates and their guests safe, all ceremonies will be socially distanced, masks will be required at all times, and each event will not exceed one hour and 15 minutes to allow time for disinfecting between ceremonies.
Graduate degrees will be awarded to six doctoral candidates and 22 master's students.
Of the 375 undergraduates, 39 percent focused on some aspect of journalism; 61 percent on strategic communication. A total of 52 percent earned Latin honors by achieving at least a 3.5 grade point average.
The top 10 percent of the School's graduates were inducted into Kappa Tau Alpha, a journalism honor society founded at the School of Journalism in 1910. The 37 new members of Kappa Tau Alpha are:
Doctor of Philosophy: Iuliia Alieva, James Ndone, Joseph Jones, Erika Schneider
Master of Arts: Leslie Klein, Katherine Okker-Edging, Marilyn Vaca
Bachelor of Journalism: Alex Angle, Spencer Chaiken, Payton Cousins, Katie Cross, Mingyue Gao, Sydney Hahn, Lillie Vincent, Elizabeth Heger, Vivian Herzog, Andrew Hofbauer, Paige Kasten, Christina Long, Grant Miller, Linden O'Brien-Williams, Natalie Rath, Celia Rose, Tristen J. Rouse, Isabel Safrin, Alyssa M. Shikles, Morgan H. Smith, Riley Steinbrecher, Abigail Struttmann, Feiyu Su, Annabel Thorpe, Matthew Unthank, Samantha Verdisco, Emma Weatherford, Grace Witham, Madison Wright, Alice Yu
Master of Ceremony
The master of ceremonies for the 8 a.m. ceremony will be Lynn Kreul, who graduates with cum laude honors. She pursued a dual major in strategic communication and business administration with an emphasis in marketing. During her time at Mizzou, Lynn found her home through service, copious amounts of coffee and "amazing people she is lucky to call her friends." Originally from Republic, Missouri, Lynn will be leaving the Midwest to pursue a career with EPIC in Madison, Wisconsin as a project manager with an emphasis in accessibility.
The master of ceremonies for the 11:15 a.m. ceremony will be Zoie Henry, who focused her studies in radio-TV anchoring and reporting, with a minor in black and multicultural studies. Originally from the south side of Chicago, she grew up performing through dance and choir. Although she wasn't able to formally continue that routine in college, Henry says she picked up a new form off performance through television news that she's grown to know and love. After graduation, she has plans to work in television.
Thoughts of the Class
The student speaker for the 8 a.m. ceremony will be Melina Psihountas, who studied strategic communication, with a minor in Spanish and a Multicultural Certificate. Originally from St. Louis, Missouri, she is a George C. Brooks Scholar, served as content manager for MOJO Ad, is a member of Relevant Youth, the American Advertising Federation, and Trulaske School of Business Diverse Student Association. In her free time, Psihountas says she enjoys traveling, writing, photography, fashion and being creative.
The student speaker for the 11:15 a.m. ceremony will be Samantha Verdisco, who graduates with summa cum laude honors. Originally from Tampa, Florida, she studied strategic communication, with minors in Spanish and business, and a multicultural certificate. During her time at MU, Verdisco has been involved with Mizzou Alternative Breaks, Mizzou International Experience, Pi Beta Phi sorority, and Tour Team. She also was part of the School's MOJO Ad team. In 2021, she was named a semifinalist for the Fulbright U.S. Student Program, and inducted into Kappa Tau Alpha and Omicron Delta Kappa. After graduation, Verdisco will work as a junior copywriter for Moosylvania, an integrated marketing company in St. Louis, Missouri.
Honorary Degree
Each year the university recognizes prominent individuals, whether they attended the university or not, by presenting them with honorary degrees.
John D. Graham, BJ '59, chairman of FleishmanHillard, is being recognized during the 11:15 a.m. ceremony with an Honorary Degree of Doctor of Humane Letters, honoris causa. The honorary doctorate degree is the highest form of recognition offered by MU to persons of exceptional distinction.
The St. Louis native first joined FleishmanHillard in 1966, when it was just a small public relations firm with a single office. He quickly rose in the ranks, becoming CEO in 1974 and serving in that position for more than 30 years.
Under his leadership, the agency grew to become a major global media and communications firm widely regarded as one of the top crisis communications organizations in the industry, with more than 80 offices spanning six continents. 
Graham co-founded the Council of Public Relations Firms and serves as a member of various other public relations organizations, including the International Public Relations Association and the Public Relations Society of America. In 2002, the School of Journalism awarded him the Missouri Honor Medal for Distinguished Service in Journalism. 
More than 400 people have been awarded honorary degrees from MU since 1892. Past honorees include Presidents Harry S. Truman and Herbert Hoover; artist Thomas Hart Benton; author Samuel Clemens (Mark Twain); newsmen Walter Cronkite and Jim Lehrer, BJ '56; entrepreneur J.C. Penney; author and journalist Carl Rowan; Walmart founder Sam Walton; and singer-songwriter Sheryl Crow.
---
Melina Psihountas, BJ '21
"Thoughts of Class" – 8 a.m. ceremony
To the Class of 2021: First and foremost, I am so honored to have been chosen to speak in front of so many talented individuals as we come together to celebrate commencement. And the best part of giving this speech is that you'll never know if it's in AP style or not, or at least until they publish it to the website later. Did I ever mention how important copyeditors are?
Our education experience at the Missouri School of Journalism has been anything but ordinary. We all earned our stripes hauling rented cameras around downtown COMO, stressing over the many conjugations of the verb "lay" prior to the AP Style Exam, and memorizing enough landmark cases and important dates in Communications Law and History of Journalism to make anyone's head spin. Plus, we did not fall asleep at desks during boring lectures (okay, maybe during Econ 1000). In the end, it was all worth it in order to be seated where we are today as recipients of a Journalism degree from a University that lives up to its reputation as the home of the first and best Journalism school in the country.
As undergraduates, we already had the opportunity to work hands-on in our field with highly skilled faculty: KOMU, KBIA-FM, The Columbia Missourian, Vox Magazine, Missouri Business Alert, Global Journalist, MOJO Ad, AdZou or the NASC team. The Missouri Method is truly an experience like no other.
We are leaving our time at Mizzou having already put our in-class studies into real-world practice. Not only is the pen mightier than the sword, so is the keyboard, the iPhone, the laptop, the camera, the iPad, and all the other tools we as Journalism students use in our pursuit to bear the light of truth. Through our world-class education, a lot of hard work, and plenty of all-nighters, we are now prepared to take on whatever task that can be thrown our way.
Crank out a breaking news story on an impossibly short deadline? No problem. Cover a live sports event by yourself and assemble a multimedia package? Sounds good. Craft an out-of-the-box integrated campaign across social channels? You got it. We create, we capture, we drink a lot of coffee, and most of all, we are constantly curious. News by its very nature is disruptive, and we all are here today because we are not afraid of challenges. Instead, we face them head-on.
So even when the world threw a global pandemic our way with less notice than a newsroom, we exhibited the same resiliency we have with all of our setbacks. Classes went digital, social lives were reduced to group Zoom calls, and screen time reports went up. And the Class of 2021 masked up, socially distanced, and bravely continued working through a sea of uncertainty. Today, we made it through to the other side.
Class of 2021, Congratulations. The world is waiting to see all the places we go and the things we do. There is no doubt that Mizzou has prepared us well for our next adventure, and there is no doubt that we have the determination, the strength, and the light because we are journalists. Thank you.
---
Samantha Verdisco, BJ '21
"Thoughts of Class" – 11:15 a.m. ceremony
Nearly four years ago, after watching a once-in-a-lifetime total solar eclipse, our class packed into Middlebush Auditorium for our very first journalism lecture, J1010. In addition to learning about various career paths and why Vanilla Ice is the greatest philosopher of our time—shout out to Professor Amy Simons for that one—we were taught a simple yet profound lesson from a Branch Rickey quote: Luck is the residue of design.
Those words are just as true today as they were on our first day of college. From the start, our J School journey was anything but easy; I know this because we all experienced J2100, and all of our family and friends here today—who have never taken a Mizzou journalism class—understand exactly what I'm talking about without any further explanation. Just for fun, though, graduates, raise your hand if you failed at least one news writing assignment or quiz. Everyone, including my fellow writers, should be raising their hand.
The point is, we didn't make it this far in the world's best journalism school simply because we were lucky. Sure, on occasion, you might have wound up in the right place with the right camera equipment at the right time to cover a breaking news event, or scored a serendipitous interview, or had a random spark of inspiration hit you the tenth time looking over a creative brief.
You made it this far because you never gave up.
When sources bailed on you, technology failed you, a pandemic ensued, and everything that could've gone wrong went wrong, you persevered. You spent hundreds—if not a thousand hours—compiling research for your strategic communication campaigns, perfecting your radio voice for KBIA, editing news multimedia packages in the Futures Lab, designing layouts for the Missourian and Vox Magazine, mastering the craft of documentary filmmaking, shooting B-roll for KOMU and most importantly, creating your own good fortune all along the way. Because you didn't wait for a stroke of luck or some big break to hit you—you sought out those opportunities for yourself, even it meant pulling back-to-back all-nighters in the J Café.
The stories we've told, work we've produced and even the friendships we've formed here at Mizzou are the culmination of hard work and dedication driving our success. Never forget that.
Besides, if you can conquer the Missouri School of Journalism's grammar exam—AP Style, complicated spellings and all—you can accomplish anything.
So, here's to an extraordinary graduating class…we've designed our own luck since day one and will continue to do so in this next chapter of our careers.
Now get out there and go get 'em Tigers; as always, MIZ! (ZOU) Thank you!
---
John D. Graham, BJ '59
Honorary degree recipient and speaker at 11:15 a.m. ceremony
First, I want to thank the Faculty and the Board of Curators for this great honor.  As I told our group last night, over the course of my long career I have received my share of awards and recognition, but any recognition I have ever had doesn't come close to this. I am truly honored.  Thank you!
What a great privilege it is for me to have the opportunity to speak to graduates from the very best J school in the world. Congratulations to all of you.
In my 50 years plus at Fleishman Hillard I have been privileged to have been part of our growth and expansion from a small office in the Midwest to one of the most esteemed and largest firms in our industry with more than 80 offices around the world.
At the same time I've had the opportunity to work with many of the world's most respected companies and organizations as clients.  Along the way, I have learned a few things which might be useful to you in whatever career path you choose.
To gain additional thinking on this subject, I did what I have done repeatedly over the years… I asked for input from some of my Fleishman Hillard colleagues.  So, this list of suggestions not only represents my thinking but also the thinking of Fleishman Hillard staff members based in four different FH offices… Hong Kong, London, Dallas and St Louis. Many of those staff members are recent graduates and some are graduates of University Missouri J school.
I want to share with you a few of these observations. I'll keep it brief.
Remain confident in the education you have obtained and the skills that you possess. Don't be discouraged if you find the first job doesn't come right away.  By getting this degree you have already demonstrated your intelligence, communications skills and the ability to work hard.  Employers will continue to be drawn to that combination of attributes … and that will pay off for you throughout your career.    And, you've accomplished all of this during a pandemic.  If you first encounter …what is called… application rejection… don't let it impact the confidence you have in your qualifications, skills and education.
Follow your dreams. 

You will define what success means to you.  You will pave your own path in life and you don't have to follow traditions to be successful.  But, understand that your dream job may not be immediately available. That job may not even exist in a form you would recognize today.  It may take some time.  All of us have had dreams about what we want to do and what we want to become.  If those dreams don't seem to immediately start becoming true… Don't give up… Don't be discouraged… Keep those dreams in front of you and work to make them a reality.  Stepping out of your comfort zone will allow you to experience and learn as much as you can and get you closer to your dreams. 

When I graduated from this school my first job was writing greeting cards.  This was not my dream job.  But it was a great job and I learned a lot.   All of this helped me find a path to my next job which got me closer to achieving my dreams.

Your perspective matters right now. 

OK, so now you've landed that job and are embarking on building your future, the foundation upon which you will build a career.  How do you conduct yourself in this new place?  In past years, we would encourage our new hires at FH to mostly listen during their first several months of the job and there was some value in that.  But today, our newest staff members teach us what they know the minute they come in the door.  Sure, you will learn a lot from us and you will listen a lot … but you have perspective, insight, skills and expertise that we all need right away. 

Build your network. Maintain your network 

Few things will matter quite as much as the people you spend your time with.  The people you will work alongside.  They can become friends, confidants, mentors and at times an extension of your family.  Invest in those relationships.  Building personal connections will also help to raise your profile and allow you to gain knowledge and new insights that you may not have otherwise thought of.  It will help you for years to come if you build relationships with colleagues and clients.  A network matters now more than ever before.

Don't let the fear of failure keep you from saying "yes" when challenging opportunities present themselves.

 

Sign up for new challenges. Take the leap.  It's in the most challenging of circumstances that you will gain invaluable experience and perspective…  regardless of whether you will succeed or fail. Say Yes!  Get out of your comfort zone. It's important to experience and learn as much as you can as fast as you can.  You might just find your passion in places you never expected.  Remember it's OK not to know it all!  It's OK to be "new" and admit to it.  It's good to know from the start that the world of work can be very different from the world of school.  You may feel like a fish out of water at first.  But when an opportunity comes along say "yes."

Embrace the need to keep changing and learning. Your education and work continues everyday for the rest of your professional life. 

Our world and the tools we use are changing too fast for you to "check out" or stop learning. Keep evolving… Keep growing! 

Be open to a job that might not fit your preconceived notion; but learn from it. Many of our most senior leaders in our firm started as interns.  They may not have planned on starting that way, but they were open to it and worked hard to nail every assignment that came their way…even if it was a small assignment.   Keep an open mind.  Everything you learn now, I guarantee you, will start a skill set that will come in handy somewhere down the road.  Right now you can best use your youth to your advantage… to build your skills, enhance your knowledge of the world and develop an understanding of who you are and what you want to become.  In other words:  GO FULL IMMERSION!
Inclusion, kindness and respect will get your further in business and in life rather than trying to climb your way up the proverbial ladder and pushing others down along the way.

 

What more can be said.
Have Fun!  You have a terrific education… You have made friends with people you can continue to network with all of your life…go out and find that first job, that first interview may be the first step leading to following your dreams.I would like to leave you with this thought.You have a tremendous benefit going your way.  Journalism and Strategic Communications are among the most powerful professions in the world to open minds and drive meaningful, broad spread change for a better future.
The world needs what you will do now more than ever.  You are graduating at a time when the words and images we use have more impact than we have ever seen.  Your work will make a difference.
Again, I thank you for this honor and the opportunity to speak today.  Congratulations to the J School Class of 2021.
Updated: May 24, 2021
Related Stories
Expand All
Collapse All
---