School of Journalism to recognize 532 candidates at May graduation ceremony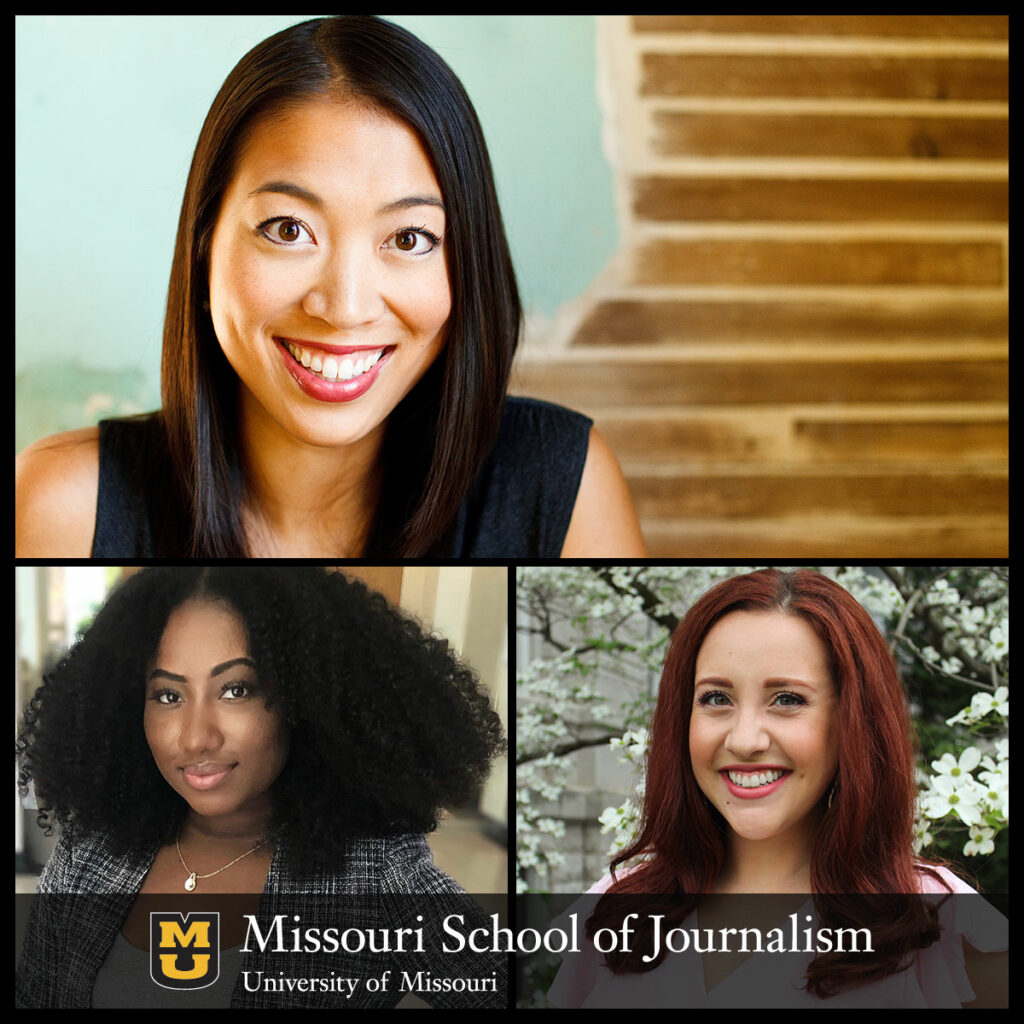 The Missouri School of Journalism will recognize 532 May and August graduates at its 6 p.m. commencement ceremony on Friday, May 17, at Mizzou Arena. The alumna speaker will be Elise Hu, BJ '03, a Los Angeles-based correspondent and video host for NPR. Antoinette Miller will serve as master of ceremonies and the student speaker will be Monica Harkins.
The program will begin at 6 p.m., Friday, May 17, at Mizzou Arena.
Columbia, Mo. (May 2, 2019) — The Missouri School of Journalism will recognize 532 May and August graduates at its 6 p.m. commencement ceremony on Friday, May 17, at Mizzou Arena on the University of Missouri campus. Seating is open, and no tickets are required. Guests can enter the arena for seating at 5 p.m.
Updated June 19, 2019:

Video of May 2019 J-School commencement. (1:37:36)
Graduate degrees will be awarded to three doctoral candidates and 54 master's students, of whom eight earned their degrees online.
Of the 475 undergraduates, 44 percent focused on some aspect of journalism; 56 percent on strategic communication. A total of 44 percent earned Latin honors by achieving at least a 3.5 grade point average.
The top 10 percent of the School's graduates will be inducted into Kappa Tau Alpha, a journalism honor society founded at the School of Journalism in 1910. The KTA reception will be held before the graduation ceremony from 3-4 p.m., Friday, May 17, in 88 Gannett Hall, Fisher Auditorium. The 44 new members of Kappa Tau Alpha are:
Doctor of Philosophy: Terry Britt, Heesook Choi, Di Zhu
Master of Arts: Devan Collins, Lisa Collins, Lauren Hieger, Peter Huoppi, David Orue, Emily Rackers
Bachelor of Journalism: Anthony Ashley, Gina Balstad, Megan Bartolac, Peter Baugh, Megan Buckallew, Ariana Catalano, Paige Cissell, Emma Claybrook, Isabel Crane, Alicia Freeberg, Alexandra Greenspun, Kyra Haas, Emily Hannemann, Katherine Herrick, Noah Higgins-Dunn, Emily Hurley, Beck Jaeckels, Haoyi Jiang, Eric Lee, Yujing Lin, Kaixin Liu, Mercedes Mackay, Phoebe Mussman, Daphne Psaledakis, Yuhua Ren, Grant Sharples, Nicole Sheinkop, Elizabeth Smith, Rachel Taylor, Jeremy Turley, Jenna Wade, Runjie Wang, Katherine White, Alexis Winter, Jordan Young
In addition, Associate Professor Ryan Thomas will also be inducted into KTA as a faculty member.
The alumna speaker will be Elise Hu, BJ '03, a Los Angeles-based correspondent and video host for NPR, the U.S. broadcast network that reaches 1,000 affiliate stations across the country. Previously, she was the founding bureau chief and international correspondent at NPR's office in Seoul, South Korea, where she was based for three years, filed from more than a dozen countries and responsible for coverage of the Koreas and Japan.
Before joining NPR, she was a founding reporter at The Texas Tribune, a non-profit digital news startup devoted to politics and public policy. Hu oversaw television partnerships and multimedia projects, contributed to The New York Times' expanded Texas coverage, and pushed for editorial innovation across the Tribune's platforms.
A magna cum laude graduate of the Missouri School of Journalism, Hu previously worked as the state political reporter for KVUE-TV in Austin, WYFF-TV in Greenville, S.C., and reported from Taiwan for the Taipei Times.
Hu's work at NPR has earned a DuPont-Columbia award for editing and a Gracie Award from the Alliance for Women in Media for her video series, Elise Tries. Her previous work has earned a Gannett Foundation Award for Innovation in Watchdog Journalism, a national Edward R. Murrow Award for best online video, and several beat reporting awards from the Texas Associated Press. The Austin Chronicle once dubiously named her the "Best TV Reporter Who Can Write."
Hu has taught digital journalism at both Northwestern University and Georgetown University's journalism schools. She's also served as a regular panelist on Korean broadcaster Arirang TV and a guest co-host of TWIT.tv's program, Tech News Today. She's on the board of Grist Magazine and is a member of the Council on Foreign Relations.
The master of ceremonies will be Antoinette Miller, who studied convergence journalism with an emphasis in TV reporting. She has reported for mid-Missouri's NBC affiliate, KOMU-TV, Vox magazine and NPR-member station KBIA-FM. She has been a member of the National Association of Black Journalists, Radio Television Digital News Association (RTDNA) and the Legion of Black Collegians. Miller plans to pursue a career in digital production and reporting for entertainment outlets.
The student speaker will be Monica Harkins, who studied broadcast journalism with an emphasis in reporting and anchoring, and also will earn a minor in business. Her work was included in KOMU-TV's winning digital coverage submission for a 2018 regional Edward R. Murrow Award. Harkins interned at KVUE-TV in her hometown of Austin, Texas. She also interned with Agence France-Presse, an international news wire, in Brussels, Belgium, as part of her study abroad experience. Harkins' activities included leadership roles and membership in the RTDNA, Kappa Kappa Gamma sorority and Mizzou Off-Broadway. After graduation, Harkins will be a weekend anchor and multimedia journalist for ABC 36 News in Lexington, Kentucky.
---
Monica Harkins, BJ '19
"Thoughts of the Class"
I'm going to start with three letters that should sound familiar to graduates: CCC.
The CCC, or central compelling character, is the basis of our journalism education here at Mizzou. No matter the emphasis, over the past four years we have been learning to tell the stories of other people, or characters, in our community.
As most of our family and friends can attest to, journalism and strategic communication students here have a competitive grit to push not only our peers, but ourselves to be the best at what we do. We've traveled from across America, from down the road, and even other countries to study here at the Missouri School of Journalism.
With this passion to work hard, it's no wonder we've been molded by the work we've done and the people we've met. These CCCs, the central compelling characters, have influenced our perspectives and molded who we are today.
We each have a different story about our degree path, but we are united by our experience at the BEST and FIRST school of journalism in the world. You deserve this day, you are ready and one thing we often forget to tell ourselves, you are good enough.
Every step you took to get here helped you earn the privilege to say you developed an ad campaign for a real client, reported for a city newspaper, aired a story on an NPR station, or produced for an NBC affiliate, just to name a few things. The Missouri Method of hands-on, professional-level work has transformed us. Our mentors and teachers have put in their work to help guide us.
Now, there's only one thing left to do, and to quote one of my biggest role models, my dad, it's time to "make yourself proud." As we head out to the next chapter of our lives, we can only do the work that makes ourselves proud, because I promise our standard for ourselves is way higher than any job requirement.
Some of us came to Mizzou without a single person to call a friend, but that didn't last long. We have had people who have made sure we made it to class, even at 8 a.m., sometimes trekking through the snow. People who re-shoot an entire Chevy Bolt commercial the day before it's due because the Premiere video-editing system crashed. People who stay up all night to triple-check the numbers to get the story right. People who step outside their comfort zones studying abroad. People who don't know your name, but become an instant friend at the slightest mention of M-I-Z. We came to this school for the incredible education, but we're leaving with much more than that. We are leaving with family. Or as most of like to say, the Mizzou Mafia.
If you remember nothing else, remember a new version of the CCC: Each and every one of you is a central part of this school's success and respect. Each of us is a compelling, creative individual that will forever be a part of the Missouri School of Journalism Class of 2019's character. Another chapter of your life, the next version of you as the central compelling character, is just starting. Congratulations, make yourself proud and enjoy the journey!
Elise Hu, BJ '03
Alumna Speaker
Thank you to the Class of 2019, family and friends here today, and to the faculty and staff. I know y'all are not here for me but for your graduates so, lucky for you, I am a broadcast journalist and very good at keeping to time.
It's a crazy honor to be here again, getting to SPEAK to y'all. When I was in school, I looked like such a mess that one October, Lynda Kraxberger asked me, "Is that your Halloween costume, or are you just dressed like that?"
I also almost didn't graduate because of so many unpaid parking tickets for parking illegally along Hitt Street.
But after that was squared away, I left Columbia to begin my career and for the entire 15 years since, I have been a working journalist. Honestly, that's a fact that surprises even me, given the turmoil the industry's been under for my entire adult life.
In those years I have covered a lot of news in places that were foreign, like South Korea, and places that just felt foreign, like South Carolina. I've been away from the wonder that is toasted ravioli for a long time. Too long.
What I love about being a journalist is that you're always learning. So, what have I learned?
I would say one thing that's really stuck with me is: Do not look at the flash or fireball from the tip of a missile. It can blind you. That nugget comes straight from an emergency alert handout I received while in Guam, covering the North Korean threat.
I was there because I had moved to South Korea to open up NPR's first-ever Korea and Japan bureau in 2015. I ended up covering the region during some crazy stuff. The U.S. went from a stable stalemate with a rogue nuclear state, to a tense standoff in which Kim Jong Un mentioned his nuclear button and the U.S. President said his button was bigger, and then it escalated to threats of fire and fury from President Trump and North Korea's plan to possibly bracket the U.S. territory of Guam with long-range missiles.
Other items from that Guam handout included news you can use like: Fallout shelters do not need to be specifically constructed for protecting against fallout. Remove your clothing immediately to prevent radioactive material from spreading. Do not use conditioner because it will bind radioactive material to your hair. All on the handout!
I will share other reflections today. But if you feel yourself tuning out and only have the bandwidth to retain one bit of practical, potentially life-saving advice, remember: Do not look at the flash or fireball from the tip of a missile!
Don't Plan, Man
When people ask me how I wound up in South Korea, how I became an NPR foreign correspondent, or, for that matter, how I wound up as a judge for the Air Sex regional competition (true story), the answer is I didn't really mean to. I do very little life planning. But I AM guided by principles. I have overarching principles I adhere to, and then release the controls on everything else.
When I was offered a job as a foreign correspondent, I'd never even set foot in Korea. But instantly I agreed to move my husband, two-year-old daughter, the fetus in my belly, beagle and my two cats over to Seoul, the South Korean capital of 10 million people where I didn't know anyone and didn't speak the language. This was one of the best snap decisions I've ever made, and it wasn't THAT snap. All I did was apply the job opportunity to my principles test.
My tests are: Will this next thing help me learn and grow? What is the team like? Will I be surrounded by people who will teach me and help me improve professionally and as a human? And is this next thing meaningful in some way, does it carry with it a sense of purpose?
Those are my questions. I recommend developing some of your own. HAVING a set of questions that the next thing you do has to answer helps form a framework for going forward. It makes decision points easier. Be guided by principles and you can't take a misstep – you'll be doing what's right for you and your own journey.
On Personas
Make sure the journey you are on really is your journey. This can be hard these days, because we spend a full QUARTER of our lives on screens, on social networks, which has created an age of endless visual comparison.
At some point you will realize that whether someone is skinnier than you, or has more money, or landed that great job doesn't matter in the scheme of the life you are leading. Someone else's success is not the enemy of your success.
You undoubtedly are talked to about being your own brand, or developing an online presence as you start looking for jobs. As someone who has been on Facebook since I graduated (which is also when Facebook first came out) and then gamely joined every social network since – remember this: Worry about the product, not the brand.
You do you, and don't waste your time pretending to be somebody that you think might fare better online. You can't craft your life according to some template that's shown in your feed. Embrace your own messiness and quirks. You're the only one who has what YOU offer.
And for what it's worth, everyone who looks like they have it together has her own battles. The indispensable Joan Didion put it best: "To have that sense of one's intrinsic worth – which constitutes self-respect – is potentially to have everything."
On Partners
What's helped me appreciate the truth of that is failing sometimes. You are listening to a three-time failure at working at the Washington Post. The college-graduate-me would have JUMPED at the chance to work at the Post. But twice I turned the Post down, and they turned me down once. (Not that I'm keeping score or anything.)
The times I turned them down was for life reasons, not career ones. I was newly pregnant with my first child when I got my first offer. And then I stepped back for my husband's career when I got my second.
Which brings me to my final piece of advice today, which about your partner, if you choose to partner up.
When I got the Seoul posting, my husband GAVE UP his job at the Wall Street Journal, and his identity as a journalist, when he agreed to move our family overseas. He instantly got elected as PTA secretary for our daughter's preschool, though! The PTA president said, "Oh, you were at the Wall Street Journal, you must be great at taking notes!"
Comedian Chris Rock talks about how in a marriage, you're in a band and if you're in a band, someone's gotta play the tambourine. If it's your turn to play the tambourine, play the hell out of it, play it like Tina Turner!
So, when we went to Korea, my husband made a sacrifice of his own ideal, individual future to allow me to have mine. Make sure that who you choose to spend your life with will value your dreams and know they're vital to who you are.
And it goes both ways. When it was time to come back to the states, it was my turn to play the tambourine. And it meant saying no to the Post again. And for a valuable reason: my family. If you can find a way to integrate your family with your work life, that is a success worth celebrating.
Which brings me back to Guam. When Kim Jong Un pledged to bracket Guam with missiles, it happened on a Wednesday afternoon and I needed to be on a flight first thing the next morning. But I had a three-month old infant at home who I was nursing, Baby Luna. So, she needed to come with me, since my breast milk was her only source of food. If the baby came along, my husband needed to come with me, to take care of her while I was reporting. But that then meant my two other girls, ages two and four at the time, also had to come. So, I crept into their room in the wee hours of the Thursday morning to wake them up with packed bags saying, girls, wake up, we're going on a surprise holiday to the beach!
Technically I wasn't lying.
Your life and your work CAN integrate and sometimes it's messy and sometimes it means taking your kids into a place targeted by intercontinental ballistic missiles, but also the beaches and sunsets are beautiful.
There was no missile test that time. And suddenly the two sides were hurrying to meet and make friends, which capped my time in Korea. By last summer I was in Singapore to cover a summit and handshakes between two world leaders with big brands, Trump and Kim.
Life comes at you fast. One day you're covering what might turn into a nuclear standoff, the next you're at the first-ever summit between the U.S. and North Korean leaders and the president is saying he fell in love.
One minute you're sitting in those seats, thinking about everything else besides whatever your commencement speaker is saying, and the next you're standing up here giving the speech.
Inhabit every single moment before it fades into the next.
Life – and missiles – can turn on a dime – especially if they are the really good, guided kinds.
Congratulations, Class of 2019. I wish you a principle-driven life of moving beyond borders (real or imagined), of making success what *you* define it and remember: Never look right at the fireball, it can blind you.
Updated: May 10, 2021
Related Stories
Expand All
Collapse All
---