Ornaments Depicting the Missouri School of Journalism and Reynolds Journalism Institute Will Decorate the 2008 Missouri State Tree in Washington, D.C.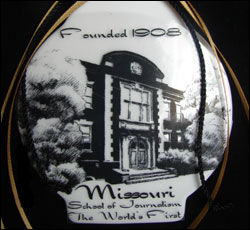 Columbia, Mo. (Nov. 19, 2008) — The 2008 Missouri State Tree in the Pathway of Peace will be adorned with official ornaments depicting the Missouri School of Journalism, the world's first, founded in 1908, and the Donald W. Reynolds Journalism Institute, which was dedicated Sept. 12.
The Pathway of Peace, which surrounds the National Christmas Tree in Washington, D.C., is a collection of 56 trees that pay tribute to each state, five U.S. territories and the District of Columbia. Each year, volunteers from across the nation design ornaments for each state tree that symbolize for the history, heritage and culture of that region. A total of 50 ornaments decorate each tree. The National Christmas Tree lighting ceremony will take place on Dec. 4.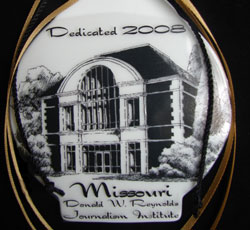 One of the ornaments depicts the School's first dedicated building, Jay H. Neff Hall. Ward A. Neff, BJ '13, donated money for the building in honor of his father, Jay, a newspaper publisher from Kansas City. Jay H. Neff Hall was dedicated in 1920.
The second ornament showcases the Donald W. Reynolds Journalism Institute (RJI), a solution-oriented center for ideas, experimentation and research. RJI brings together professional journalists, scholars and industry leaders to collaborate and connect with citizens. It was funded with an initial grant of $31 million from the Las Vegas-based Donald W. Reynolds Foundation, a national philanthropic organization founded by the late media entrepreneur for whom it is named. Donald W. Reynolds earned his bachelor of journalism degree from the School in 1927.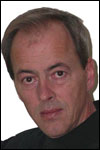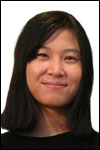 Columbia artists Mark Langeneckert and Eon Ju Jeon designed the two ornaments.
Neff Hall and RJI are two of the seven buildings of the School's complex. Others are Walter Williams Hall and the Journalism Arch (1937), KOMU-TV station (1953), Neff Annex (1962), Gannett Hall (1979) and Lee Hills Hall (1995). More information about these facilities and other historical items are available on the Centennial Timeline.
The official ornaments can be ordered from the Missouri State Tree coordinator: Rita Lynn O'Hara of Lee's Summit, Mo., by calling 800-724-6194.
Updated: April 30, 2020
Related Stories
Expand All
Collapse All
---