Missouri's First Newspaper to Be on Display during Missouri Journalism Centennial/Dedication Celebration
Columbia, Mo. (Aug. 19, 2008) — An original copy of the Missouri Gazette, published in 1808 as the first newspaper in Missouri, will be on display throughout the Missouri School of Journalism Centennial and the Reynolds Journalism Institute (RJI) Dedication Celebration to be held Sept. 10-12 at the University of Missouri.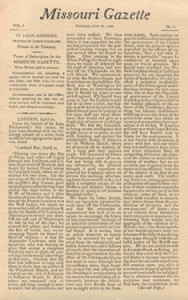 Datelined "St. Louis, Louisiana," the Vol. 1., No. 3, issue of the Missouri Gazette was published 13 years before Missouri was admitted to the Union. Also on display will be the Vol. 1, No. 1, issue of University Missourian (now the Columbia Missourian). The paper was published Sept. 14, 1908, at the end of the first day of classes at the world's first journalism school. For 100 years, the Columbia Missourian has served as the hands-on newspaper laboratory for Missouri Journalism students, who produce the paper's content under faculty supervision.
The copies will be available in the Marvin D. McQueen Rotunda of Lee Hills Hall at the corner of Eighth and Elm streets. The first issue of the Columbia Missourian's second century will be added to the display on Sept. 14, 2008.
Another presentation of historical newspapers, titled "Front Pages, A Century Apart," will showcase some of Missouri's newspapers that have been in existence for at least 100 years. Sponsored by the Missouri Press Association, the display of front pages from 1908 and 2008 issues of select newspapers will be shown side by side in the Frank Lee Martin Journalism Library Foyer.
The displays will be part of a three-day celebration to commemorate the 100th anniversary of the School and the grand opening of RJI, the advanced studies center for journalism. A full slate of activities is planned, including more than 35 interactive journalism sessions featuring the nation's top journalists, 27 technology discussions, seven museum exhibits and displays, three live performances, two unique dining experiences and the RJI dedication.
Updated: April 28, 2020
Related Stories
Expand All
Collapse All
---