Sponsorship Opportunities Now Available for the 2008 Centennial/Dedication Celebration
Columbia, Mo. (April 25, 2008) — Founding dean Walter Williams opened the world's first school of journalism on Sept. 14, 1908, and by the end of the day, students and faculty editors had published the first issue of the University Missourian.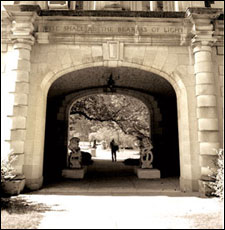 One hundred years later, as the Missouri School of Journalism celebrates its centennial and opens the Donald W. Reynolds Journalism Institute, a new center for advanced studies, a major three-day event will commemorate the occasion.
Sponsorship opportunities are now available to allow companies and organizations to congratulate the School and the Institute on these milestones and to help fund important conversations about the future of journalism.
"For 100 years, our graduates have influenced every major media outlet and communications firm in this country and around the world," said Colin Kilpatrick, executive director of advancement. "This is an unique opportunity for these companies to recognize the contributions of our Missouri alumni as we celebrate this milestone for the School and for journalism." Several thousand alumni, journalists, faculty, students and friends from all over the world are expected to participate in the Sept. 10-12 event that will be held on the University of Missouri campus.
The Futures Forum, a daylong symposium of 20-plus sessions led by top journalists and strategic communicators, will challenge thinking about the future and help attendees visualize the many possibilities for journalism and democracy. Among the topics to be discussed are ethics, faith and politics, sports journalism and embracing change.
The Technology Summit will feature new forms of digital storytelling, the debut of promising tools for delivering information and profitability models in the new Web 3.0 environment. The Emerging Media 100, the top 100 ideas, trends and other possibilities that could influence journalism in the next century, will be revealed.
Also planned are two meal events, four musical and theatrical performances, more than seven exhibits and displays, numerous networking opportunities, book signings, tours and special opening and closing ceremonies.
The monies will also allow students to attend all sessions including the Futures Forum and the Technology Summit, plus the two meal events, at a deeply discounted price.
A variety of sponsorship opportunities are available: Platinum, $25,000; Gold, $10,000; Silver, $5,000; and Bronze, $2,500. Each level includes event exposure, an ad in the official program, Web exposure and direct participation.
To purchase or learn more about a 2008 centennial/dedication sponsorship opportunity, please download the 2008 Centennial & Dedication Sponsorships. This form includes additional details about the benefits of each sponsorship level, dimensions for ads in the official program booklet and a convenient sign-up form. Alumni interested in having their companies represented should contact Kilpatrick.
Updated: April 27, 2020
Related Stories
Expand All
Collapse All
---