MU to Celebrate Centennial of World's First Journalism School and Dedication of Journalism's Advanced Studies Center
Event to Focus on Journalism for a Digital Globe
Columbia, Mo. (Aug, 22, 2008) — More than 35 interactive journalism sessions, 27 technology discussions, 11 museum exhibits and displays, five live performances, two unique dining experiences and the grand opening of the premier advanced studies center for journalism will take place Sept. 10-12 as the Missouri School of Journalism celebrates its centennial and dedicates the Donald W. Reynolds Journalism Institute.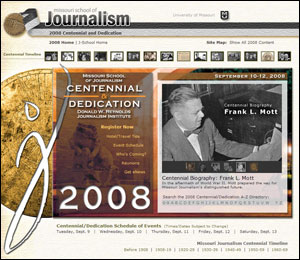 Participating in these forums and conversations centering on the future of journalism and its role in our democracy will be many of the School's more than 20,000 alumni, its faculty, staff and students, in addition to media leaders, political figures and scholars from every state and around the world.
Since publishing the student-staffed University Missourian on Sept. 14, 1908, the Missouri School of Journalism has been the international leader in hands-on journalism education, also known as the "Missouri Method." The first to offer bachelor's, master's and doctoral degrees in the field, the School also is the distinguished home of several national journalism organizations, mid-career professional programs and a thriving research agenda. Its advanced curriculum takes advantage of new technologies and practices, a tradition of innovation that will intensify with the opening of the Reynolds Journalism Institute (RJI). Funded by an initial $31 million gift from the Las Vegas-based Donald W. Reynolds Foundation, RJI is a world-class center for advanced studies in journalism.
The many keynote events planned will celebrate the centennial/dedication milestone and will generate an agenda for future projects and research. Among them are:
Wednesday, Sept. 10
Freedom Sings (8 p.m., Mizzou Arena; free and open to the public): Hosted by Ken Paulson, BJ '75, editor of USA TODAY, Freedom Sings celebrates the First Amendment through music that has been banned, censored or served as a social anthem. The all-star cast of musicians includes GRAMMY Award-winners Ashley Cleveland, Craig Krampf and Don Henry, as well as Jason White, songwriter of Tim McGraw's "Red Rag Top."
Thursday, Sept. 11
Futures Forum (9 a.m.-5 p.m., Missouri School of Journalism and Reynolds Journalism Institute; registration required): A day of more than 35 interactive discussions about the future of journalism and related communications fields. Those leading these conversations include alumni and industry leaders:

John T. Burklow, associate director for communications and public liaison for the National Institutes of Health;
John A. Byrne, MA '76, executive editor of BusinessWeek.com;
Jann Carl, BJ '82, weekend anchor and senior correspondent for Entertainment Tonight;
Steve Fainaru, BJ '84, Pulitzer Prize-winning correspondent for The Washington Post;
Michael Golden, MA '78, vice chairman of The New York Times Company;
Lamar Graham, BJ '87, executive editor of Parade Magazine;
Glen Nowak, chief of media relations for the Centers for Disease Control and Prevention;
Brian Smith, BJ '81, Pulitzer-Prize winning photographer;
James B. Steele, contributing editor of VANITY FAIR;
Seymour Topping, BJ '43, former administrator of the Pulitzer Prizes;
And others from leading news media and strategic communication organizations.
Friday, Sept. 12
Technology Summit (9 a.m.-Noon, Missouri School of Journalism and Reynolds Journalism Institute; registration required): An action-packed exhibition of 27 ideas, trends, tools, technologies and companies that are leading the way into 21st-century journalism, featuring:

A novel news Web site from the founding vice president of Ask Jeeves;
A presentation by a representative of Current TV, the young adult news station founded by former Vice President Al Gore;
A new software that claims to surface media bias from a former executive at Microsoft and MSNBC.com;
An innovative digital media consultancy owned by the founder of theknot.com, the world's leading wedding website.

Dedication of the Reynolds Journalism Institute (4 p.m.; free and open to the public): University of Missouri and state officials will dedicate the new 50,000 square-foot facility, which contains an innovative Futures Lab and Technology Demonstration Center among other high-tech features.
Closing Ceremony (8 p.m., Mizzou Arena; free and open to the public): "Telling the Story, Fair and True," a special orchestral composition by Paul Reuter of the Sheldon in St. Louis, will accompany images from the Pictures of the Year International archives for a moving tribute to journalism. Also included is a poetry performance by famed Russian poet Yevgeny Yevtushenko.
Other event highlights include two meal events under the direction of Sarah Copeland, BJ '99, of the Food Network (Sept. 10 and 12); a special showing of the Emmy Award-nominated documentary "Walt Whitman" by Mark Zwonitzer, BJ '84 (Sept. 10); and the 100th anniversary celebration of the Columbia Missourian with Latin dance band Son Venezuela (Sept. 11).
Updated: April 28, 2020
Related Stories
Expand All
Collapse All
---