Founding Dean of World's First School of Journalism to Be Honored with Bronze Bust
Ceremony to Take Place During Missouri Journalism Centennial and Dedication
Columbia, Mo. (Aug. 29, 2008) — The man who founded the world's first school of journalism and was instrumental in spreading journalism education across the globe will be memorialized with a bronze bust in Walter Williams Hall, his namesake at the Missouri School of Journalism.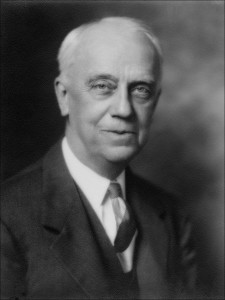 The bust unveiling and installation, to take place at 1 p.m. Sept. 11, is a highlight of the Missouri School of Journalism's centennial celebration and dedication of the new Donald W. Reynolds Journalism Institute (RJI). The School is celebrating 100 years of excellence with the opening RJI, a world-class center for researching, testing and demonstrating 21st-century solutions for journalism.
Approximately 30 descendants of the Walter Williams family will join Missouri Journalism faculty, staff and students and members of the Missouri Press Association for the unveiling at the east entrance of Walter Williams Hall.
The bust will be displayed in the vestibule of Walter Williams Hall, which was recently renovated as part of the $31 million RJI project. Interestingly, Donald W. Reynolds, whose philanthropic organization funded RJI, was a student of Walter Williams and a 1927 graduate of the School. The School commissioned the bust from internationally known sculptor Sabra Tull Meyer, who created a nearly identical bust that is installed in Morgan Street Park in Boonville, Mo., Williams' birthplace and boyhood home.
Williams began his career in the small Missouri River town as a "printer's devil" at the Boonville Topic. He rose to become editor of the nationally recognized Columbia (Mo.) Herald, eventually serving as the youngest-ever president of the Missouri Press Association in 1889 at age 25. Thus began Williams' lifelong relationship with the Missouri Press Association, which was instrumental in joining the fight to obtain funding from the state legislature for a journalism school at the University of Missouri. The MPA, founded in 1867, was one of the earliest supporters of journalism education, a concept that was often scoffed at by printers who believed apprenticeships were superior to university education.
Williams eventually served as a University of Missouri curator before founding the Missouri School of Journalism. He also served as president of the University of Missouri from 1930 to 1935, an unlikely feat given that Williams never earned a college degree.
Doug Crews, BJ '73, MPA executive director, will pay tribute to Williams at the ceremony, which will conclude with a reading of the Journalist's Creed, the profession's belief statement that Williams wrote in 1914.
"We are so pleased that the School is choosing to honor Williams in this way," said Peggy Kitchen Eggemeyer, Williams' great-granddaughter and an organizer of the family reunion that coincides with the centennial celebration. "Of all his many accomplishments at MU, from curator, founding Journalism School dean and president of the University, he was most proud to be the author of The Journalist's Creed. My mother, Hulda Rhodes Kitchen, at the age of six, unveiled the portrait of Williams, in his university robe, that now hangs in the Neff Hall student lounge. It is such an honor for our family to be involved in this second historic unveiling."
Updated: April 29, 2020
Related Stories
Expand All
Collapse All
---