Informal Reunions and Group Gatherings Night Available at Centennial-Dedication
Tiger Twilight Festival to Offer Live Entertainment and Mizzou Spirit Rally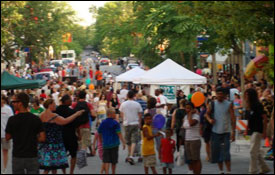 Columbia, Mo. (Jan. 11, 2008) — For those wanting to organize a class reunion during September's centennial-dedication celebration, catch up with friends at favorite restaurants and bars or simply stroll around downtown Columbia, Thursday, Sept. 11, 2008, will be your night.
On Sept. 10-12, 2008, the Missouri School of Journalism will celebrate its centennial and the dedication of the new Donald W. Reynolds Journalism Institute with a three-day extravaganza of events. The evening of Sept. 11 is being left open to allow alumni and guests to enjoy their own social time and the Tiger Twilight Festival, an annual celebration of Mizzou pride in downtown Columbia. Local shops stay open late and many establishments offer food and drink specials for this joint campus and community celebration. The street-fair event also features a variety of live music and fun activities from 6-9 p.m.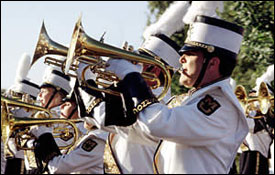 Toward the conclusion of the Twilight Festival, Marching Mizzou, the Golden Girls, the MU cheerleaders and Truman the Tiger will march down Eighth Street from campus to downtown to perform a concert. Mizzou spirit favorites such as Every True Son, Fight Tigers, Missouri Waltz and Tiger Rag will prepare fans for the Sept. 13 home football game when MU faces Nevada.
The centennial-dedication celebration will officially begin on the evening of Wednesday, Sept. 10 with a Taste of Missouri mixer on campus. This will be followed by a performance of Freedom Sings, a live multimedia experience that highlights First Amendment freedoms through three centuries of banned or censored music in America.
The daytime of Thursday, Sept. 11, and Friday, Sept. 12, will be filled with dozens of sessions about the future of journalism, museum exhibits, a Tech Summit, hands-on activities related to the future of journalism and much more. The new Donald W. Reynolds Journalism Institute will be dedicated on Friday afternoon. The festivities will close Friday evening, Sept. 12, with a lawn party and grand finale. More about these and other events will be announced later in 2008.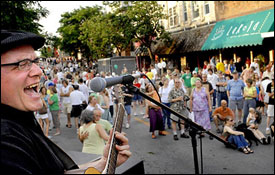 The Mizzou Alumni Association can help MAA members wishing to plan class reunions by providing names and contact information of graduates; postcard design of the event announcement and postage; logistics recommendations and much more. To publicize reunions and gatherings, the School will list the planner's name and contact information on the 2008 Web site if desired. Contact the School for more information about listing your reunion or gathering on the 2008 site.
The Columbia Convention and Visitors Bureau also offers planning resources, such as lodging information, restaurant descriptions, group tour information and more.
Tiger Twilight is a recent tradition sponsored annually by The District, MU Athletics and the MU Licensing and Trademarks office. Twilight Festivals are held every Thursday evening in June and September in downtown Columbia, just a short walk from the MU campus.
Updated: April 28, 2020
Related Stories
Expand All
Collapse All
---