Journalism Alumni Return to Campus for 2006 Reunion Rally
Columbia, Mo. (May 18, 2006) — Seven Missouri School of Journalism alumni returned to the University of Missouri-Columbia campus as part of the 2006 MU Alumni Association Reunion Rally activities held May 1. The alumni, from the classes of 1956, 1961 and 1966, were celebrating their 40th, 45th and 50th graduation anniversaries. They toured the School and were recognized at a special luncheon for Lisa Myers, BJ '73. Myers, the senior investigative correspondent for NBC News, received the Missouri Honor Medal for Distinguished Service in Journalism. Those attending included James McDearman, BJ '56, Memphis, Tenn. and Robert Boczkiewicz, BJ '66. Others present shared information about their careers and thoughts about the value of their degree.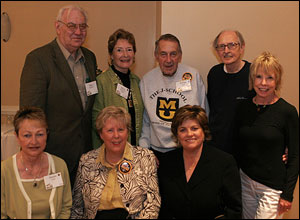 William Cable, BJ '56 Kirksville, Mo.
Career Summary: Cable retired in 1995 after 37 years as media relations director for Intercollegiate Athletics at Truman State University. During that time he was inducted into the College Sports Information Directors Hall of Fame and was a recipient of the Warren Berg Award for non-Division I SIDs. He remains active in the United Way, Red Cross and Kiwanis Club, among other activities.
On His Missouri Journalism Degree: "I am proud to hold a degree in journalism from Mizzou. My father was a student under Walter Williams in 1908 or 1909, but he had to drop out of school because of financial reasons."
---
Nancy McIntyre Frappier, BJ '56 Jefferson City, Mo.
Career Summary: Frappier is now retired. She worked for UPI wire service in Dallas, was a newspaper reporter in Illinois, did freelance writing and public relations for 16 years in Hannibal and St. Louis County and started the Hawthorn Foundation, a group of business leaders to help then Governor Kit Bond attract and retain jobs in Missouri. The foundation still exists.
On Her Missouri Journalism Degree: "All in all, I found that my journalism degree allowed me to have a diversified and rewarding career."
---
Tom Schultz, BJ '56 Columbia, Mo.
Career Summary: Schultz is retired but working part-time in external relations in the MU Development office. After serving as a United States Air Force pilot, he held many marketing and development positions, including vice-president of marketing (West Coast) for the National Food Service Management Co.; executive director of the Lake of the Ozarks Tourism Association; executive director of the MU Alumni Association; director of development for the MU Athletic department; and director of development for the MU central office.
On His Missouri Journalism Degree: "My degree from the MU Journalism School meant 'everything' in what successes I had in my career in marketing, promotion and sales."
---
Martha "Marty" Schuetz Bjorkman, BJ '61 Bloomfield Hills, Mich.
Career Summary: Bjorkman is retired after working for more than 20 years as a probate and estate planning legal assistant. She also was a publicity chairman and newsletter editor for many organizations and wrote articles for the county bar publication. She is now volunteering and working on a book.
On Her Missouri Journalism Degree: "I have always been very proud to have graduated from the Missouri School of Journalism, and the writing skills I learned at MU have served me well. My husband, a Purdue University graduate, and I were extremely impressed by the articulate and friendly journalism students we met and by the attractiveness of the campus."
---
Don Glenn, BJ '61 Youngstown, N.Y.
Career Summary: Glenn retired in 2001 from the Niagara Gazette, after working more than 40 years with the Gannett paper. He continues to work part-time, writing a column twice a week and covering the tourism industry in the Honeymoon Capital (Niagara Falls).
On His Missouri Journalism Degree: "Over the years my degree from Missouri has opened numerous doors on assignments. The nation's oldest state park here is an excellent place for a reporter to take the pulse of the public, whether it's the reaction to the war in Iraq, soaring prices at the gas pump or some other current topic. Within an hour, a reporter can talk with people from a dozen states or several countries. In retrospect, my J-School training and hands-on experience at Mizzou has proved helpful on many occasions, from writing about the experiences of the typical visitor on the road to a head of state touring the natural wonder at Niagara."
Updated: April 28, 2020
Related Stories
Expand All
Collapse All
---