New Center Will Create Journalism of the Future
$31 Million Donald W. Reynolds Journalism Institute to Foster Collaborations Among Professional Journalists, Scholars, Industry Leaders and Citizens
Columbia, Mo. (Sept. 5, 2008) — To explore new forms of journalism, whether digital, global or hyper-local, the world's first school of journalism has created a solution-oriented center for ideas, experimentation and research. With fully networked high tech labs, an experienced staff of journalism professionals, technical support and testing facilities geared to new technologies, the Donald W. Reynolds Journalism Institute (RJI) will celebrate its grand opening Sept. 12.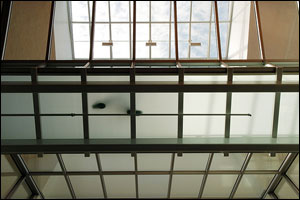 Housed in 50,000 square feet of new and remodeled space, the three-building RJI complex includes a modern four-story glass-walled structure built inside a carefully preserved 1892 Victorian gothic building on the University of Missouri campus.
"If a place could be specifically designed to allow journalists to conjure up new ideas, what would it look like? That's the question we asked," said Dean Mills, dean of the Missouri School of Journalism. "At RJI, journalists will find the tools to launch controversial experiments and the research capability to test new applications. It's a place where journalists, corporate partners and citizens will collaborate to find practical solutions to the challenges that face our industry."
Everette E. Dennis, former executive director of the Gannett Center for Media Studies, Columbia University, consulted closely with the Missouri School of Journalism in planning the new Institute.
"This is the most exciting development for the elevation and advancement of journalism and news in decades, a truly unique enterprise that will connect serious research with practical solutions for the news media, education and the public, too," Dennis said.
RJI's goal is to partner with established media companies, industry associations and emerging new media innovators, most recently Adobe, Apple and AT&T. Building on the University's tradition of interdisciplinary problem solving and its record of entrepreneurial leadership, RJI is helping to incubate products and applications that will take journalism into the new century.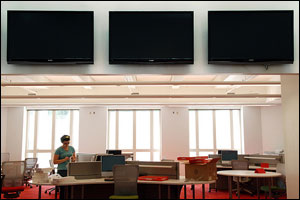 Facilities at the new RJI complex include:
Futures Lab: An experimental newsroom designed to encourage collaboration and put the latest tools at journalists' fingertips. Work areas are completely networked with fixed computer work stations augmented by wireless connectivity. Journalists can work with video, audio, photos, slide shows, animation – not to mention text. Three editing stations feature four plasma monitors to allow staff editors or visiting professionals to monitor local and national breaking stories. In addition, RJI has been assigned two television stations on the University's cable system for the broadcast of live or taped programs.
Technology Testing Center: "Pod" work spaces enable users to showcase technical innovations and conduct product testing for new hardware and software. The center is backed by full-time technical support.
Convergence Editing Room: Twenty Mac Pro editing stations feature Avid and Final Cut video software as well as the latest version of Adobe Creative Suite. All are networked to allow professionals and students to collaborate as they experiment in the creation of Web pages, animation and more.
Fred W. Smith Forum: This state-of-the-art forum allows people from around the world to interact, complete with a translation booth for wireless transmittal of live translation to participants. Designed to accommodate groups of 80-plus, every seat has access to high-speed Internet, and three robotic cameras have been installed to capture events on video.
High Tech Conference Spaces: Complete with high-definition television and projection equipment, smart boards and video conferencing capability, RJI's four conference spaces can accommodate groups from 10 to more than 80.
Control Room: A television and radio station adjacent to the Futures Lab features four video cameras and virtual set technology, including a "green screen," which allows the user to superimpose visual information behind the talent.
RJI was launched in 2004 with an initial grant of $31 million from The Donald W. Reynolds Foundation, a national philanthropic organization founded in 1954 by the late media entrepreneur for whom it is named. Headquartered in Las Vegas, it is one of the largest private foundations in the United States. Donald W. Reynolds was a 1927 graduate of the Missouri School of Journalism.

Since its inception in 2004, RJI has engaged in more than 60 journalism initiatives and partnerships, including "The Online Credibility Gap," a quantitative study done in partnership with the Associated Press Managing Editors; the development of digital newsbooks currently being marketed online at The New York Times Store; and audience research conducted on behalf of the Newspaper Association of America.
All of this will be showcased at the Sept. 12 dedication of RJI's new complex, which will mark the climax of the Missouri School of Journalism's three-day centennial celebration. During this event, journalists from around the world will convene to participate in 35 interactive journalism sessions and 27 technology discussions, among other activities.
A highlight of the dedication ceremony will be the announcement of the inaugural class of Donald W. Reynolds Fellows. Over the coming year, six Fellows, who are leading thinkers/practitioners in journalism and communications, will tackle ground-breaking projects aimed at improving the practice or understanding of journalism.
"In order to help journalism establish its footing in these unsettled times," said RJI Executive Director Pam Johnson, "RJI has set in motion a program to explore answers through fellowships, experimental technologies and projects to address the most perplexing problems in journalism."
About the Missouri School of Journalism and Reynolds Journalism Institute:
Since publishing the student-staffed University Missourian on Sept. 14, 1908, the Missouri School of Journalism has been the international leader in hands-on journalism education, also known as the "Missouri Method." The first to offer bachelor's, master's and doctoral degrees in the field, the School is also the distinguished home of several national journalism organizations, mid-career professional programs and a thriving research agenda. Its advanced curriculum takes advantage of new technologies and practices, a tradition of innovation that will be intensified with the opening of the Reynolds Journalism Institute (RJI). This 50,000 square-foot facility, created with an initial $31 million gift from the Las Vegas-based Donald W. Reynolds Foundation, will house state-of-the-art resources to test and demonstrate new technologies, experiment with convergence news production and delivery systems, and conduct real-time and virtual seminars and conferences.
Updated: April 29, 2020
Related Stories
Expand All
Collapse All
---