Local News/Ad Widget Wins 2012 RJI Student Competition
By Reynolds Journalism Institute Staff
One MBA candidate, two IT undergrads and four journalism students from the University of Missouri have won the 2012 RJI Student Competition with a widget that gives local advertisers a self-service network to blend their messages with highly-sought and personalized news content on Hearst newspaper websites.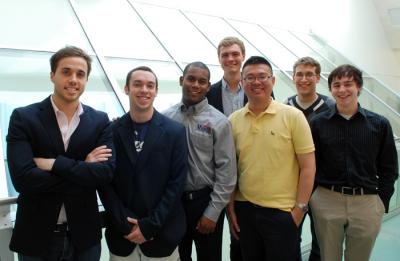 In less than three months, Alex Blum, Russell Chapin, Derrick Ho, Scott Wexler (journalism), Jamar Williams, Zach Winkler (computer science) and Francesco Marconi (business) produced a working prototype of the widget and presented it to a team of Hearst executives and RJI staff. They and three other finalist teams were challenged by competition sponsor Hearst Innovation to use Web analytics to devise new, low-cost revenue opportunities for the company's newspapers and television stations.
The annual competition is in its fifth year. Hearst has sponsored the past three contests, each time asking top MU students to address news and business opportunities with creative ideas and new technologies.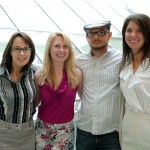 "At Hearst we're constantly challenging ourselves to focus on the future," said Beth Polish, director of Hearst Innovation. "Our partnership with RJI is a very fulfilling way to nurture and support our own pioneering culture, while encouraging the same spirit in the next generation of media leaders. We congratulate all the talented students who took part in this year's competition, especially the winners, on their impressive work and dedication to shaping the future of media."
Polish praised the winning team for their strong presentation skills and a product that skillfully struck a balance between editorial integrity and innovative advertising.
The winners will get an all-expense paid trip to New York in late May to share their project with other Hearst executives and take part in a Missouri School of Journalism alumni event.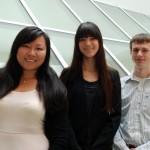 "The winning team did a great job of presenting an innovative, user-friendly idea that could be implemented easily and quickly; and all four of the finalist teams showed a good focus on how their products could create value for an end user," said RJI Futures Lab Print & Graphics Editor Reuben Stern, who was one of the judges. "The end results show how beneficial it is that students in this competition get hands-on coaching not only from their usual instructors but from high-level executives currently involved in running a major media corporation."
A second team made up of Melanie Gibson, Henrietta Farley, Habet Madoyan and Inna Volyanska also developed a new revenue opportunity for Hearst newspapers by suggesting ways to maximize digital slideshows.
Two other student teams worked for Hearst Television's digital advertising unit. Team A (Jessica Cui, Theresa Oberle, Alan Provance, Amber Zhong) and Team B (Caroline Elliott, Stephanie Graflage, Stanford Griffith, Lindsey Miller, Philip Prouhet, Elizabeth Stratman) designed dashboards to help advertisers on Hearst television websites get a clearer handle on the performance of their campaigns.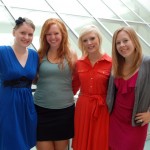 Mike McKean, director of the RJI Futures Lab and manager of the competition, was impressed with all the finalists. "They went from forming their teams through final presentations in 11 weeks. With the help of several Hearst and RJI mentors, each team of students delivered actionable prototypes with the potential to drive new digital revenues."
The announcement of the winners kicked off the third day of RJInnovation Week 2012 that features innovative student projects supported by RJI, the Missouri School of Journalism and the College of Engineering's IT program.
About the Winners:
Alex Blum is a junior majoring in strategic communication and was the winning team's analytics expert.
Russell Chapin is a convergence journalism student. He served as the liaison between the tech and creative leads.
Derrick Ho is a journalism graduate student from Singapore and the lead designer of the widget.
Francesco Marconi is about to receive his MBA. He was the team's project manager and comes to Mizzou from Italy by way of Portugal.
Scott Wexler is a strategic communications student and the chief copywriter for the project. He also works in the promotions department of the Milwaukee Brewers baseball team.
Jamar Williams was the backend programmer for the team. He's majoring in computer science and is a chief communications officer for the U.S. Army National Guard.
Zach Winkler is a junior in computer science. Zach designed the Web interface and recommendation algorithm for the widget.
All students who made it into the finals were awarded third-generation iPads.
The 2012 student competition included the participation of many people from both Hearst Corporation and RJI:
Competition Judges from Hearst Corporation:
Jonathan Sumber, director of digital sales, Hearst Television
Susan Parker, director of business intelligence, Hearst Newspapers
Karen Brophy, vice president, digital product, Hearst Newspapers
Program and Project Managers from Hearst Innovation:
Beth Polish, senior vice president, Hearst Corporate Innovation
Barin Nahvi, director, business development at Hearst Innovation
David Jones, director, business development at Hearst Innovation
Athena von Oech, community manager for Hearst Innovation
Laura Martin, assistant to Beth Polish
Hearst Mentors:
Mike Fogel, VP of technology development, Hearst Newspapers
Jim Getgey, regional sales director, Hearst Television – Digital
David Morin, senior manager operations, San Francisco Chronicle
Sherry Nannis, digital sales manager, WMUR, Hearst Television
Adam Noble, product marketing manager, Hearst Television
Susan Parker, director of business intelligence, Hearst Newspapers
Dana Schweitzer, digital sales manager, KCRA, Hearst Television
Jim Slusher, director of product development, Hearst Newspapers
Annika Toernqvist, senior manager operations, San Francisco Chronicle
Keith Whamond, senior product manager, Hearst Newspapers
RJI Mentors:
Mike McKean, director, RJI Futures Lab
Brad Best, RJI Futures Lab advertising editor
Reuben Stern, RJI Futures Lab print & graphics editor
Amy Simons, assistant professor, Missouri School of Journalism
Stephanie Padgett, assistant professor, Missouri School of Journalism
Ryanne Dolan, computer science instructor, University of Missouri
Updated: June 5, 2020
Related Stories
Expand All
Collapse All
---