Students to Write Editorials for 18 Missouri Newspapers
The School and Missouri Press Association Partner on the Class Assignment
Columbia, Mo. (April 17, 2015) — Students from the Missouri School of Journalism will drop their objective reporting style to be very opinionated for 18 Missouri newspapers this spring.
The students in Associate Professor Clyde Bentley's Editorial Writing class were recently paired with members of the Missouri Press Association. Working under the guidance of an editor or publisher, the students will produce one or more opinion pieces that will be published in the papers.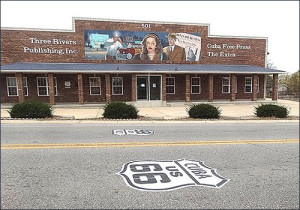 Bentley specifically chose non-daily newspapers for the project, noting that most of his students are from St. Louis, Chicago and other major cities.
"I want them to understand the issues of Main Street America," Bentley said. "They will learn that sometimes a school board vote is of greater interest than a Congressional debate."
Each of the students is required to research both the towns and newspapers that they will write about. They will work with editors by email and telephone to develop a theme. The students are not required to travel to the towns, but many do.
It is up to the editors to determine whether the students write a traditional editorial stating the opinion of the newspaper or a personal column reflecting their own views.
The assignment calls for all 18 opinions to be published by the end of the semester in mid May.
Bentley and the Missouri Press Association have conducted the editorial partnership annually since 2008.
"We are fortunate in this state to have so many newspaper that take their role as the lifeblood of their communities very seriously," he said. "And we at Mizzou are fortunate that the MPA is there to take our student editorialists out of the classroom and into those communities."
Newspapers participating in the project are:
The Grant City Times Tribune
The Queen City Schuler County Times
Updated: August 21, 2020
Related Stories
Expand All
Collapse All
---