News-Editorial Professor Inducted into the Missouri Press Association Hall of Fame
Columbia, Mo. (Oct. 1, 2003) – James Sterling, BJ '65, the Community Newspaper Management chair at the Missouri School of Journalism, was one of six who were inducted into the Missouri Press Association Hall of Fame at its recent annual meeting in Kansas City.
Inductees are chosen based on the length of time they have contributed to Missouri's newspaper industry. They must also have led honorable lives while at the same time influencing unselfishly, thinking soundly and remaining involved in their communities. MPA officers, a screening committee and a selection committee of district press association leaders and current Hall of Fame members selected Sterling for this honor.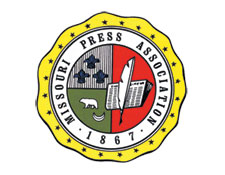 During his more than 30 years of contributions to Missouri's newspaper industry, Sterling managed the award-winning Bolivar Herald-Free Press and eventually added The Buffalo Reflex and Stockton's Cedar County Republican to Sterling Media Ltd., a company that also included Missouri Color Web Printers. Sterling was a partner in Bolitho-Sterling Newspaper Service for three years.
Sterling was on the Board of Curators of the University of Missouri during the late 1980s, was MPA president in 1985, and in 2002 worked to move the National Newspaper Association to the Journalism School. He is presently serving as a member of the NNA board of directors.
Sterling campaigned for civic issues through his editorials. Civic improvements in Bolivar that were born from Sterling's personal columns include new baseball fields for summer sports and the construction of a new high school. One improvement that he is especially proud of is the establishment of the Citizen's Memorial Hospital in Bolivar, which has been rated as one of the top ten rural hospitals in America.
"I've been fortunate to have done some of the things I have done," said Sterling, adding that he feels honored as well as humbled to be selected into the MPA Hall of Fame by the high caliber of friends and colleagues he has had the opportunity to know.
Updated: April 28, 2020
Related Stories
Expand All
Collapse All
---