Missourian, Vox Magazine Win Top Honors at Missouri Press Association
By Columbia Missourian Staff
Columbia, Mo. (Sept. 29, 2014) — The Columbia Missourian and Vox Magazine won 69 awards in the 2014 Missouri Press Association Better Newspaper Contest, including 19 first-place awards and the Gold Medal Newspaper award.
Both the Missourian and Vox placed in several categories that recognize stories, photos, multimedia, design and projects. All of the winning entries were published in 2013. Here are the Missourian and Vox's winning entries designated by place and category.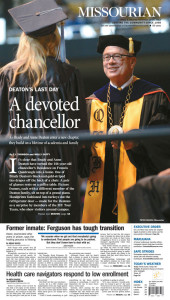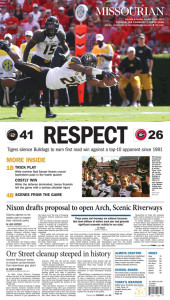 First-Place Awards
Best Feature Story: Reporter Ben Walton wrote about a Columbia elementary school teacher who took a risk in order to start her family. Even as a little girl, Anna Kleinsorge knew she wanted her own children. When she hit 29, she decided she was done waiting.
Best Feature Photo: Photographer Marysa Greenawalt captured an image of Nene Rwenyaguza praying at First Baptist Church in Columbia. Rwenyaguza immigrated to St. Louis as a war refugee from the Democratic Republic of Congo, and he moved to Columbia in December 2009 to preach for the African congregation at First Baptist Church.
Best Photo Illustration: Photographer Greg Kendall-Ball created a portrait of Jessica Gwin, who suffered four concussions through playing soccer for the university. This portrait, taken March 11, was made using a technique where a flash was fired multiple times during a single exposure.
Best Photo Package: Photographer Kevin Cook followed the Harrisburg High School football team during its first season. Vox, Nov. 21, 2013.
Best Sports Pages: The Columbia Missourian staff took first place with its Jan. 31, Nov. 28, and Oct. 13-14, 2013 pages.
Best Sports News Story or Package: Reporter Andrew Wagaman wrote about the effects concussions have had locally, and the increased concern it has caused in Columbia's football community. The youth football community fears for the safety of children, but it also fears for the survival of the game. How exactly do you make football safer without changing the game?
Best Sports Feature Story: Reporter Seth Boster wrote about the journey of Southern Boone's marching band after the loss of a peer. The Southern Boone marching band said farewell to a former member, Jacob Meadows, following his death. Members recovered by honoring him in the only way they knew how.
Best Investigative Reporting: Reporter Elizabeth Pearl wrote about the Boone County Jail and how it serves as a mental health facility. For people with mental illnesses in Boone County, help is scarce and costly. The few treatment facilities have limited funding. That has made the Boone County Jail the default mental health facility for the county.
Best Business Story: Reporter Harrison McLean wrote about Columbia residents' differing viewpoints on downtown housing. The proliferation of student apartments boosts traffic for many businesses, but some residents worry it's too much, too quickly.
Best Page Design: The Columbia Missourian staff took first place.
Best News or Feature Special Section: The Columbia Missourian took first place with Years of Progress, a special section from April 2013. The Missourian profiled how Columbia has developed in recent years, what issues the city has faced and how growth has affected members of the community.
Best Story About Rural Life or Agriculture: Abigail Eisenberg wrote about the issues surrounding the distribution of raw milk. Only vestiges of Morningland Dairy survive in rural Mountain View about 190 miles south of Columbia after a costly two-and-a-half-year battle with the Missouri Milk Board. The dairy farm was shut down for selling raw milk and cheese made from raw milk. Vox, June 6, 2013.
Best Story About Religion: Reporter Blake Ursch wrote about a Gale Fuller, a humanist minister who performs non-religious ceremonies. Fuller has been a circus performer, a Navy corpsman, a teacher and, for the last 30 years, a humanist minister. In this capacity he has officiated about 200 wedding ceremonies.
Best Story About the Outdoors: Reporter Caroline Murray wrote about white oak trees dying at alarming rates in Missouri. The inconsistency in the trees' symptoms is making it difficult to identify the cause of the problem.
Best Story About History: Reporter Brendan Gibbons wrote about Herman Schlundt, former MU faculty member, who made significant contributions to science by extracting and refining radioactive metals from low-grade ore and industrial waste. But he left a big mess in Pickard Hall that the university is still cleaning up.
Best Coverage of Community/People/Lifestyles: Vox Magazine took first place for its Oct. 3, 10, 17 issues in 2013.
Best Video: Sam Gause took first place with Transitions in Flight, a video about a local man learning to cope with the loss of his wife through bird watching. After Marvin Chapman's wife of 36 years died, he fell into a deep depression, but with the help of his daughters and birds, he has learned to cope.
Best News or Feature Obituary: Reporters Jackie Trahan and Sky Chadde wrote about the life of Almeta Crayton, former City Council member, after her death in October 2013. Crayton devoted much of her life to service in Columbia, particularly the First Ward. She set out to create a safer environment for youth, and she wanted to close the economic gap in the city as a representative of the poor.
Second-Place Awards
General Excellence: Columbia Missourian staff.
Best Front Page: Columbia Missourian.
Best Breaking News Story: Reporter Dani Kass wrote about Ryan Ferguson gaining his freedom after being in prison for nine years. Ferguson was released from prison in November 2013 after serving almost eight years of a 40-year sentence in the 2001 slaying of Kent Heitholt.
Best News Story: Reporter Elise Schmelzer wrote about Cosmo Park being renovated to accommodate children in wheelchairs. Although the city's playgrounds comply with the standards of the Americans with Disabilities Act, children with disabilities still struggle to find a place where they can play.
Best Feature Story: Reporter Richard Webner wrote about MU veterinary hospital's work on animals that could help human cancer patients in the future. For one O'Fallon couple, letting a favorite pet participate in a cancer treatment trial at MU's veterinary hospital has personal implications.
Best News or Feature Series: Reporter Abbey Sussell wrote a series of stories on the challenges of uninsured and underinsured Missouri residents receiving dental care.
Best Columnist-Humorous: David Rosman won second place in the humor columns category for consistently providing readers with a laugh.
Best Feature Photo: Photographer Greg Kendall-Ball captured an image of Belle Hughes reading a book at the Coyote Hill Christian Children's Home as part of a feature on the home for neglected children.
Best Sports Photo: Photographer Kevin Cook captured a picture of Harrisburg football Michael Jackson after sustaining an injury at practice. Cook followed the football team during its first season. Vox, Nov. 21, 2013.
Best Photo Package: Photographer Stuart Palley examined the color and faces along Route 66, the desolate outposts and retro kitsch in photographs. From guitar-playing hillbillies in Oklahoma to vagabonds in the California desert, the siren's song of a bygone era draws thousands to drive the route. Vox, March 21, 2013.
Community Service: The Columbia Missourian staff won second place with 100 Ages: A century of voices. In July 2013, the Missourian unveiled 100 videos, one for each age from 1 to 100. In these videos, Boone County residents tell a small part about themselves that together weaves a cross-generational story about us.
Best Sports News Story or Package: Reporter Brendan Meyer wrote about former Missouri basketball coach Frank Haith and the NCAA allegations he faced from his time at Miami.
Best Sports Feature Story: Reporter Mike Vorel wrote about former Missouri football player Munir Prince's devastating injury. Although he could no longer play on the field, his love of the game never faltered.
Best News or Feature Special Section: The Columbia Missourian earned second place with the Welcome Back issue. The Missourian's 2013 "Welcome Back" edition offers a glimpse of Columbia.
Best Investigative Reporting: Reporter Brendan Gibbons' piece about Herman Schlundt was also recognized for investigative reporting.
Best Coverage of Government: The Columbia Missourian staff won second place for its 911 Sales tax ballot issue coverage. The ballot issue passed 56.8 percent to 43.2 percent to pay for 911 dispatch and emergency management services after months of campaigning by county officials.
Best Coverage of Rural Life or Agriculture: The Columbia Missourian staff won second place with its June 11, Sept. 5, and Oct. 31 issues.
Best Story About Religion: The Vox Magazine staff won second place with its project, Matters of Faith. Columbia residents open up about their spiritual journeys, and how belief affects their lives. May 9, 2013.
Best Story About the Outdoors: Reporter Andrew Brown wrote about captive deer farms and the connection they share with diseases affecting animals nationwide.
Best Information Graphic: Evan Townsend created a visual depiction of sexual assault at MU. Sexual assaults appear to be underreported at MU. Explanations range from a lack of understanding about the crime to a culture of victim blaming.
Best Video: In the town of Seneca near the border with Oklahoma, the "spook light" has been appearing along a rural road for more than 100 years. It's been investigated by everyone from scientists to supernatural enthusiasts, but no one has come up with an explanation. The Missourian's Viktorija Mickute and Varvara Fomina went to Seneca to investigate and came back with their video "Spook Light Accident."
Best Headline Writing: The Columbia Missourian won second place for headline writing. Headlines from February 2013 (Winter Thunderland), March 2013 (Eggs over rainy), April 2013 (Opera singer's bid to change state anthem falls on deaf ears) and September 2013 (An unnerving silence, Little fish that makes big list).
Best News or Feature Obituary: Naoma Powell was under 5 feet tall, but the avid activist was a pillar of Columbia's art scene. Reporter Sarah Dettmer wrote about the Columbia native, who spent more than 20 years teaching art to anyone who wanted to learn.
Third-Place Awards
Best News Story: In his 25 years investigating crimes against children, Detective Andy Anderson sees horrible crimes every day, but his drive to protect children keeps him going. Reporter Seth Klamann wrote about Anderson, the rest of the Boone County Cyber Crimes Task Force and their battle against the increasing number of child pornography cases in Mid-Missouri.
Best Feature Story: After losing his wife of 36 years in an abrupt car collision, Marvin Chapman fell into depression. Reporter Sam Gause wrote about a Chapman learning to cope with the loss of his wife through bird watching at Eagle Bluffs Conservation Area.
Best News or Feature Series: Battle High School opened at the start of the 2013-2014 school year as Columbia's first new high school in more than 30 years. The Columbia Missourian Staff took third place with their ongoing series covering the life at the new school from grand opening to first graduation in spring 2015, Battle Rising.
Best News Photo: On a September morning last year, the Southern Boone High School marching band awoke to shocking news: senior member Jacob Meadows had killed himself. Photographer Fareeha Amir captured the band coping with losing one of its own.
Best Feature Photo: It's been 150 years since the Civil War was fought, and re-enactments are springing up across the state. Peter Marek photographed Centralia students hiding in tall grass during a re-enactment of the Battle of Centralia.
Best Photo Package: It took a while for Marvin Chapman to find his peace, and he found it in a place most wouldn't think to look: Eagle Bluffs Conservation Area. Reporter Sam Gause photographed Chapman coping with the loss of his wife through his newfound interest in birdwatching.
Best Sports Feature Story: Autism spectrum disorder has symptoms such as trouble in social situations and poor muscle ton, but one Columbia family has found an interesting way to treat their son. Reporter Anne Dankelson wrote about Thomas Matthews, an autistic child who uses martial arts as an outlet.
Best News or Feature Special Section: Max Copeland stood out on and off the field as a senior on the 2013 Missouri Tigers football team. In the Missourian staff's Tiger Kickoff for the week of Sept. 27, Copeland dishes on beard culture on the team and shares some pre-game pump-up tracks. Running back Miles Drummond and defensive end Markus Golden also feature in the preview for last year's victory over Arkansas State.
Best Investigative Reporting: Ever wonder where you're most likely to get a ticket? Reporters Jon McClure and Joseph Vozzelli Jr. wrote an analysis on Columbia traffic stops and arrests that reveals both where the most stops happen and that Columbia's blacks are being stopped by police disproportionally.
Best Coverage of Government: Elections aren't always about the horse race. The Columbia Missourian staff covered the 2013 Columbia City Council Elections with aim of helping voter understand what each candidate stood for. To do this. they provided in-depth profiles and campaign finance reports for each candidate.
Best Story About Rural Life or Agriculture: The Great Flood of 1993 was a catastrophic event for many in Missouri, but the deluge also gave conservationists a chance to protect the Missouri River. Reporter Brendan Gibbons explained how the aftermath of the flood helped Overton Bottoms become the Big Muddy Fish and Wildlife Refuge.
Best Story About Education: How do Columbia schools teach children reading, one of life's most essential skills? Reporter Shaina Cavazos explained the "balanced literacy" teaching model and the competing theories used around the country.
Best Page Design: The Columbia Missourian staff won third place for best page design with MLK's dream.
Best Video: Shelia Burnett had a eight-pound tumor on her kidney, and the doctors missed it. The cancer was incurable, so Burnett set about her final task: preparing her family for life without her. Sarah Hoffman took third place with Burnett's story in the video "Making My Daughter Stronger."
Best News or Feature Obituary: Racial issues have long been a touchstone in Mid-Missouri, and, in May of last year, Columbia and MU lost one of its foremost racial pioneers. Reporters Jacob Kirn and Mackenzie Bruce wrote about the life and significance of Arvarh Strickland, the first black professor at MU.
Honorable Mention
Best Breaking News Story: Ryan Ferguson's release from prison was one of last year's biggest stories in Columbia. So how did Ferguson's conviction get overturned? Reporter Tracey Goldner wrote about Ryan Ferguson's winning appeal to the court's ruling in November.
Best Feature Story: Many see the Postal Service as outdated in an electronic age, but, in Columbia, mail carriers bond the community together in surprising ways. Reporter Lizzie Johnson wrote about the mail carriers' intimate relationships with the people on their routes and how they are handling the tumult in the Postal Service.
Best Columnist-Serious: Columns about improvements in Columbia's city council's budget, inconsistencies in Mayor Bob McDavid's proposed property tax increase and a call-to-action to revisit America's gun culture awarded George Kennedy honorable mention in best columnist-serious category. Kennedy is a former Missourian managing editor and a regular columnist.
Best Photo Package: The Dickerson Park Zoo in Springfield and the Wild Animal Safari in nearby Strafford offer visitors the chance for up close and personal interaction with exotic animals from around the world. Vox Magazine photographer Rachel English captured behind the scenes images from both these fringe Missouri zoos. May 23, 2013.
Community Service: Last year the Missourian staff's reporting of sexual assault at MU uncovered the infrequency in which sexual assaults cases end in punishment and an underlying culture of victim-blaming that persists in many of these cases. "LET'S TALK: The underreporting of rape and sexual assault at MU" is a package that aimed to spark conversation among Missourian readers about this ongoing issue.
Best News or Feature Special Section: With Missouri starting quarterback James Franklins' absence last season, the cover of the Missourian's Tiger Kickoff for the week of Oct. 18 featured a story about then back-up Maty Mauk's newfound spotlight. The edition that week also included stories about the Tigers' upcoming game against Florida and Copeland's Cranium, a reoccuring installment of Missouri guard Max Copeland's thoughts.
Best Investigative Reporting: The investigative reporting of Missourian reporter Samantha Sunne revealed how MU's Office of Student Conduct handles cases of sexual assault. Though dozens of instances were reported to the university, only two students were punished in 2012 for sexual offenses.
Best Business Story: Last winter two unusually large snowstorms cancelled classes twice for MU, and another snowfall caused thousands in Boone County to lose power. Reporting by Brendan Gibbons shows how much local governments have had to increase funding for snow-clearing, stormwater management, maintaining water supplies and other weather-related expenses to combat the consequences of the extreme weather.
Best Video: Six-year-old Avery Johnson opens the Missourian's 100 Ages: A Century of voice trailer with a smile and a curious demeanor as Missourian staff help secure a wireless microphone to the front of her shirt. The trailer produced by Jason Redmond, Alyssa Goodman and Katie Alaimo previewed the Missourian's 100 Ages project, which featured a century's worth of voices and stories from around Columbia.
Best News or Feature Obituary: The death of Columbia educator Eliot Battle on June 11, 2013, spurred Missourian reporter Shaina Cavazos to write a life-story on his accomplishments and contributions to the Columbia community. Battle and his wife, Muriel, helped integrate Columbia schools and their children were the first black students to attend what was an all-white Grant Elementary School. Battle died five days after he was hospitalized for injuries he sustained during a car accident.
Best Business Story: Abigail Eisenberg's story about the distribution of raw milk won honorable mention in the Best Business Story category.
Updated: July 30, 2020
Related Stories
Expand All
Collapse All
---