School of Journalism Freshman Wins 2 Awards in Missouri Press Association Competition
Wendy Hayworth Earns Honorable Mentions for Stories Published in the Lee's Summit Tribune in Missouri
By Rebecca Dell
Columbia, Mo. (Sept. 29, 2014) — Wendy Hayworth wears three bracelets on her left wrist: a colorful set of rolled paper Project Lydia beads and black-and-white Zulugrass beads, both from organizations dedicated to providing work opportunities for women in different African countries. The third is twining brown and green from Invisible Children, a nonprofit devoted to freeing child soldiers.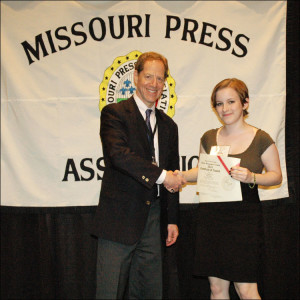 To Hayworth, a freshman at the Missouri School of Journalism, the bracelets represent the people around the world whose stories she hopes to tell during her journalism career. She glances at the strands to keep her focused when her internship at her hometown newspaper, freshman class schedule and work as a diversity beat writer for the Maneater seems like too much.
Hayworth's schedule is packed. She's involved in a Journalism Honors Freshman Interest Group, Honors College, Chancellor's Leadership Class and American Copy Editors Society.
But she catches a break every now and then. Now, it's the validation of two honorable mentions at the Missouri Press Association Better Newspaper Contest, for her stories at the Lee's Summit Tribune in her hometown. In 2013, she won first place for a four-part article about a Lee's Summit artist. This year, her recognized stories cover cyber protection and a television show for parents of children with autism. Hayworth was recognized at the MPA's Sept. 23 ceremony, where she also attended a Sunshine Law talk and had lunch with University of Missouri Chancellor R. Bowen Loftin.
Her budding career began thanks to caffeine. When Hayworth was young, her mom would warm up some milk and add a splash of coffee so they could drink coffee together. Later, recruiters from Lee's Summit High School told Hayworth's middle school class that members of the high school newspaper classes took breaks for Starbucks. Hayworth was sold.
When she was a sophomore, around the time of the Occupy Wall Street movement, a story on a renovating Starbucks fell through. The only person available for comment told her, "We're just in the tent. We don't know what's happening." So she and a photographer headed down to Occupy Memorial in Kansas City to speak with protestors and play with the kids. Hayworth and the photographer would yell, "We are the one percent!" and the kids would tackle them to the ground. When Hayworth talked to the leader of the organization, he told her she was telling the story of the individual protestors, while the mainstream media was telling the obvious business story.
At that point, Hayworth realized she loved telling the stories no one else is telling.
Determined to make journalism her career, she contacted local newspapers and started working at the locally owned Lee's Summit Tribune. She continues that internship while balancing her first year of classes at MU, assisting with Web posting and proofing from Columbia.
"The running joke is that I actually never leave, I just come back later," Hayworth said. The newspaper gave her a digital camera as her going-away-to-college gift, but she hasn't quite left for good.
For her junior and senior years in high school, as Web editor and then editor in chief under adviser Marc Russell, Hayworth worked to rebuild the reputation of the Hi-Life. The monthly student publication had slumped with an earlier price increase. By the time she left, the staff had gone from being a class to being an award-winning, tight-knit staff.
The Missouri School of Journalism was the obvious choice for Hayworth, and she's determined to make the most of the scholarships she's earned. In her first three weeks she'd chatted with the Denver Post's Gregory Moore, scouted the photojournalism and convergence programs (she fell in love with the convergence lab during a campus tour) and mapped a plan that includes a minor in Leadership and a semester in the School of Journalism's Washington Program. Her ultimate goal is to do ethnography-style journalism for National Geographic. In the meantime, she'll keep looking at the beads on her wrist and pressing forward.
Updated: July 30, 2020
Related Stories
Expand All
Collapse All
---