Meet New J-Students: Sidney Steele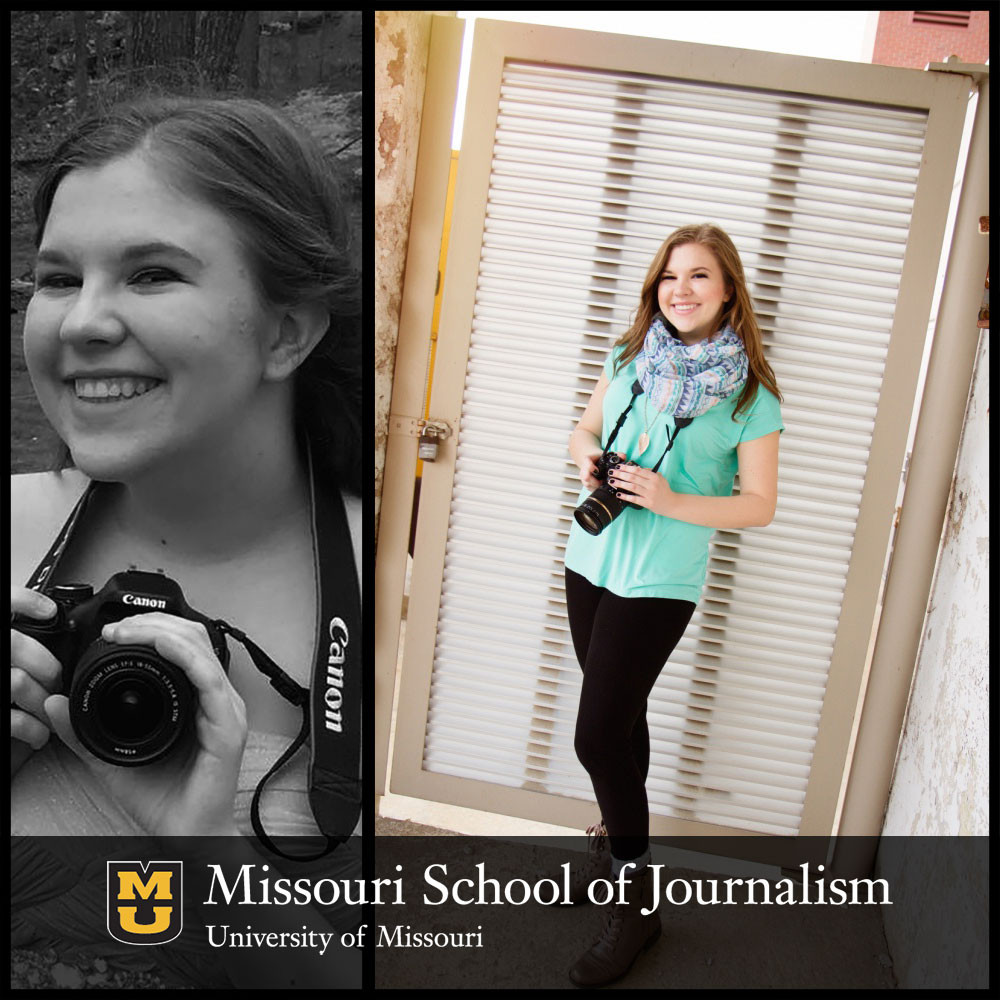 By Mary Evanoff
Columbia, Mo. (Oct. 4, 2016) — Sidney Steele, a new J-School student and Walter Williams Scholar from Nixa, Missouri, is excited to explore all the options the Missouri School of Journalism has to offer, from graphic design to strategic communication.
Steele arrived at college with an already-impressive resume of journalism accomplishments. She was the photo editor of her high school newspaper for two years and studied photography all four years.
"I was the girl with the camera at assemblies or football games," says Steele of her time as photo editor. "I actually got to take pictures at the Edward Jones Dome of our high school football team when they went to the state championship."
Steele won the yearbook spreads and individual photos category at J-Day, a state journalism contest for high school students sponsored by Missouri Interscholastic Press Association and held on the University of Missouri campus.
Steele didn't have to wait for school to start to get enthused about MU. She found it at Summer Welcome!
"Whenever I came to Summer Welcome, that's when I was like, 'Yes! I get to go to Mizzou!' That is when I got excited," Steele says.
It is the campus and the atmosphere of Columbia that makes MU a unique and exciting choice to Steele.
Steele says, "There is just some kind of feeling when you're on campus where you just know, this is where I want to be."
Additionally, MU's freshman programs helped her find her home on campus. Steele joined a FIG as a part of being a Walter Williams Scholar. FIG stands for Freshman Interest Group and consists of 15 to 20 students who are pursuing the same or similar majors. Participating students take classes together and live in the same community in order to enhance the experience of a new college. In this case, Steele and her classmates are all journalism majors and Walter Williams Scholars.
"It is really awesome, I love all the people in it, we are all best friends. We all love each other so much," Steele says.
Her FIG has made the transition into college life easier. "We had a group chat that we were all in, so whenever we came in on move-in day, we were all already best friends," Steele says. "The girl across the hall already knew who I was, and gave me a hug like we were best friends for forever."
Steele plans to continue onto law school after completing her undergraduate journalism degree at MU.
"Going to law school is my ultimate goal, I want to be a lawyer. Originally, I was going to be a political science major but I realized it's not something I'm passionate about, it's not sometime I loved doing," Steele says. "I love journalism, I love learning about it, and I can still go to law school if I want after learning about it."
Updated: October 2, 2020
Related Stories
Expand All
Collapse All
---