Journalism Scholars and Walter Williams Scholars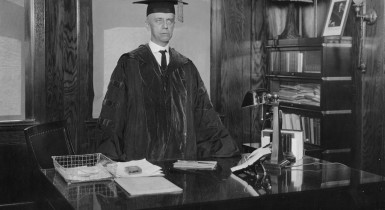 Journalism Scholars and Walter Williams Scholars
The Journalism Scholars and the Walter Williams Scholars programs are designed for the top tier of what is already an elite group. If you qualify, you will truly be the best among the best.
The Journalism Scholars Program
Qualifications: Any incoming freshman journalism major with a composite ACT score of 29 or higher or a combined SAT score of 1350 (1290 pre-March 2016) and who ranks in the top 10 percent of his or her high school graduating class qualifies for:
Direct admission to the Missouri School of Journalism.
Designation as a Missouri Journalism Scholar.
Benefits:
The opportunity to participate in a Freshman Interest Group designed exclusively for journalism students, space permitting.
Special advisement and programs directed by the School of Journalism's associate dean for undergraduate studies and administration.
Regular meetings with various members of the journalism faculty.
Space permitting, assignment to residence halls set aside for Journalism Scholars.
The opportunity to participate in many on-campus journalism events, and journalism clubs and organizations.
Social activities planned exclusively for Journalism Scholars.
The Walter Williams Scholars Program
The highest-achieving Journalism Scholars win separate designation as Walter Williams Scholars. The Walter Williams Scholars program is named in honor of the School's founding dean, a Missouri newspaper publisher who went on to become president of the University of Missouri.
Qualifications: To win acceptance into the exclusive circle of top Walter Williams Scholars, incoming freshmen must earn an ACT composite score of 33 or a combined SAT score of 1480 (1440 pre-March 2016). They also must rank in the top 20 percent of the high school class (if the school ranks) or must have maintained a high school GPA of at least 3.25 on a 4.0 scale. Admission is by invitation only.
Benefits: Walter Williams Scholars are also Journalism Scholars and have all of the rights and privileges enjoyed by that group. Additional benefits include:
Placement in a special Freshman Interest Group, space permitting.
Assigned individual faculty mentors.
A $1,000 scholarship that can be used for School of Journalism global programs, including our New York or Washington programs. The scholarship can be used at any time before graduation.
Automatic admission to the one-year BJ/MA program at the School of Journalism, which allows students to complete their graduate degrees in one year rather than two. Admission is contingent upon the following criteria:

Maintenance of a 3.25 GPA in your journalism coursework and for your cumulative average, throughout your undergraduate career;
Submission of a complete MA application, including payment of the application fee, and with two (out of three) of your letters of recommendation from journalism faculty. You do not need to take the GRE. Details can be found on the Master's Application Checklist: Domestic Web page.
Additional Resources