Freshmen Get Involved at Fall Welcome
By Andrea Latta
Columbia, Mo. (Sept. 7, 2005) — Students and faculty alike greeted the beginning of a new school year Tuesday at the School of Journalism's "Fall Welcome." Nearly 20 organizations were on hand in the journalism courtyard to talk with freshmen about joining clubs and activities.
"For students, Fall Welcome is quickly becoming a tradition, a way to kick off the year by presenting them with the full scope of the School's curricular and extracurricular activities in a fun setting," said Charles Davis, associate journalism professor and executive director of the National Freedom of Information Coalition.
During Fall Welcome, students can tour the courtyard and speak with representatives from various journalism organizations. It is a chance for them to learn what activities are available and how to participate. At the Society of Professional Journalists table, senior broadcast major Elizabeth Cox said that Fall Welcome has been instrumental in helping the MU chapter of SPJ grow to be the largest in the nation.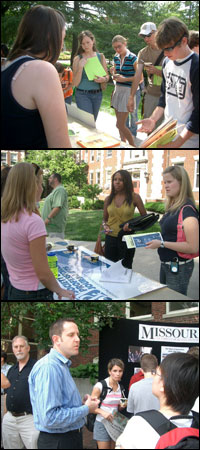 "It helps so much to get (freshmen) involved and have contacts with their professors," Cox said. "It helps them not feel so overwhelmed."
As freshmen walked among the activity tables, they could ask questions of older students and faculty who were present. Michael Rosenhouse, of Dallas, attended the event with his Exploring Journalism FIG and called the experience "very helpful."
"It helps open my eyes to more opportunities," Rosenhouse said. He said he is now interested in exploring Study Abroad programs and MUTV.
Immediately following Fall Welcome, the freshman class of Walter Williams Scholars and mentors were introduced in Fisher Auditorium. This year, 44 students earned the honor reserved for the School's top freshmen. Nine of the 44 are also Discovery Fellows and will work with their mentors on research projects.
Brian Brooks, associate dean for journalism undergraduate studies and administration, considered the afternoon a success.
"We managed to get dozens of students connected with student clubs and organizations within the School of Journalism. We also made connections between our freshmen and organizations that can help them develop such as MUTV and The Maneater," Brooks said.
---
Andrea Latta is a senior news editorial journalism and business management major at Mizzou. Originally from Plymouth, Minn., Latta spent the past summer at home interning with Target Corp.'s publicity department. She has gained further public relations and communications experience from time spent at Wells Fargo and Best Buy. After graduating in May, Latta hopes to move to Washington, D.C. and pursue a career in corporate communications.
Updated: April 7, 2020
Related Stories
Expand All
Collapse All
---