"Fall Welcome" Serves Up Journalism Possibilities, Tiger Stripe Ice Cream
By Alexandra Rampy
Columbia, Mo. (Sept. 11, 2006) — Another opportunity for freshman students to enjoy free Tiger Stripe ice cream came recently as faculty and upperclassmen presented various journalism opportunities at "Fall Welcome."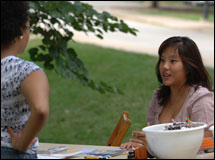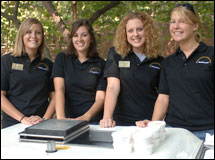 Representatives from journalism-related organizations and programs gathered at Peace Park, sharing the scoop on ways for incoming freshmen to develop their journalism skills, expand their professional networks and become involved in the School outside the classroom.
"I've known I wanted to do journalism since I was 10," Kevin Lewis, a freshman from Naperville, Ill., said. "I'm really talkative, and I like to express myself. I looked for the best journalism school, and after attending one of Missouri's summer media workshops, I knew Missouri fit. I want to go into broadcast, so I am looking for ways to get involved early. Events like this really help."
Now in its fourth year, Fall Welcome was originally conceptualized by Brian Brooks, the School's associate dean for undergraduate studies, as a way to connect incoming students with opportunities outside the classroom. The goal is for students to discover ways of exploring the many facets of journalism. It also offers a chance for faculty and upperclassmen to interact with freshmen.
"We want our freshmen to get involved in the life of the School from the outset," Brooks said. "They need to connect with faculty beginning in their first year. We want freshmen to feel like they belong and can seek the advice of faculty members."
Eager freshmen spoke with student and faculty representatives from more than 15 student groups, journalism sequences and special programs. Two new organizations were present – the Asian American Student Journalists Association and the National Association of Hispanic Journalists. Both organizations were organized and officially recognized by the University of Missouri-Columbia in the past year. Members are looking forward to what their inaugural year will bring.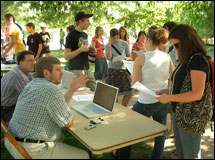 "AASJA is a student organization modeled after the national AAJA (Asian American Journalists Association) organization that highlights Asians in the media as well as other minority issues," said Angela Yang, a junior strategic communication major from Plano, Texas. "We've had a lot more freshmen interested than we thought we would, so we're excited. We have a big year ahead of us."
Another popular table was the Global Missouri Journalism study abroad table. Carrie Lutsch, study abroad coordinator, and Fritz Cropp, director of international programs, seemed to be talking constantly with students about various adventures that reach beyond Missouri.
"We've added a couple of new programs such as the Hong Kong and Prague programs," Lutsch said. "A popular one right now is the Australia program that is relatively new as well. Students always tend to ask if they need to know the language of the country they desire to study in and the best times to study abroad. Both of which vary on the student and the program of their choice."
Many journalism faculty attended the event as well as some prospective students. Sophomore Bianca Anderson of Dallas, Texas, wanted to learn more about the School because she plans to apply next semester. She said she hopes to participate in both the Australia and London programs one day and looks forward to joining the National Association of Black Journalists.
"I know I'm a sophomore, but I hopefully will be entering the school this fall," Anderson said. "My focus was on broadcast, but with the news and media going the way it is, I think convergence is the best avenue right now. I really just want to travel the world while doing what I love, and NABJ is a good organization for minorities, so I'm praying I get the opportunity to be in the Journalism School."
As the event concluded, signup sheets overflowed with new students' contact information as proof that the class of 2010 will continue the tradition of the Missouri Method by learning through doing both inside and outside the classroom. Plus, the ice cream might have played some part in the great turnout as well.
---
Alexandra Rampy, a senior from Overland Park, Kan., is an advertising major and business minor. She has interned at Muller + Company, a full-service advertising agency in Kansas City, Mo., and been involved in Rockin' Against Multiple Sclerosis, the MU Student Foundation, Adelante! and Alpha Phi Fraternity. Rampy plans to study strategic communication in graduate school and one day would like to found a non-profit advertising agency.
Updated: April 10, 2020
Related Stories
Expand All
Collapse All
---