Missouri School of Journalism Welcomes Fall 2010 Students
By Amy Brachmann
Master's Student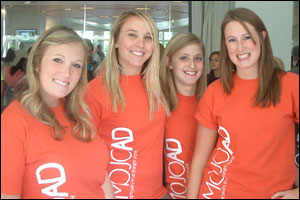 Columbia, Mo. (Sept. 17, 2010) — The Missouri School of Journalism recently welcomed new and transfer students to campus and returning students back to campus with its annual Fall Welcome event. Counting all upperclassmen, directly admitted freshmen and pre-journalism students, the School now has 2,013 undergraduate students, which is an increase from last fall's 1,971.
New students attending Fall Welcome could visit with representatives at booths for 23 student groups and journalism organizations from the National Association of Black Journalists to Magazine Club to Student Society of News Design. New this year was Mizzou's branch of Her Campus, an online magazine for college women.
The 2010 University of Missouri freshmen class counted 6,160 students, 972 declared as journalism or pre-journalism, on the first day of the fall semester. Journalism students directly admitted to the School have an average ACT score of 29.36, pre-journalism averaged 26.88. Both of these ACT scores are above the current campus average of 25.6, which is one of the top in the Big 12 Conference. One journalism freshman scored a perfect 36 on the ACT.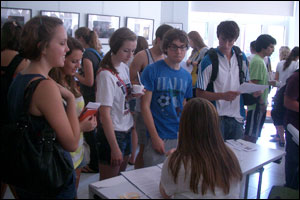 This year's freshmen class includes 63 Walter Williams Scholars, the largest group ever. Their interests cover all types of media and range from international and science journalism to arts and sports. The students also hail from states as varied as Arizona, Wisconsin, Ohio, Tennessee, Alabama, Virginia, Colorado, Indiana, New York and New Mexico.
The incoming freshmen can choose from 25 interest areas designed to build expertise in areas in which journalism and strategic communication majors typically find jobs. Options include Arts and Culture Journalism, Emerging Media, Entrepreneurial Journalism, Multiplatform Design, International Journalism and Watchdog Journalism. One option allows students to individually design a course of study if none of the existing interest areas meet their needs.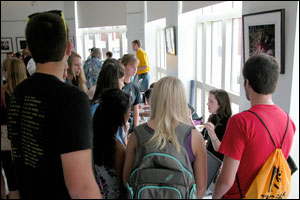 Among the 1,066 upperclassmen, the strategic communication emphasis area is the School's largest with 438 students, or 41 percent. Other breakdowns are magazine journalism with 18.5 percent; radio-television journalism, 16 percent; convergence journalism, 12 percent; print and digital news, 6.5 percent; and photojournalism, 6 percent.
For graduate studies, the total enrollment is 325 master's students, of whom 104 are studying online, and 40 doctoral students.
Fall 2010 also brings 11 new faculty members to the School's staff of more than 85. These individuals represent a variety of backgrounds, ages and experiences and bring numerous industry awards to MU. They will teach in all areas of journalism and journalism studies and will work with Vox magazine, The Columbia Missourian, MOJO Ad, KOMU-TV and the Missouri Photo Workshop.
Updated: May 14, 2020
Related Stories
Expand All
Collapse All
---