Fall Programs Welcome New Students to Campus, Highlight Opportunities for Involvement
Columbia, Mo. (Sept. 6, 2007) — A tip from a friend at home pushed Alex Batka, a freshman magazine journalism student from Chicago, to the Missouri School of Journalism. Now in her first weeks on campus, Batka is working hard to become familiar with all the opportunities the School provides – and making many new friends in the process.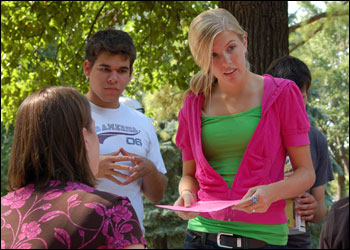 Batka joined several hundred students, faculty and staff in nearby Peace Park on Aug. 30 for Fall Welcome, an annual event designed to connect new students with representatives of various journalism- and University-related organizations, programs and offices. Fall Welcome shows students the multiple facets of the School and helps faculty members, graduate students and upperclassmen interact with freshmen.
"Incoming journalism students know they're going to receive a top-notch education at Missouri, but many don't realize the opportunities they'll have to become involved in both student and professional organizations as well," said Brian Brooks, associate dean for undergraduate studies and administration. "Fall Welcome is one of our efforts to ensure students can take advantage of the tremendous resources at their disposal as early as possible."
For first-year students, Fall Welcome was a chance to jump head-first into their new home.
"I came today because I really want to get involved in something," said Batka, who visited with several representatives of the Magazine Club during the event. "I wanted to get an idea of everything that was available to me."
Joining Batka at Fall Welcome was Bradley Schlemmer, a freshman newspaper journalism major from St. Louis.
"I came to make more connections and to find an organization I can get involved in," Schlemmer said. "I'm really interested in something like the National Newspaper Association and even the Center on Religion & the Professions- something that reinforces my print focus."
Both Batka and Schlemmer said opportunities such as Fall Welcome and their Exploring Journalism Freshmen Interest Group (FIG) have eased the transition from high school to the University of Missouri-Columbia. A FIG is a group of first-year students who share similar academic interests and live near each other in one of the University's residence halls. The students are enrolled in three classes together and often become each other's best resource for studying and homework.
"Being in the FIG concentrates everything you want to know about the J-School," Schlemmer said. "It really helps, too, because as big as Mizzou is, we're surrounded by people who all want to be involved in something similar."
Batka agreed that the adjustment to college has been positive.
"I've made some good friends already, and it hasn't been nearly as hard as I thought it would be," she said.
Representatives of more than 20 organizations and programs were on hand during Fall Welcome to help the students get involved. Aja Junior, a junior magazine journalism major from East St. Louis, Ill., and sophomore photojournalism major Jehan Roberson, of Memphis, Tenn., encouraged students to consider becoming involved in the National Association of Black Journalists.
In addition to attending guest lectures and participating in an annual media tour, NABJ members benefit from the organization's mentorship program, which pairs individual freshmen with an upperclassman in the same emphasis area. The mentor offers advice about class schedules, professors and the college experience in general.
"They help as a guide throughout the Journalism School – and, hopefully, through graduation," said Junior, who serves as the secretary of NABJ's executive board.
Roberson, the organization's treasurer, emphasized that the NABJ also stresses community service and fellowship.
"We're pretty much a family for everybody who wants to be involved and know other students, of color especially," Roberson said. "We're here for each other."
And while most freshmen students were still learning their way around campus at Fall Welcome, some organizations already were encouraging students to gain experience outside of Columbia. The Ad Club, for instance, is open to all students interested in strategic communication and sponsors networking trips with agencies in Kansas City, Mo., St. Louis, and Chicago every year.
At the nearby Study Abroad display, students learned about many of the School's popular international programs, such as those in London and Sydney, Australia. Both programs offer students the opportunity to take classes or intern in two global centers of commerce and culture.
Updated: April 20, 2020
Related Stories
Expand All
Collapse All
---