Meet New J-Students: Claire Bradshaw
By Anna Pardee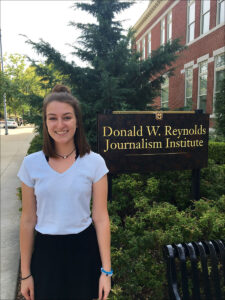 Columbia, Mo. (Sept. 27, 2016) — "Cancel everything else, I'm going to Mizzou."
This was freshman Claire Bradshaw's first thought after she finished her tour of the University of Missouri and the School of Journalism. The many other college options she had in her mind suddenly disappeared, and the Missouri School of Journalism suddenly became the obvious and only choice.
Bradshaw had no idea what she wanted to study or do with her life until around her junior year of high school. Realizing her strengths – public speaking, debating, and writing – she decided to get involved in journalism classes her senior year. Bradshaw joined her high school's TV program and that is when she discovered her love for broadcasting.
Bradshaw's emphasis is in Radio and TV Journalism, and she also has interest in the possibility of producing. Right now she is easing her way into the college life at Mizzou and learning about all the different organizations to be a part of over her next four years as a Tiger. Bradshaw's high ACT score allowed her to be accepted into the Journalism Honors FIG. Bradshaw is most looking forward to being involved with campus outlets MUTV and KCOU before she gains even more experience in the broadcast world at the School's professional newsrooms, KOMU-TV and KBIA-FM.
Updated: October 2, 2020
Related Stories
Expand All
Collapse All
---