Missouri School of Journalism Honors 50 Freshmen as 2017 Walter Williams Scholars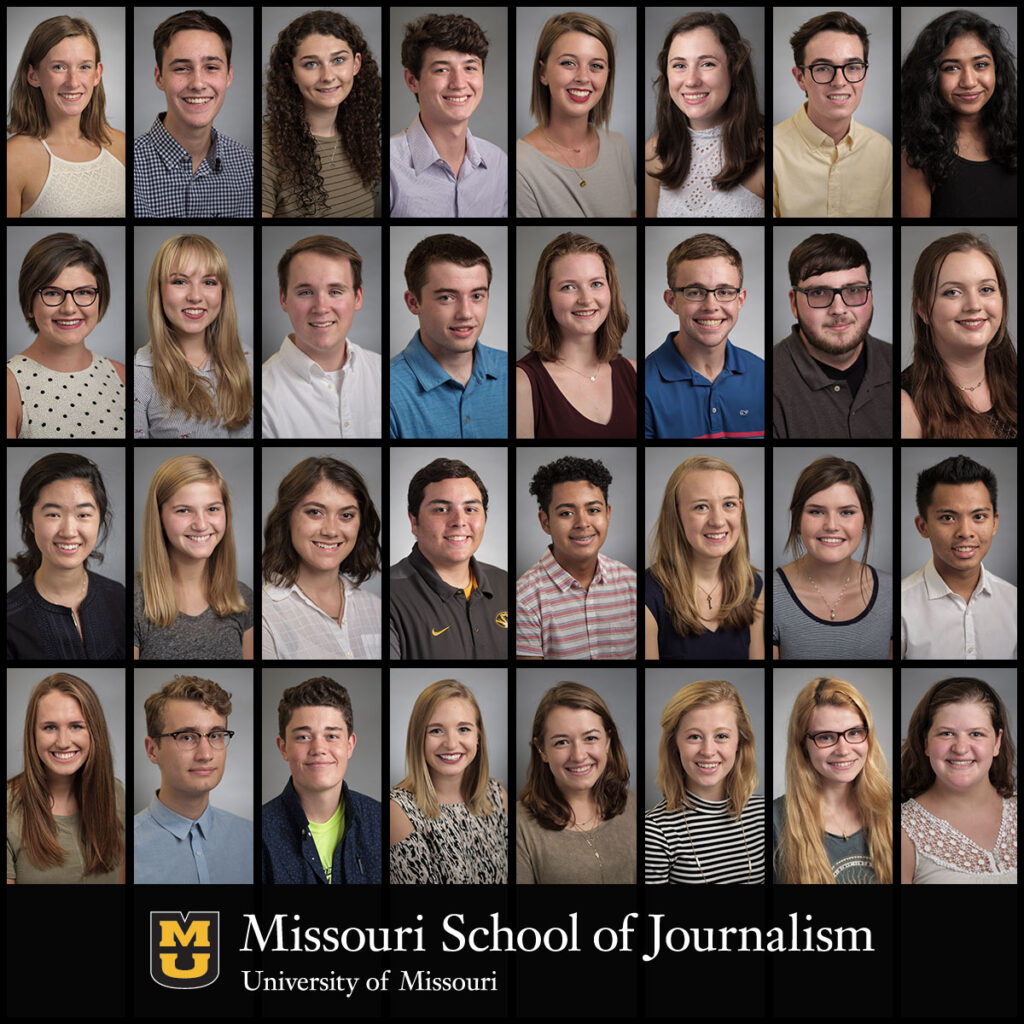 Top row, left to right: Lauren Bishop, Nathan Busch, Mary Dimitrov, Bennett Durando, Madeleine Harres, Kaitlyn Hoevelmann, Jacob Horton, Pubali Kundu. Row 2: Sadie Lea, Christina Long, Benjamin Luty, Connor McLindon, Heather Miller, William Morris, Reagan Myers, Madeline Niblett. Row 3: Joy Park, Sarah Peterson, Emmalee Reed, Peyton Rives, Leo Rocha, Zoe Shedd, Alyssa Shikles, Benedict Singson. Row 4: Claire Smrt, Maxwell Staab, Hank Stafford, Molly Stawinoga, Abigail (A.J.) Thomas, Annabel Thorpe, Jill Wagner, Madelyn Winfield. Not pictured: Sadie Davis, Melanie Green, Vivian Herzog, John Jenco, Liad Lerner, Anna Lewis, Mark Mattes, Camille McManus, Amanda Nguyen, Kristina Perona, Tessa Seibel, William Skipworth, Alexandra Sharp, Riley Steinbrecher, Cornelia (Lia) Waldrum, Renae Whissel, Madison Wright, Jessica Yates.
The Honor Is the Highest Level of Distinction in the School
Columbia, Mo. (Oct. 24, 2017) — The Missouri School of Journalism held its annual Walter Williams Scholars ceremony to recognize and honor the 2017 incoming class of high-ability freshman who will study journalism at the school. The 50 scholars hail from 11 states across the country.
To qualify as a Walter Williams Scholar, students must have been in the top 20 percent of their high school class, have maintained a GPA of 3.25 or above and have earned at least a 33 on the ACT or 1480 on the SAT.
"We are delighted these students chose the world's journalism school for their studies," said David Kurpius, dean of the School of Journalism. "These Walter Williams Scholars are among the future leaders in journalism and strategic communication, and will have plenty of opportunities to develop their talents and abilities at the Missouri School of Journalism."
During the ceremony, scholars were recognized individually for their accomplishments in high school. Each student received a Walter Williams Scholars certificate and a centennial commemorative book from their faculty mentor.
"Missouri gets the students who are really committed to journalism, advertising and public relations," said Brian Brooks, associate dean emeritus and Walter Williams Scholars program faculty lead. "When you spend time with this exceptional group of students, it's clear they love to learn. These students are among the best incoming students in the country and we are proud they have chosen Missouri School of Journalism."
The Walter Williams Scholars program is the highest level of distinction in the Missouri School of Journalism. It is named for the School's founding dean, and accepts the highest-achieving freshmen by invitation only. These scholars are directly admitted into the journalism school their freshman year and assigned faculty mentors. The mentors serve as resources for the scholars, providing guidance and advice. Other benefits for each scholar include a $1,000 scholarship to study abroad or participate in the School of Journalism's New York or Washington programs, and automatic admission to the School's one-year master's degree program.
Updated: October 26, 2020
Related Stories
Expand All
Collapse All
---