Walter Williams Scholar Blogs for AOL's Red Service
Columbia, Mo. (Nov. 2, 2005) — David Ubben, a Missouri School of Journalism freshman and a Walter Williams Scholar, dreams of becoming a great sports writer. In the meantime, he is a well-known blogger on the AOL® Red™ service for teens.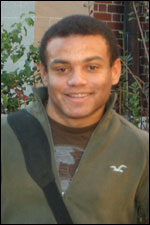 Ubben is one of only six students in the United States to be featured on this first-of-its-kind reality series. Titled "Project: Freshman," the service includes videos, confessionals and daily blogs of the cast members at college.
As to why he was selected, Ubben says, "I think they definitely wanted someone who was relatively smart and could be counted on, so I would say that was possibly a major selling point. In my audition video I was shooting my own stuff, talking about what was going on. I think they knew I had a good grasp on what the show would be."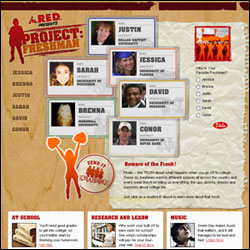 Ubben also notes that AOL had expressed interest in featuring a University of Missouri student. "I definitely think Missouri is a great school to portray college life. It's a great college town, there's a lot to do, and Kansas City and St. Louis are right there for the impromptu pseudo-road trip," he says.
The Fayetteville, Ark., native is one of 44 Walter Williams Scholars for the 2005-06 academic year. To win acceptance into this exclusive circle of top scholars, incoming freshmen must earn an ACT composite score of 33 or higher (1470 or higher on the SAT). Ubben and other Scholars enjoy numerous benefits including having individual faculty mentors and a $1,000 scholarship that can be used to study abroad or in School's Washington Program at any time before graduation.
"In the end, I think it will be a really good experience to document and look back on my first semester in college," Ubben says.
Updated: April 8, 2020
Related Stories
Expand All
Collapse All
---