Missouri School of Journalism welcomes 85 high-achieving Walter Williams Scholars to campus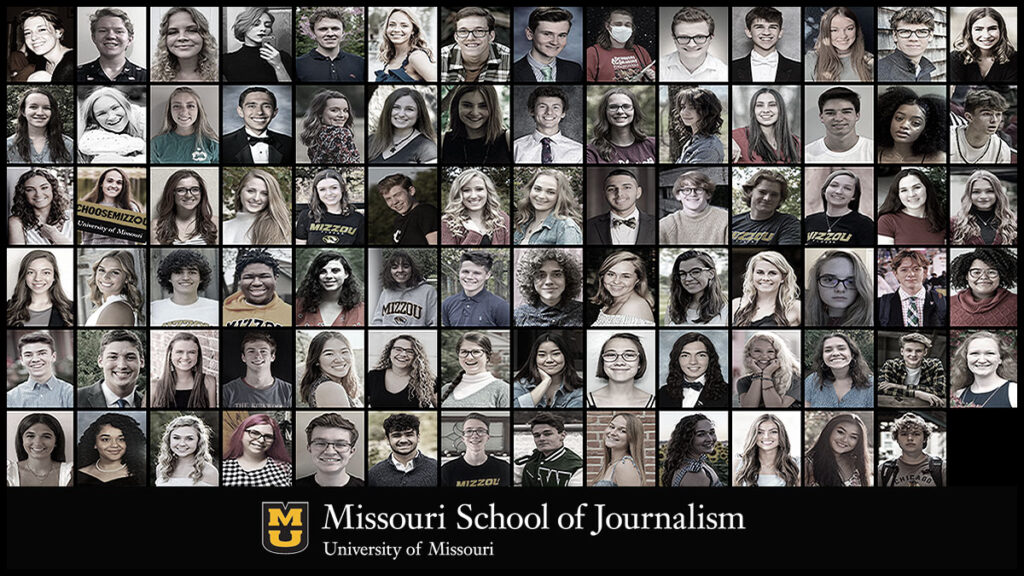 Now in its 17th year, the Walter Williams Scholars program represents the highest level of student distinction in the J-School.
Columbia, Mo. (Aug. 28, 2020) — The Missouri School of Journalism welcomed 85 exceptional students this fall as they begin their studies in journalism and strategic communication as Walter Williams Scholars. The talented students come from 19 states.
Now in its 17th year, the Walter Williams Scholars program is the highest level of student distinction in the Missouri School of Journalism. It is named for the School's founding dean, and accepts the highest-achieving freshmen by invitation only.
"We are excited to have a stellar group of Walter Williams Scholars, and we are particularly excited to have the second highest number in our program's history," said Brian Brooks, associate dean emeritus and Walter Williams Scholars program faculty lead. "They represent the future of American journalism, and we are thrilled to welcome them to Mizzou and the School of Journalism."
To qualify as a Walter Williams Scholar, students must have been in the top 20 percent of their high school class, have maintained a GPA of 3.25 or above and have earned at least a 33 on the ACT or 1480 on the SAT.
These scholars are directly admitted into the journalism school their freshman year and assigned faculty mentors. The mentors serve as resources for the scholars, providing guidance and advice. Other benefits for each scholar include a $1,000 scholarship to study abroad or in the School's programs in New York City and Washington, D.C., at any time before graduation, and automatic admission to the one-year BJ/MA program, which allows students to complete their graduate degrees in one year rather than two.
The Fall 2020 class of Walter Williams Scholars is:
Olivia Anderson, Spring, Texas
Mason Arneson, Golden Valley, Minn.
Cassie Beisheim, St. Louis, Mo.
Casey Bonds, Joplin, Mo.
Tommy Briner, Wentzville, Mo.
Audrey Brown, Wildwood, Mo.
Andreas Busse, Sammamish, Wash.
Tommy Carrico, Mount Prospect, Ill.
Quinn Coffman, St. Louis, Mo.
Ryan Cohen, Bolivar, Mo.
Jack Copeland, Brownsburg, Ind.
Maggie Courtney, Springfield, Mo.
Geoffrey Dean, Cary, NC
Ellie DeBeer, Highlands Ranch, Colo.
Elizabeth Derner, Washington, Mo.
Richard Deutsch, Chicago, Ill.
Lily Dozier, Camas, Wash.
Madelynn Draus, Weston, Ill.
Justin Dunbar, Millbrae, Calif.
Kara Ellis, Hendersonville, Tenn.
Ashley Faber, Memphis, Tenn.
Kiana Fernandes, Kansas City, Mo.
Merrick Foote, Antioch, Ill.
Sequoia Gallaway, Ozark, Mo.
Katie Gallaway, Plano, Texas
Sara George, Boulder, Colo.
Parker Gillam, Alpharetta, Ga.
Kirsten Godfrey, Southfield, Mich.
Joe Goodman, Iowa City, Iowa
Emily Anne Griffith, Decatur, Ala.
Hannah Gundlach, Waterloo, Ill.
Ella Haas, Oak Park, Ill.
Brennan Haralson, Austin, Texas
Jaclyn Harris, Argyle, Texas
Ben Henschel, Fairway, Kan.
Emily Hood, St. Charles, Mo.
Ava Horton, Little Rock, Ark.
Jonathan Jain, Kennett, Mo.
Emmet Jamieson, Rochester Mills, Pa.
Thomas Jamison, St. Charles, Mo.
Caitlin Kane, Colorado Springs, Colo.
Teagan King, Geneva, Ill.
Sam Kingery, Teutopolis, Ill.

Zoe Krause, St. Louis, Mo.
Danielle Laue, Lisle, Ill.
Patrick Leonard, Glenview Manor, Ky.
Gabe Levi, Chicago, Ill.
Claudia Linder, Eads, Tenn.
Lindsey Linkous, Thompsons Station, Tenn.
Caleb Logue, Santa Rosa, Calif.
Connor Manley, Crystal City, Mo.
Maddie Meyers, St. Louis, Mo.
Marta Mieze, Ballwin, Mo.
Molly Miller, Cherry Hill Village, Colo.
Mia Montgomery, Bolivar, Mo.
Ryan Moore, St. Louis, Mo.
Maya Morris, Memphis, Tenn.
Matthew Newkirk, Overland Park, Kan.
Nico Orantes, Murfreesboro, Tenn.
Maddie Orr, Columbia, Mo.
Ethan Peter, St. Louis, Mo.
Faith Quist, Minnetonka, Minn.
Emma Reiser, Kansas City, Mo.
Sigi Ris, The Woodlands, Texas
Gabby Rivera Kroenke, Kansas City, Mo.
Amy Schaffer, Kansas City, Mo.
Faith Schilmoeller, West Plains, Mo.
Bradford Siwak, Richmond Heights, Mo.
Elese Smith, Jerseyville, Ill.
Maren Stephens, Alpharetta, Ga.
Johnny Sterrett, Kansas City, Mo.
Bailey Stover, Columbia, Mo.
Emma Tacchia, Joliet, Ill.
Caitlin Tate, Memphis, Tenn.
Sarah Tierney, Lakeway, Texas
Cass Tobin, Springfield, Mo.
Jackson Valenti, Raymore, Mo.
Kortay Vincent, Tulsa, Ok.
Ian Wesselhoff, Plainfield, Ill.
Nick Winkelman, Plano, Ill.
Brynn Winkler, Prairie Village, Kan.
Shannon Worley, Wildwood, Mo.
Molly Wright, West Des Moines, Iowa
Cayli Yanagida, Olympia,  Wash.
Owen Ziliak, Chicago, Ill.
---
Row 1, from left: Olivia Anderson, Mason Arneson, Cassie Beisheim, Casey Bonds, Tommy Briner, Audrey Brown, Andreas Busse. Row 2: Tommy Carrico, Quinn Coffman, Ryan Cohen, Jack Copeland, Maggie Courtney, Geoffrey Dean, Ellie DeBeer. Row 3: Elizabeth Derner, Lily Dozier, Madelynn Draus, Justin Dunbar, Kara Ellis, Ashley Faber, Kiana Fernandes. Row 4: Merrick Foote, Katie Gallaway, Sequoia Gallaway, Sara George, Parker Gillam, Kirsten Godfrey, Joe Goodman. Row 5: Emily Anne Griffith, Hannah Gundlach, Ella Haas, Brennan Haralson, Jaclyn Harris, Ben Henschel, Emily Hood. Row 6: Ava Horton, Jonathan Jain, Emmet Jamieson, Thomas Jamison, Caitlin Kane, Teagan King, Zoe Krause. Row 7: Gabby Rivera Kroenke, Danielle Laue, Patrick Leonard, Gabe Levi, Claudia Linder, Lindsey Linkous, Caleb Logue. Row 8: Connor Manley, Maddie Meyers, Marta Mieze, Molly Miller, Mia Montgomery, Ryan Moore, Maya Morris. Row 9: Matthew Newkirk, Nico Orantes, Maddie Orr, Ethan Peter, Faith Quist, Emma Reiser, Sigi Ris. Row 10: Amy Schaffer, Faith Schilmoeller, Bradford Siwak, Elese Smith, Maren Stephens, Johnny Sterrett, Bailey Stover. Row 11: Emma Tacchia, Caitlin Tate, Sarah Tierney, Cass Tobin, Jackson Valenti, Kortay Vincent, Ian Wesselhoff. Row 12: Nick Winkelman, Brynn Winkler, Shannon Worley, Molly Wright, Cayli Yanagida, Owen Ziliak. Not pictured: Richard Deutsch, Sam Kingery.
Updated: November 13, 2020
Related Stories
Expand All
Collapse All
---