Missouri School of Journalism students honored with prestigious Hearst Awards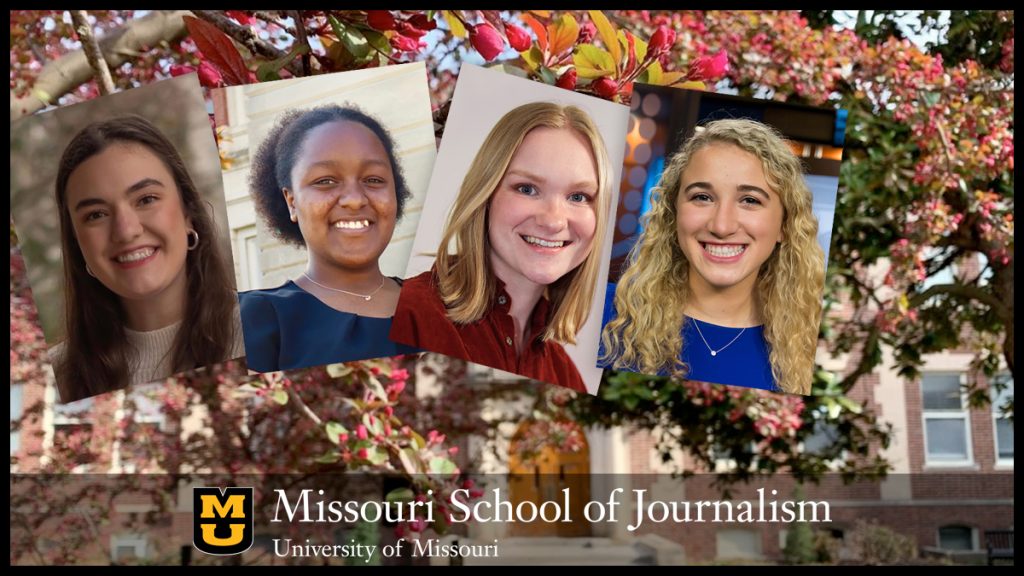 Columbia, Mo. (April 20, 2022) — Missouri School of Journalism students are being honored for excellent storytelling as the Hearst Journalism Awards Program continues to recognize top student journalism in a number of categories. To date, eleven students have finished in the top 20 in various Hearst competitions this year.
"It's wonderful to see our students continue to stand out at the highest levels for the journalism they produce in our professional newsrooms," said School of Journalism dean David Kurpius. "This isn't good student journalism. It's good journalism."
Two Missouri School of Journalism students finished in the Top 10 of the Multimedia Innovative Storytelling and Audience Engagement competition for their work broadcast on KBIA-FM and KOMU-TV. Avery Everett won eighth place for her story about the opening of the Roy Blunt NextGen Precision Health Building on the Mizzou campus, while Rachel Schnelle claimed tenth place for a radio story about growing lavender in Missouri.
"You don't ever do a story to see an award in the end, but it's really cool to see your work being recognized, especially in the innovation category," Everett said. "Not only that, but some of the other submissions showed us cool new ways of storytelling that we could use for the future."
Schnelle, who also won an esteemed Gracie Award earlier this month for the same article, felt the story marked a turning point in her development as a journalist.
"I'm really proud of this story, because it was one of the first times that I was really proud of my voicing. I stood up for my voice and was able to be conversational instead of news-voicey," Schnelle said. "I'm so honored, because I knew that the story was good, but I didn't know if it would go anywhere."
Another KBIA reporter, Caoilinn Goss, took 14th place in the Audio News/Features competition for her coverage of the vaccination of young children against COVID-19.
"It was really rewarding to get a chance to highlight how existing health infrastructures that help break down barriers to access can be adapted to tackle new challenges such as the pandemic," Goss said. "I'm so flattered and humbled by the recognition."
The topic of youth COVID-19 vaccines also netted a top ten honor for Lily Dozier, who won eighth place in the Picture Story/Series competition for a story published in the Columbia Missourian about one family's experiences with COVID-19 vaccination. Joining Dozier with a win in this category, Ciara McCaskill took 17th place with a Missourian story about the cost of youth sports.
"The story I submitted was one I was honored to tell and incredibly proud of," Dozier said. "Ultimately, I think I was most excited to see what I believe to be one of the most important stories I've told receive the praise it deserves."
Like Dozier, McCaskill was confident in the work that was honored by Hearst.
"I put a lot of time and effort into that story and was really happy with the results I submitted to the competition," McCaskill said. "I have Brian Kratzer, associate professor, to thank for that. I'd also like to thank him for the vote of confidence in nominating me in the first place. It's truly an honor to be placed in the top 20!"
Hearst will continue to announce winners throughout the spring. Other winners from the School of Journalism include:
Bradley Davis – Television News, first place
Kathryn Merck – Television Features, second place
Jacob Moscovitch – Personality/Profile Writing, eighth place
Briar Napier – Sports Writing, 13th place
Elyse Schoenig – Television News, fifth place
Toby Young – Multimedia Digital News or Enterprise Story-Individual, seventh place
About the Hearst Journalism Awards
The Journalism Awards Program, now in its 62nd year, also includes two photojournalism, one audio, two television, and four multimedia competitions. The program offers up to $700,000 in scholarships, matching grants and stipends annually. There are 103 universities of the Association of Schools of Journalism and Mass Communication with accredited undergraduate journalism programs that are eligible to participate in the Hearst monthly competitions.
Updated: April 21, 2022
Related Stories
Expand All
Collapse All
---