KOMU receives $10,000 grant to report on solutions to issues facing rural Missouri towns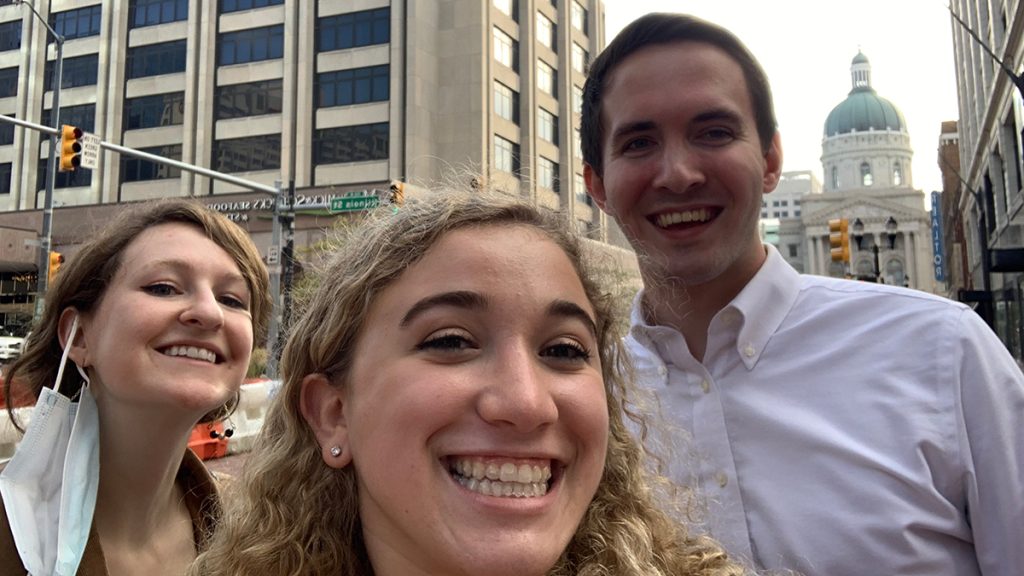 (L-R) Anna Watson, Avery Everett and Matt McCabe
Columbia, Mo. (July 21, 2022) — KOMU-TV, the Missouri School of Journalism's NBC-affiliate newsroom, has received a $10,000 grant from the Solutions Journalism Network to report on "solutions to issues affecting economic development and sustainability in Missouri's rural towns," according to a press release from SJN. The grant includes funds for training, equipment, and other support to help the newsroom include more "solutions journalism" — stories that not only point out issues but present possible answers — in its newscasts.
"Congratulations to Matt McCabe and Avery Everett for leading the effort to get this grant," said Jeimmie Nevalga, news director at KOMU. "I'm excited to see what we can do with the help of the Solutions Journalism Network."
KOMU is one of eight college and university newsrooms nationwide selected for the inaugural cohort of the grant, which is known as the Student Media Challenge.
Everett and McCabe, rising seniors at the School of Journalism who put together the grant application, have already made headlines this year. Both shared a regional Murrow Award for their KOMU series, "The Push for Precision," while Everett also won a Hearst Award for a story in that same series. The pair view the grant's focus on solutions-oriented coverage of rural Missouri as an extension of work that began in professor Mark Horvit's Emerging Technologies course, in which students were asked to report on stories from small towns that often go overlooked by the wider press.
"We reported on a mayoral race and talked about economic development in towns with shrinking population sizes," Everett said. "There is so much to cover in the state of Missouri, and when we heard about this grant, it seemed like the perfect way to continue that story."
And when it comes to solutions journalism, McCabe said their experience covering rural Missouri has also acquainted them with some of the more subtle aspects of this approach to news coverage; in particular, the need to avoid the pitfalls of cliched storytelling and stereotypes about small towns that local news sometimes amplifies.
But applying for the Student Media Challenge required more than a solid understanding of the stories they wanted to tell. SJN also required a breakdown of how the $10,000 would be spent, itself a challenge for Everett and McCabe, for whom the intricacies of newsroom budgets represented an unfamiliar — even intimidating — realm of the industry.
"This is a field that I obviously want to be in for the rest of my life, but going into this I had no idea how much a TV station or a newspaper makes," McCabe said. "How much does it cost to produce news? It's definitely something you have to pick up as you go."
Now that KOMU has received the grant, Everett and McCabe plan to do more than add a few solutions journalism stories to the mix. On the cusp of their own futures, only a year away from graduation, they are looking to create something persistent and sustainable that accounts for the future of the station.
"Our goal is to build a team of students across grade levels — graduate and undergraduate students — to start implementing this 'solutions' skill as early as freshman year," Everett said.
Doing so, she added, would create a pipeline of students trained in solutions journalism that would not be hindered by the turnover inherent in student-staffed newsrooms. It's an attitude that reflects Everett and McCabe's recognition that the School's professional newsrooms — including KOMU — do more than serve students.
"This grant aligns perfectly with the School's commitment to serving Missouri communities with relevant news and information that matters to people," said David Kurpius, dean of the School. "It encapsulates every part of our mission: we're further strengthening the hands-on training of student journalists, developing innovative approaches to coverage and the business of news that the industry can benefit from, and harnessing all of that in service to the people of Missouri. Congratulations to KOMU and to the students who made this grant happen."
Updated: July 21, 2022
Related Stories
Expand All
Collapse All
---