KBIA wins 7 regional Edward R. Murrow Awards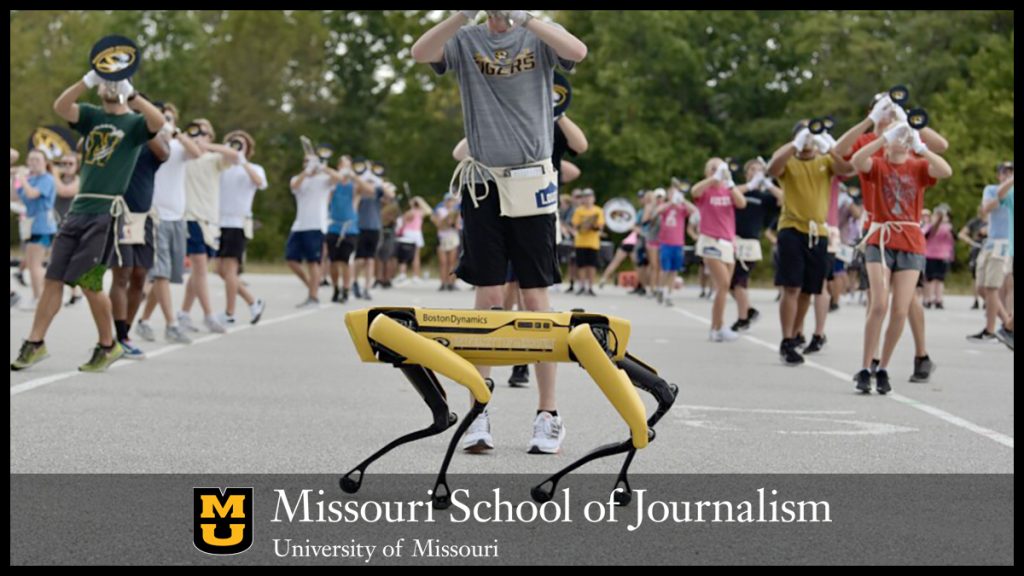 Photo: Nate Brown | KBIA
The NPR-affiliated station won more awards than any other station in the Region 5 competition. KOMU and the Columbia Missourian were also represented
Columbia, Mo. (May 18, 2022) — The Radio Television Digital News Association announced on Monday the winners of the prestigious Edward R. Murrow Awards in Region 5, which covers Iowa, Kansas, Nebraska and Missouri. KBIA-FM, the Missouri School of Journalism's NPR member radio station, took home seven awards, the most of any station in Region 5 — and the most of any small-market station nationwide with 6 of 13 regions announced so far.
"This year's results are really great because every staff member at KBIA had an award that they can really call their own," said Ryan Famuliner, KBIA news director and associate professor at the School of Journalism. "On top of that, student journalists won honors for some of their individual work as well, which is truly remarkable considering the caliber of competition they face from other stations in our region."
Each winning entry will advance to the national competition, where they will face off against winners from all 13 regions. Considered one of the most esteemed honors in news journalism, the Murrow Awards recognize ethical, technically excellent, and impactful journalism in local and national news.
"KBIA's Murrow Awards are a ringing endorsement of the station's hard work in creating news that truly matters to people in the community," said David Kurpius, dean of the School of Journalism. "As a station that both trains and staffs world-class broadcast journalists, regularly receiving awards that honor both of those missions, KBIA represents the School's commitment to the community, to first-rate education, and to moving the industry forward through smart innovation."
KBIA's winners included the already heavily-decorated You Don't Say — a series of conversations on Black history in Columbia produced by Janet Saidi and T'Keyah Thomas — and Rebecca Smith's Missouri Health Talks, a series that began long before the COVID-19 pandemic and continues to cover a wide range of health topics that impact Missourians.
Students won for stories ranging from statewide health coverage to community stories about Columbia's history and culture. Among the winners was non-traditional student Nate Brown, who is pursuing his journalism degree while working as the social media manager for the School of Journalism and the Reynolds Journalism Institute. Brown won in the sports category for his story about Spot the robot dog, a four-legged robot that danced with the Golden Girls dance squad and Marching Mizzou during a Mizzou football halftime show.
"I'd like to thank KBIA news director Ryan Famuliner and producer Becky Smith for their help on this report," Brown said. "Like all our newsroom faculty and staff, they're the folks 'behind the byline' — listening to our pitches, making edits and suggestions, helping us produce the best news content for central Missouri."
KOMU-TV and the Columbia Missourian were also represented, with KOMU taking home a regional Murrow Award for Excellence in Innovation for its series of stories on Mizzou's Roy Blunt NextGen Precision Health Institute. The series was a collaboration between rising seniors Avery Everett and Matt McCabe at KOMU and May graduate Anna Watson at the Missourian.
The full list of winners is as follows:
Continuing Coverage: Missouri Expands Medicaid
A collection of stories by health reporter Sebastián Martínez Valdivia exploring Medicaid expansion and its impacts on Missourians.
Digital: KBIA News
KBIA chief engineer Mark Johnson oversaw the station's transition to NPR's new content management system — Grove CMS — last year. Famuliner credited Johnson for the award, while also recognizing Columbia Missourian executive editor Elizabeth Conner Stephens and her team for their work assisting KBIA's web and social media efforts.
Excellence in Innovation: The Push for Precision
This series of stories covering the Roy Blunt NextGen Precision Health Institute was a collaboration between rising seniors Avery Everett and Matt McCabe at KOMU and May graduate Anna Watson at the Missourian.
Excellence in Innovation: You Don't Say
The conversation series by Janet Saidi and T'Keyah Thomas is co-produced by Columbia's nonprofit Sharp End Heritage Committee.
Excellence in Sound: Ragtime Community Comes Together to Keep the Music and its History Alive
This story was a collaboration between KBIA and Vox Magazine, co-reported by May graduates Xcaret Nuñez and Evan Musil.
News Documentary: Show Me the State: Barbara Papish
This episode of Kristofor Husted's Show Me the State, produced by Zia Kelly, delves into the history of a free speech dispute on the Mizzou campus that ultimately made its way to the U.S. Supreme Court in 1973.
News Series: Missouri Health Talks
Famuliner credited Rebecca Smith's ongoing series with helping to establish KBIA's style of "conversations journalism" that have been used to great effect in other KBIA projects, such as fellow awardee You Don't Say and oral history project Missouri on Mic).
Sports Reporting: Spot the Robot to Perform with the Mizzou Marching Band During Football Halftime Show
Nate Brown was one of the first journalists to cover Spot, a four-legged robot created by Boston Dynamics that danced with Mizzou's Golden Girls dance squad during a Mizzou football halftime show.
Updated: May 18, 2022
Related Stories
Expand All
Collapse All
---