KBIA wins three prestigious Gracie Awards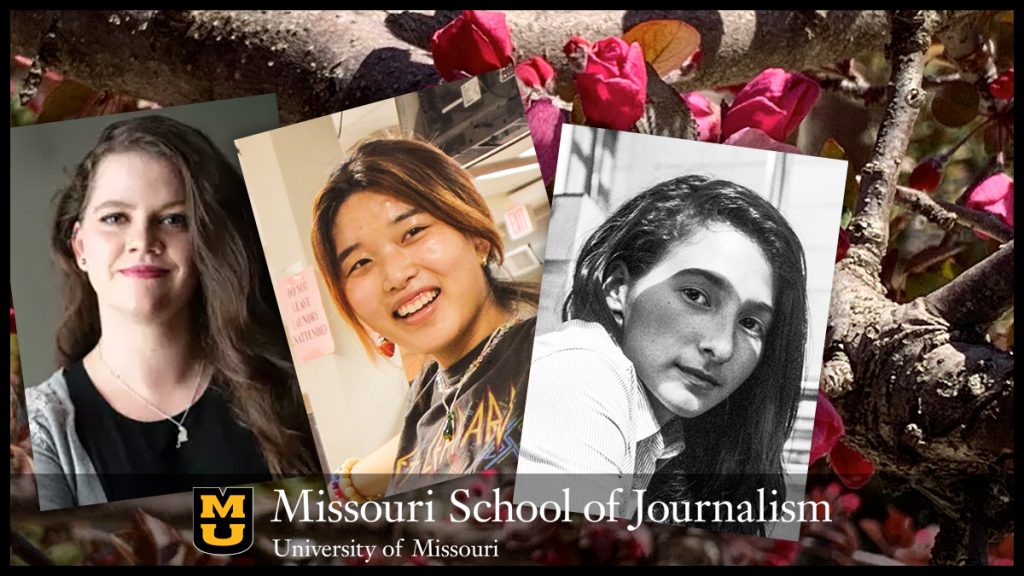 COLUMBIA, Mo. (April 17, 2023) — KBIA-FM, the Missouri School of Journalism's NPR affiliate radio station, has earned three Gracie Awards from the Alliance for Women in Media.
The 48th annual Gracie Awards, which also recognize the likes of TODAY and 48 Hours for their achievements related to woman-centered media, honor both professional and student work from the station. Graduate student Valerie Nava, Senior Moy Zhong and KBIA reporter/producer Rebecca Smith will be honored at the Gracie Awards Luncheon in New York City on June 20.
"These awards highlight the School of Journalism's commitment to storytelling that serves and meaningfully connects with our community," said David Kurpius, dean of the School. "Each of the stories and projects honored with Gracies center around community voices addressing important social issues, allowing our students and professional staff to both inform and accurately represent Mid-Missourians."
In a striking example of the collaborative potential of the School of Journalism's One Newsroom — where students and staff from the School's professional media outlets come together to plan and coordinate coverage — neither of the student stories began as radio pieces but landed at the outlet due to open communication between Smith and the students, including during One Newsroom pitch meetings.
Nava's story, about Missouri legislation passed last year that requires the removal of some books from schools, was initially published in the Columbia Missourian — the School's digital first community newspaper.
"Becky Smith and Kassidy Arena were present in the beat meetings; they were always there because we try to have all our bases covered when it comes to multiplatform coverage," Nava said. "There was one meeting where she showed interest in turning this into an audio piece, and that was when I knew it was going to be on KBIA."
Born in the U.S. and raised in Venezuela, where she earned a bachelor's degree in print journalism, Nava has plenty of points in her favor. A bilingual journalist, she gained significant on-the-job experience while reporting in Venezuela during the country's political and humanitarian upheaval in 2016, and her hands-on, multiplatform work at the School of Journalism continues to add to her arsenal of skills.
Still, the Gracie Award is a highlight of her educational and professional careers.
"It's not about the awards, it's about doing a service for our communities," Nava said. "But having this validation is a good thing. It's something that lets me know I should keep doing this."
Similarly, Zhong's work began as a story for Vox Magazine put together with fellow students — and women — of Asian descent, Cela Migan and Amy Schaffer. Thanks to early planning, the Vox story released alongside a "mini-documentary" KBIA podcast about the impact of shootings in Atlanta on Columbia's Asian and Asian American communities. Once again, it was the audio piece that was honored with a Gracie.
The story grew out of recordings Zhong made while attending a local vigil in honor of the Atlanta victims, ultimately becoming a distinct example of the cross-training available to students at the School.
"This award was very surprising to me, because I'm a designer, so I'm not expected to do much that is audio-based — even writing I wasn't really ready to do," Zhong said. "But audio is something I have really come to appreciate because of support from KBIA."
Much of that support came from Smith, whose guidance helped Zhong turn in an award-winning podcast as a novice audio reporter. Now, Zhong is an intern at NPR and National Public Media in Washington, D.C., where she is leading branding design and market research.
"I thank Becky a lot for helping me get more comfortable with recording," Zhong added. "She was the one who really pushed me and inspired me to get more into audio. Now I design for NPR, which shows that audio journalism is something that has become very important to me throughout this process."
Of course, Smith's role in this year's awards goes beyond that of a mentor. A third Gracie went to her for producing Missouri Health Talks, a series of conversations with Missourians about healthcare access.
"Our leadership at KBIA — Mike Dunn, Ryan Famuliner — have been so open to innovation in my time there, and I think that is what's being recognized by the Gracies," Smith said. "Nothing exactly exists like Missouri Health Talks. We integrated the idea of conversations-based journalism into a beat, and we've since done other projects based on that model."
Smith also credits Mark Horvit, who runs the beat meetings where the seeds for the student audio pieces were first planted, with welcoming the conversations that led to Gracie Award-winning content.
"Mark Horvit is such a fabulous collaborator and person to brainstorm with," Smith said. "We were like, 'We're gonna come to your beat!' and he said, 'Come on down.' It's just really amazing that I work in a place that is open to new ideas and students who are open to trying new things."
But Smith's fondest words are reserved for Nava and Zhong. One might easily come away with the impression that their award-winning work, not her own, gives her the most pride.
"I love both of these students so much," Smith said. "They are exceptionally talented, and it doesn't surprise me that the high-quality work they put their time and energy into was rewarded. It's really nice to see collaborative work that was born from relationships with students."
Updated: April 19, 2023
Related Stories
Expand All
Collapse All
---