KOMU wins regional Murrow award for 'Excellence in Innovation'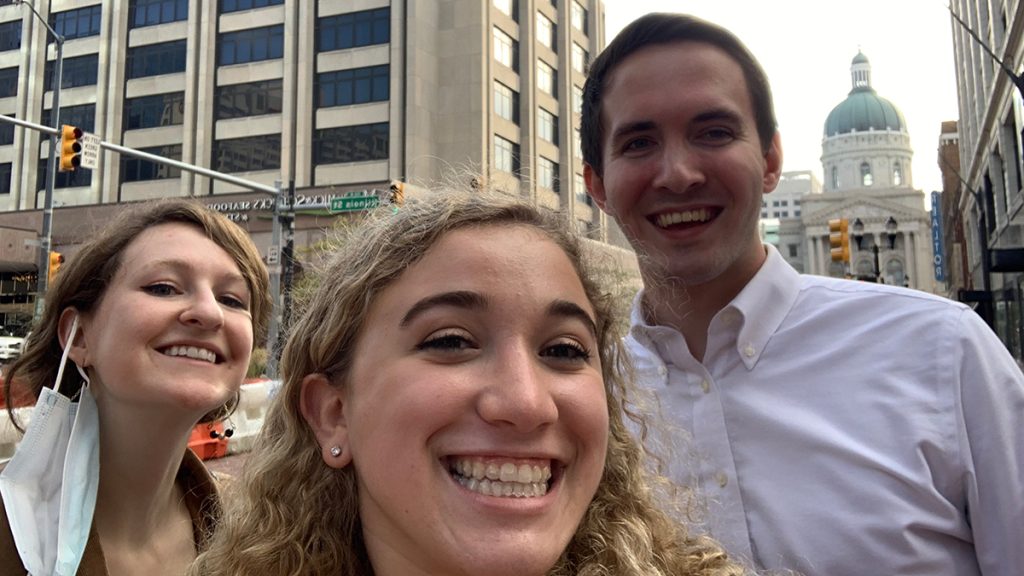 (L-R) Anna Watson, Avery Everett and Matt McCabe
Columbia, Mo. (May 24, 2022) — KOMU-TV has won a regional Edward R. Murrow Award for "The Push for Precision," a series of stories about the Roy Blunt NextGen Precision Health Institute and its place within the health care industry. The award recognizes "Excellence in Innovation."
The series was a collaboration between three Missouri School of Journalism students: rising seniors Avery Everett and Matt McCabe at KOMU, and May graduate Anna Watson at the Columbia Missourian.
"This Murrow Award showcases the excellent collaborative journalism our students are producing in the One Newsroom," said David Kurpius, dean of the School of Journalism. "When great student journalists like Avery, Matt and Anna come together to tell engaging and informative stories as part of their Missouri Method education, we all win."
Everett, who also won a Hearst Award last month for her contributions to the series, emphasized the ambition that went into the stories.
"One of our main goals of the project was to push the envelope on what a story is, especially a broadcast story," Everett said. "We wanted to make these stories digestible, and we were able to achieve that through animation and 3D graphics. We taught ourselves everything that ended up being used in our 'innovative' toolkit, and to be able to receive an award of such honor for our work is an incredible achievement we are so grateful for."
That self-taught approach, McCabe added, was made possible by the hands-on Missouri Method education they received at the School.
"Working on this project was an exact test of every lesson I have learned while at the School of Journalism," McCabe said. "I'm thankful to our managers and editors at KOMU and the Missourian for granting Avery, Anna, and me the resources to innovate ways to create an impact with the stories we tell."
For her part, the Missourian's Watson relished the opportunity to work with her peers at KOMU to develop the series.
"It was a pleasure having the opportunity to connect and collaborate with Matt and Avery on this project," Watson said. "Both are hard-working and talented journalists, and I cannot wait to see what their future brings."
The award comes alongside KBIA-FM's seven Murrow Awards also announced this month, making for quite a successful month of recognition for the School's professional broadcast news outlets.
Updated: May 24, 2022
Related Stories
Expand All
Collapse All
---