KBIA-FM Wins National Edward R. Murrow Award for Its Website
The Honor Recognizes Outstanding Achievements in Electronic Journalism
Columbia, Mo. (June 21, 2016) — For the second time in three years, KBIA-FM has won the national Edward R. Murrow Award for its website.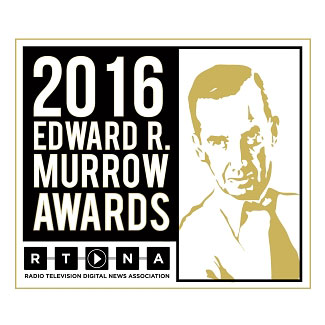 The Radio Television Digital News Association announced the winners of the 2016 national Edward R. Murrow awards contest Tuesday. KBIA won the award for best website among small market radio stations. The honor recognizes outstanding achievements in electronic journalism.
Ryan Famuliner, KBIA's news director, said this award is for the whole team.
"From our digital content producer, to our professional producers, to students working in our newsroom as part of their coursework: everyone in the newsroom had a hand in this award," Famuliner said. "And we're able to use it as a motivating influence: We can tell our incoming students that this is the standard we'll hold them to at KBIA."
In addition to KBIA's homepage, the entry for the contest included examples of KBIA's best digital work in the 2015 calendar year. That includes:
KBIA's state government data project Access Missouri. In Missouri, there is a significant amount of information about the state legislature that is almost completely unsearchable on state government sites, because of the way it is stored – almost exclusively on .PDF files as daily journals. This project aims to opens up that information, creating a whole new level of transparency to the public.
Here Say is a community storytelling project. Drawing inspiration from projects such as Humans of New York, Localore and Storycorps, we hoped that by going out into the community each week and collecting stories from locations that inherently have people whose voices would not typically be heard on KBIA.
Shortage in Rich Land. At the end of January, KBIA sent reporters down to southeast Missouri to open the "Bootheel" bureau. Their job was to tackle the stories taking place in the towns, fields and health clinics of Missouri's most productive farmland. We aired five stories during out local broadcasts of Morning Edition and All Things Considered during a week in March, and significant time and effort was put into the web component of the series.
"Sole voter not alone." 13 more voters discovered in Business Loop CID. A story about a gerrymandered Columbia voting district with just one voter received national attention, but shortly after that, our reporting changed the story. By using raw voter data and advanced mapping tools, we noticed there were actually 13 other registered voters with addresses inside of the district. Our reporting redefined the election and exposed sloppy work done by city and county officials.
True/False Conversations is a series of interviews with directors of documentaries that screen at the world-renown True/False Film Festival in Columbia. The interviews air and are posted online in the weeks before the festival begins.
4 Things You Might Have Wrong About the Mizzou Story. Amidst a flurry of national stories about the events on the University of Missouri campus, erroneous or incomplete reporting was rampant. KBIA sought to clean up some of that reporting with this Web-only story. It worked: The post had more than 100,000 page views in three days.
The national winners of the Edward R. Murrow Award were chosen from the winners of the regional competition, which were announced in March. KBIA won five regional Murrow Awards in 2016, including Overall Excellence.
This is KBIA's fifth national Edward R. Murrow Award in 11 years, and the third in the last three years. KBIA won the award for feature reporting in 2015, for best website in 2014, for investigative reporting in 2007, and for best documentary in 2006.
This is the latest in a string of honors for KBIA's digital efforts. In addition to the national Murrow Award in 2014, KBIA has won the regional Murrow Award for the last four years in a row. KBIA also took the top award (General Excellence) from the Online News Association's Online Journalism Awards in 2015, and won the first place award for best website in the 2016 Missouri Broadcasters Association Awards.
Updated: September 29, 2020
Related Stories
Expand All
Collapse All
---