Alumnus wins national SPJ Mark of Excellence Award for photo illustration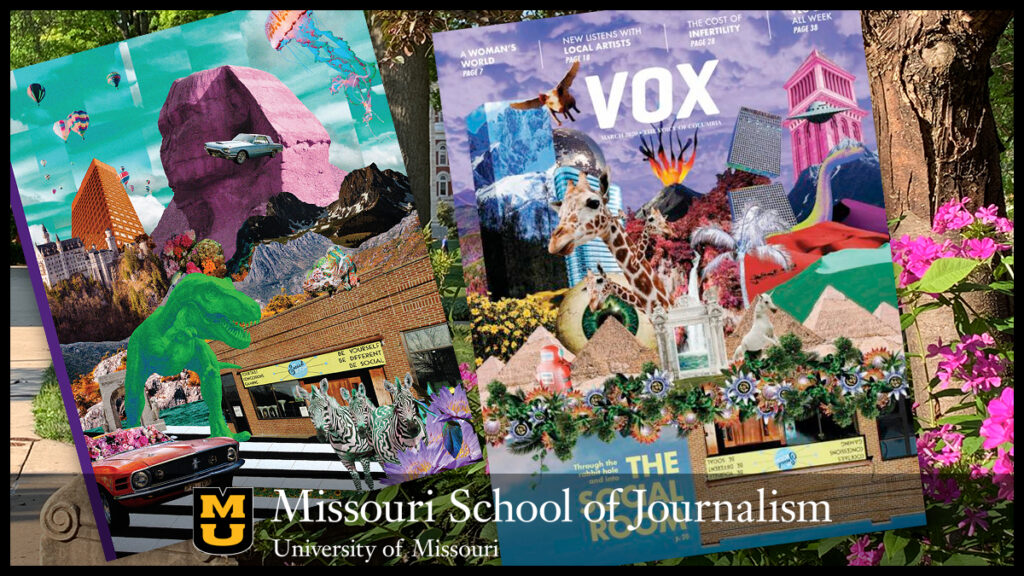 Staff of Vox Magazine recognized as Best Student Magazine and Best Affiliated Website in SPJ Region 7
Columbia, Mo. (July 19, 2021) — Sam Balmer, BJ '20, won top honors in the Photo Illustration category of the 2020 Mark of Excellence Awards, presented by the Society of Professional Journalists. The award honors the best in student journalism.
Balmer won for "Wonderland," which was used in Vox Magazine's March 2020 issue to illustrate the story "Columbia nightclub The Social Room doubles as an LGBTQ safe space." He is now a graphic designer at the World Chess Hall of Fame in St. Louis.
"It's a delight to work with gifted student designers like Sam, who created these colorful and slightly trippy photo collages to illustrate a story about the inclusive scene at The Social Room," said Associate Professor Heather Lamb, editorial director of Vox Magazine. "He was invested in the visuals from concept to production, and even shot some of the photography himself."
Balmer advanced to the nationals after winning in SPJ Region 7, which includes Iowa, Kansas, Missouri and Nebraska. First-place winners advanced to the national round of judging, where they competed against winners in 11 other SPJ regions.
Region 7 Mark of Excellence first-place winners and finalists
Photography in Vox Magazine by Jacob Moscovitch, BJ '21, also won a Region 7 Mark of Excellence Award. The Vox Magazine staff won three regional awards: Best Student Magazine, Non-Fiction Magazine Article and Best Affiliated Web Site. Vox Magazine swept the Non-Fiction Magazine Article category: staff and Alexandra Sharp, BJ '20, were finalists.
"It's a privilege to work with such talented students," said Associate Professor Sara Shipley Hiles, Vox Magazine's digital director. "They're not only creative and committed to excellent journalism, they are thoughtful and empathetic as well."
Mark of Excellence Awards entries are judged by professionals with at least three years of journalism experience. Judges were directed to choose entries they felt were among the best in student journalism. If no entry rose to the level of excellence, no award was given.
"Each of these awards represents the collaboration of talented students who come together to tell stories that are important to the Columbia community," said Lamb. "During an extremely challenging year, they continued to bring creativity and commitment to Vox every day."
Region 7 Mark of Excellence Awards went to the following Missouri Journalism students:
Art/Graphic
Magazine
Online
Founded in 1909 as Sigma Delta Chi, SPJ promotes the free flow of information vital to a well-informed citizenry; works to inspire and educate the next generation of journalists; and protects First Amendment guarantees of freedom of speech and press. The School's chapter was founded in 1913.
About Vox Magazine
Vox Magazine is an award-winning, cross-platform city publication where Missouri School of Journalism students — supervised by professionals — are the writers, editors, designers, photographers and managers. It keeps readers informed about what is happening and where to be in Columbia, Missouri. Vox publishes a monthly print edition and a website, providing insight on local news and culture. The print edition has a circulation of 10,000 and is distributed in the Columbia Missourian on the last Thursday of the month. It can also be picked up at drop locations around Columbia.
Updated: July 19, 2021
Related Stories
Expand All
Collapse All
---