Kathryn Merck wins Hearst honor for pair of KOMU-TV stories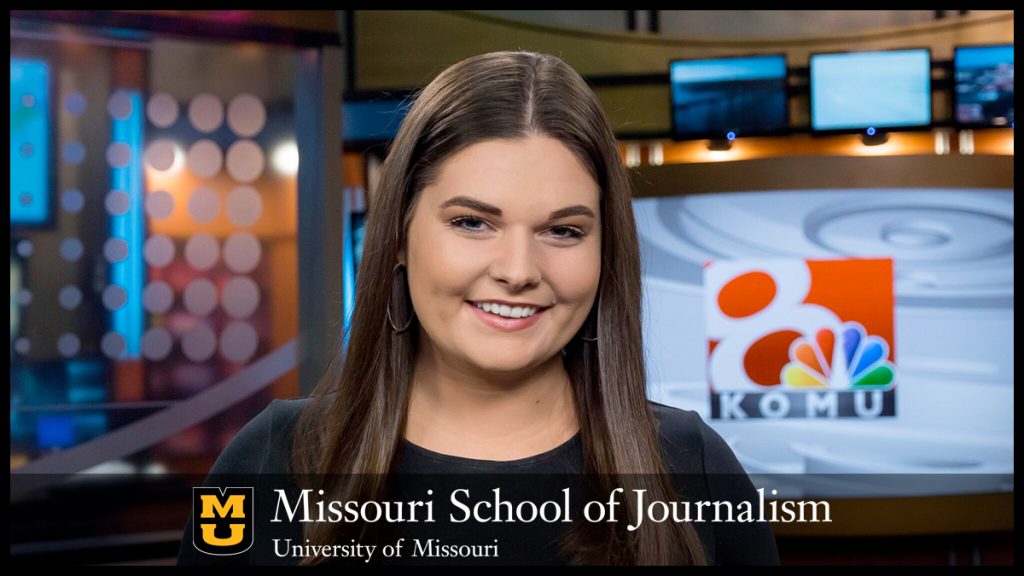 The prestigious honor comes with a $2,000 scholarship and the chance for further recognition
Columbia, Mo. (Feb. 28, 2022) — Kathryn Merck, a senior at the Missouri School of Journalism, placed second in the Hearst Journalism Awards' TV Features competition. Recognized for two stories she created for KOMU-TV, the School of Journalism's professional NBC-affiliated news station, Merck will receive a $2,000 scholarship and advance to the competition's semifinal round.
"It's such an honor," Merck said. "I knew I was going up against really talented journalists from across the country, and to get second, is really cool. The best part is being able to have the University of Missouri J School name next to mine, because people look at those names. It's pretty awesome to be able to show off how great the J School is."
Merck's award-winning package on entries consisted of a special report looking back on the Jefferson City tornado two years after the EF-3 rampaged through the city, as well as her story about the first boy to win Homecoming Queen at Columbia's Rock Bridge High School. The latter story was ultimately featured on NBC News and became a national hit, a development that did not surprise Merck's instructor and mentor, Ryan Takeo.
"What's most impressive about that story is that she turned it around in a day," said Takeo, who still teaches Mizzou journalism students but now works at Kansas City's KSHB-TV. "She pitched it, did the interviews, shot everything, wrote and edited the web story—all in a day. And on top of that, it really resonated. Not only with this community, but nationally. I really think that shows the amount of skill and attention she put into that story."
Merck's quick turnaround on the homecoming queen story was far from the first hint of her tireless work ethic. Takeo recalls her work on another story that ultimately made national headlines: the mysterious story of congressional candidate Megan Rezabek, who managed to win the Democratic primary for Missouri's 3rd Congressional District in 2020 despite largely refusing to engage with voters or appear in public.
"It's one of my favorite stories that I've ever seen a student do," Takeo said. "She started this very meticulous but consistent process of trying to figure out who this mystery candidate was, and as a junior, she was able to uncover that no one had seen this person out in public, that someone had basically just filed their name as a candidate and that was it. And I think that story, above all, shows her level of determination. She's been really dogged in her pursuit of stories and consistent in her approach to the craft."
Merck credits her love of visual storytelling to a background in theater, in which she is also earning a minor, but her goal is to become a local news reporter. And as a senior with a Hearst award now under her belt, that goal seems more attainable than ever.
"You never do these stories for the awards, but they show that you're doing something right and that your work is impactful, so it feels good," Merck said.
Updated: March 2, 2022
Related Stories
Expand All
Collapse All
---