Walter Williams Honored With Bust
By Erin Foote Pursell
Columbia Missourian
Boonville, Mo. (Sept. 15, 2003) — A forest green shroud flapped in the light September breeze. The stern lines of a bronze sculpture could just barely be made out beneath the cloak.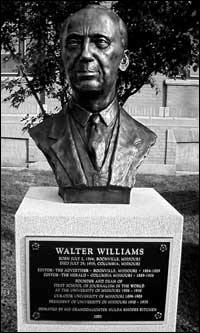 More than 60 people gathered on Sunday in front of Boonville's City Hall as the green sheet was pulled away, revealing a bust of Walter Williams.
Williams, who grew up in Boonville, founded the first journalism school in the world at the University of Missouri and established the school's daily paper, the Columbia Missourian, in 1908. He is well-known for writing the Journalist's Creed, which established principles and ethics for journalists.
"His greatest contribution to journalism was the Journalist's Creed," said Bill Taft, Missouri Press Association historian. "It changed journalism from a trade to a profession."
The 2-foot bust, which sits on a 4-foot pedestal bearing two plaques, was created by Sabra Tull Meyer of Columbia.
One plaque is inscribed with the Journalist's Creed, and the other outlines major milestones in his life. Williams served as curator of MU from 1899 to 1905 and as its president from 1930 to 1935.
The unveiling of the bust was a proud occasion for the town of Boonville, but the event was also bittersweet for organizers and family members of Williams.
Just eight days before the ceremony, Hulda Kitchen, the woman who made the bust possible, died due to complications of a stroke. She donated the $8,000 needed for the creation of the sculpture of her grandfather.
"She understood what a great man he was," said James Thompson, a nephew of Williams' who lived with the legendary journalist until his death in 1935.
A moment of silence was held during the ceremony to remember Kitchen.
"She so wanted to be here for this," Boonville Mayor Danielle Blanck said. "We're so sorry she wasn't able to be."
Family members came to Sunday's event from as far away as Florida, Texas and Colorado. The bust was unveiled by Hulda Kitchen's son, Jack Kitchen; Ann Bass, a grandniece of Williams', and Tull Meyer.
Thompson, who lives in Marshall, remembers Williams as a man who was at home talking to anyone.
"He had a wonderful sense of humor," he said.
Williams piqued Thompson's interest in traveling the world and occasionally got him into trouble.
When Thompson was young, Williams told him that Japanese people burp to show they are satisfied with a meal. Thompson took the custom to heart and remembers his mother being a bit upset with Williams.
"I can't begin to express how very special he must have been to people," said Art Schneider, who works with the University of Missouri Extension Service and was a main organizer in the creation of the bust.
The sculpture will only temporarily reside in front of Boonville's City Hall. Its permanent home will be Morgan Street Park in downtown Boonville, where six other busts and a statue are also expected to be displayed.
Next summer, the bust will be moved to the park and placed alongside the other planned artwork.
For the other six busts, organizers are considering 12 to 15 prominent Boonville residents. The list includes Frederick Kemper, who founded Kemper Military School, and Frederick Milton Turner, who worked to ensure an education for black children in Boonville.
The most notable of the planned additions is a 7-foot-6-inch statue of Hannah Cole, one of the founders of Boonville. The piece will be Missouri's first outdoor statue that honors an individual woman.
Missourian reporter Caleb Vandenberg contributed to this report.
Updated: March 9, 2020
Related Stories
Expand All
Collapse All
---