Journalism senior Annabel Thorpe receives second place 2020-21 Hearst award for television feature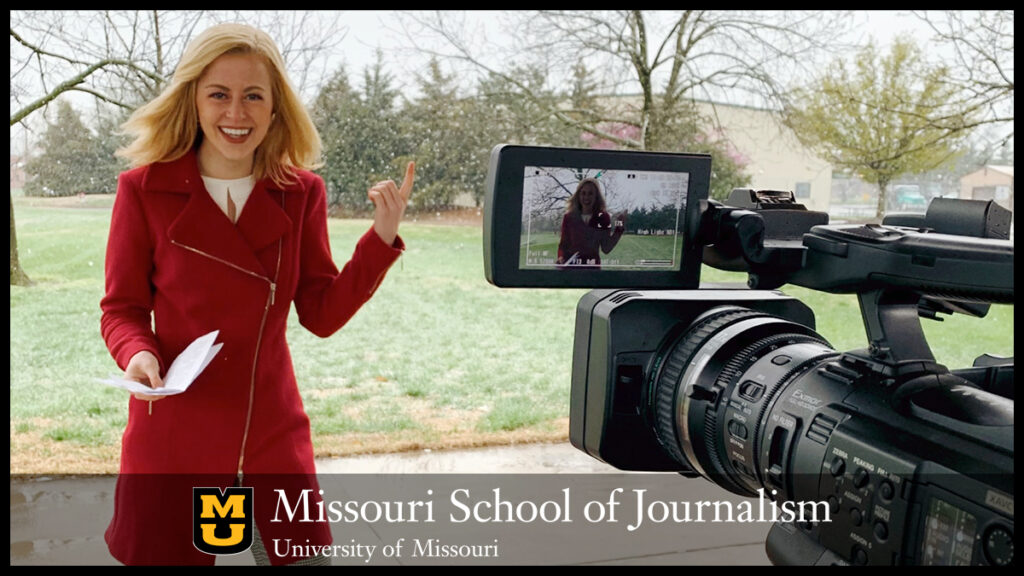 Story taught KOMU reporter how to 'shape the past, present and future into script' as she uncovers ongoing underrepresentation of women in Missouri legislature
By Jennifer Nelson-Pallikathayil
Columbia, Mo. (Feb. 4, 2021) — Missouri School of Journalism senior Annabel Thorpe won second place for television features in the 61st Annual Hearst Journalism Awards Program. As part of the honor, she received a $2,000 award and qualified for the semi-final round at the National Broadcast Championship to be held in June.
Thorpe's KOMU-TV story, "Missouri ranks 40th for women representation in state legislature," was selected from 97 entries that came in from students at 63 schools across the nation.
Her entry for the NBC affiliate shares the story of Annie White Baxter, the first female county clerk elected in the U.S. and then weaves in some accomplishments about gender equality that have been seen in the U.S. since women earned the right to vote 100 years ago. The story also sheds light on the fact that there's still work to be done including the fact that women have never held more than 25 percent state legislature positions, Thorpe reported.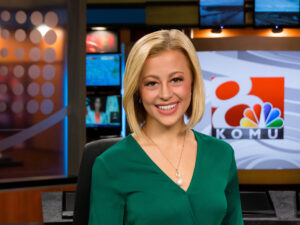 "Annabel brought Annie White Baxter's story to life," said KOMU Managing Editor Ryan Takeo Morimura. "She did that through balancing compelling characters and comprehensive research. She excelled at every part of putting the story together – from photojournalism to writing to editing. I think the story resonated because it put an otherwise forgotten historical figure – and connected her to the current underrepresentation of women in politics."
Thorpe of Argyle, Texas, said she found out about the story idea about Baxter being inducted into the Hall of Famous Missourians after reading about it in a house representative's newsletter. As someone who is passionate about reporting on gender equality issues, the KOMU-TV anchor and reporter was thankful for the opportunity to shed light on the accomplishments of gender equality and some of the work that still needs to be done in this area.
"The J-School just provides ample opportunity to aspiring reporters to tell the stories that they're passionate about," said Thorpe. "I mean, it's baked into my class that I tell these more enterprising, long form, more research stories. That's an assignment, that's a passion. The J-School fosters the mending and blending of those two."
As she dove into putting the longform story together, the biggest challenge Annabel faced in telling Baxter's story was how to incorporate someone who was no longer alive into a story. She couldn't interview Baxter and get her opinions. Instead, she had to try to tell Baxter's story accurately through documents and through people who were touched by her actions and story. She focused quite a bit on Baxter's legacy, which was told through the lens of those who remember hearing about Baxter and reading about her, she said.
She was thankful to work closely with her managing editor Morimura to plan the story out, helped her visualize the story and "shape the past, present and future into the script."
"Annabel had tremendous growth working over the summer, and this story is a good example of that," added Morimura. "She consistently pushed herself on longform projects like this one. She diligently worked on it for weeks in-between her other KOMU work. She drove this project and consistently checked in. This story is really a continuation of her KOMU journey, three-and-a-half years in the making. She's learned like a sponge and continually asks for feedback, and has put much of that feedback into practice."
About KOMU
Serving as a working laboratory for broadcast journalism students at the MU Journalism School, KOMU is the only university-owned commercial major-network affiliate in the United States that serves both an academic and a commercial mission. Its operations and investments in broadcast technology are funded entirely by advertising and retransmission revenues. The station receives no funding from the university or state.
Updated: February 5, 2021
Related Stories
Expand All
Collapse All
---