Magazine Journalism Senior Publishes 'Dorm Living,' A Guide to Help Freshmen Adjust to College Life
By Caitlin Giddings
Magazine Journalism
Columbia, Mo. (April 28, 2010) — Missouri School of Journalism senior Casey Lewis has just published her first book, "Dorm Living." The book, released last month and available on Amazon, offers advice to incoming college students on the fine art of turning a 12×12 dormitory cell into a livable habitat. It also serves as a guidebook for what freshmen can expect during their first year away from home.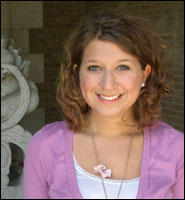 Lewis, who is studying magazine journalism, could have used such a book. Four years ago, she moved to Columbia from Palmyra, Mo., a rural town near Hannibal with a population just over 3,000.
"I didn't have the easiest freshman year because it was all so new, and I was from this small town," Lewis said. "This is the advice I would give myself if I was going through my freshman year again."
In addition to organizing and decorating tips, "Dorm Living" weighs in on another of Lewis' favorite topics: college fashion. Knack Books, the reference subsidiary of Globe Pequot Press, contacted her to write the book last spring after reading commentary posted to Lewis' blog, teenfashionista.com. She started the blog at age 14, and continues to update it regularly with designer fashion spreads, do-it-yourself sewing tips and personal anecdotes.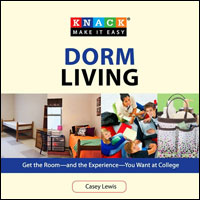 Lewis created teenfashionista.com before the blog format took off, and initially, it was very basic. Although she didn't set out to write for an audience, teenfashionista.com has consistently garnered more than 1,000 hits per day since its inception.
"No one in my town really cared about that kind of thing (fashion), so I would just pour my thoughts online," Lewis said.
In addition to the opportunity to write "Dorm Living," Lewis' blog helped her secure internships at Teen Vogue and Cookie magazine. Once Knack Books contacted her with the book idea, however, thinking about dorms consumed her waking hours.
"I was living in a dorm in New York City, working my internship 10-6, then going home to write for four hours everyday," Lewis said. "I didn't have much of a life. Any time I'd be stuck, I'd just look around the dorm and think, 'What else can I write?'"
By the end of the summer, "Dorm Living" was already in the editing process. Lewis described the unique, proud feeling of holding the finished product in her hands. "Are these really the words that I wrote?" she asked.
Although the book is now available at select Barnes & Noble retailers, Lewis hasn't seen it on a bookshelf just yet. She plans to leave the promotional duties in the publisher's hand while she focuses on the next phase in her career: graduating next month and looking for a magazine job in New York.
Updated: May 11, 2020
Related Stories
Expand All
Collapse All
---