AdZou Students Gets Behind-the-Scenes Look at Super Bowl LI Preparations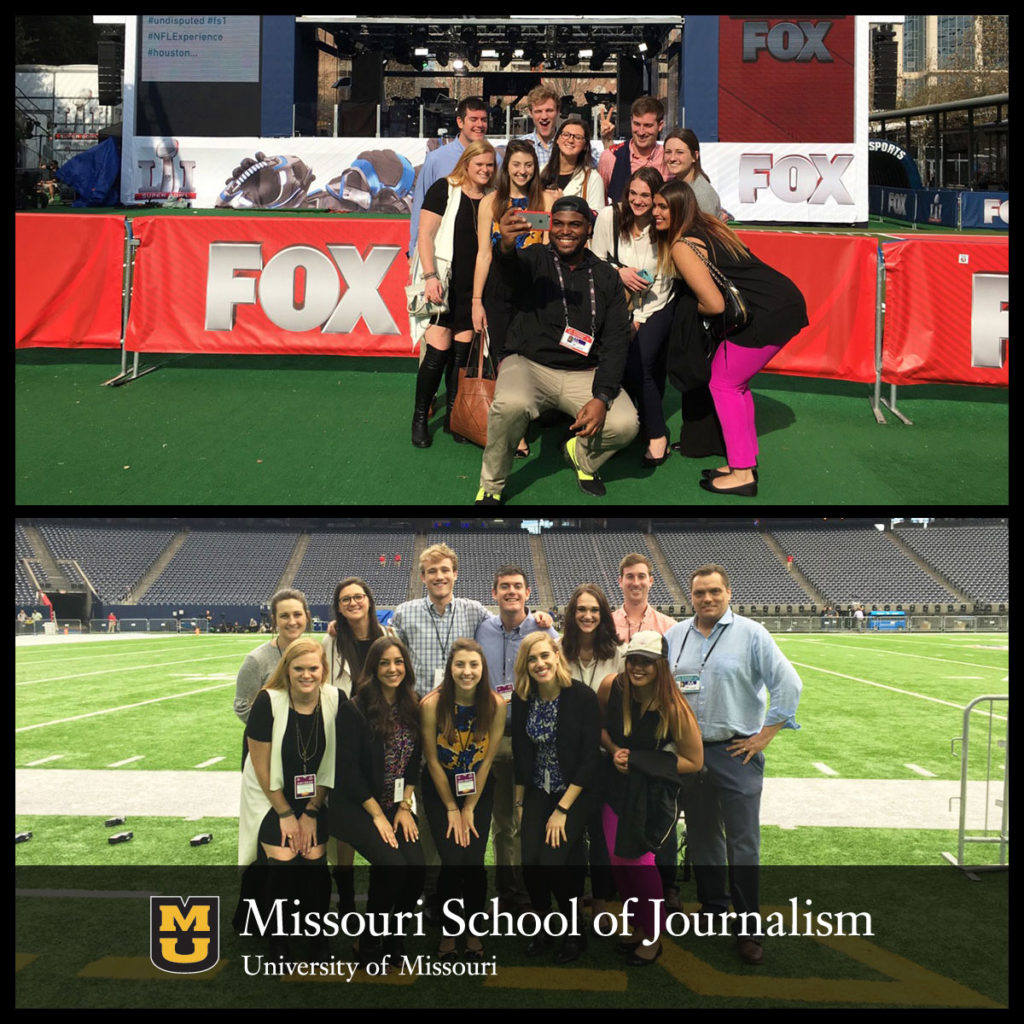 The Winning Team Contributed Ideas for Virtual Reality and 360 Video as Part of National FOX Sports University Competition
Houston (Feb. 8, 2017) — When spring 2016 AdZou teams presented their strategies to FOX Sports University executives, designed to drive digital engagement before and after Super Bowl LI, the Missouri School of Journalism students had more than a grade on the line.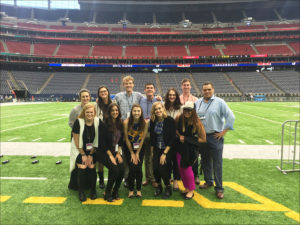 The teams were also pitching for the opportunity to attend Super Bowl media week and get a behind-the-scenes look at FOX Sports' preparations for the game, which was watched in-full or in-part by 172 million Americans, the largest total audience in television history.
The AdZou class was part of FOX Sports University, a nationwide partnership program developed by FOX Sports that is now in 38 prestigious academic institutions throughout the country. The School recently began its seventh year in the program, which is designed to provide real-world experience to graduate and undergraduate students, while developing a pipeline of innovative ideas for FOX Sports properties.
"Working with FOX has been an amazing experience for the students, and the challenge gets bigger and better every year," said course instructor Scott Fuenfhausen.
Team Outkick was crowned the winner for the class, including Alexandra Clark, Rachel Greenberg, Allie Babin, John Ekedahl, Lauren Boyer and Amanda Kolbye. Their ideas included innovation around Virtual Reality and 360 video, which provide unique viewing experiences to fans, and position FOX Sports as a leader in broadcast technology on the world's biggest stage.
"The program allowed for me to further develop my strategic marketing and communication skills and in turn, help me find a career within the sports realm," said Ekedahl, who earned his Bachelor of Journalism degree in 2016.
Noted Boyer, BJ '16, "From meeting and interacting with executives helping Super Bowl day-to-day operations go down to getting an inside look at Super Bowl production – and catching a pass from Andy Dalton! – it was definitely a one-of-a-kind experience that I will forever remember."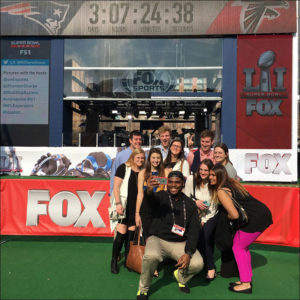 Several of the initiatives presented by the winning Missouri journalism team were woven into FOX Sports' digital and linear strategies surrounding Super Bowl LI, which the team had the opportunity to observe while on-site. These included the following:
Be the Player: This first-of-its kind Super Bowl LI project gave viewers a truly unique field-of-vision perspective of the most-watched sporting event of the year. Using technology provided by Intel, FOX Sports introduced the "Be the Player" enhancement, a feature that displays a point-of-view perspective from any player on the field without ever having a physical camera attached to the player.
Virtual Reality: Teaming with LiveLike, FOX Sports delivered the first-ever Super Bowl highlights published during the game in virtual reality through its recently released FOX Sports VR App.
Augmented Reality: FOX Sports had seven enhanced augmented reality cameras including the Skycam to provide the yellow line. The network also provided real-time 3D graphics on or over the field in striking fashion with Skycam and VIZRT.
"FOX has been amazing when it comes to rewarding the winning teams," Fuenfhausen said, noting that the network has previously sent winning teams to Los Angeles, Dallas and St. Louis to see work in production. "FOX does produce some of the students' ideas and brings them on board for the process. And, in some cases, they have hired some of our students."
Updated: October 13, 2020
Related Stories
Expand All
Collapse All
---