Mizzou NSAC has a new match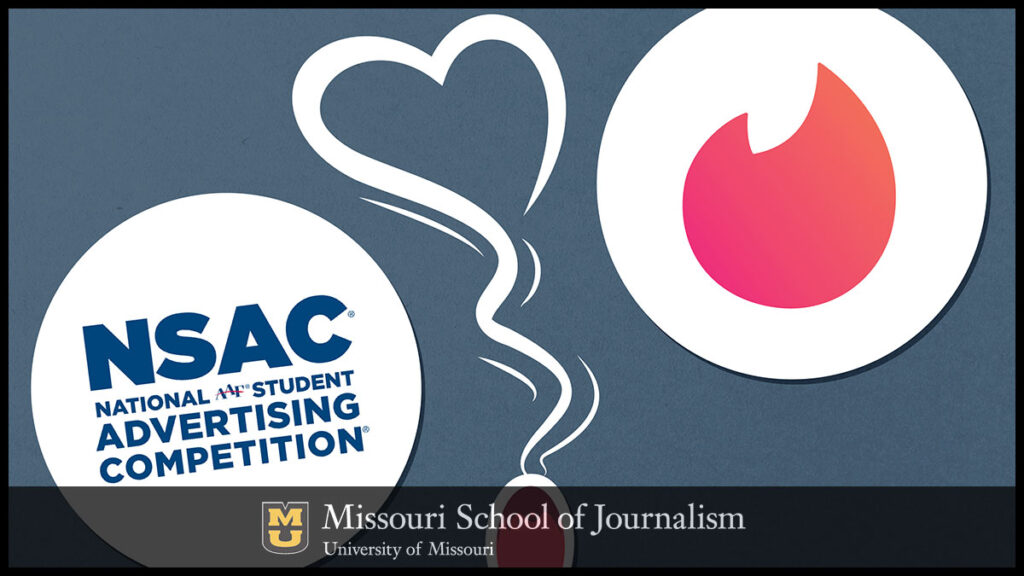 By Zach Taylor
Columbia, Mo. (Nov. 4, 2020) — The Missouri School of Journalism's National Student Advertising Competition (NSAC) swiped right and found its newest soulmate. This school year, the team of students is matched with Tinder, a popular dating app.
Tinder, which was started on a college campus in 2012, is a place where 18- to 24-year-olds – who make up the majority of its members – express themselves and explore the dating scene.
"As we think about the evolving landscape of how people meet and connect, our team wanted to put our brand in the hands of the generation really living it," said Nicole Parlapiano, vice president of Marketing-North America at Tinder, in a press release about the competition. "We're excited to see how the NSAC students approach our business and we want to support this generation as they build their careers and portfolios as marketers."
NSAC is a student competition run by the American Advertising Federation (AAF), which is the nation's oldest national advertising trade association. Students from 150 colleges and universities across the country compete against one another to develop an integrated advertising campaign for a real-world client.
Associate Professor Holly Higginbotham selected the 20-person student team of strategic communication seniors for the NSAC competition and is pleased with what she's seen from the team thus far in how they're working amid a pandemic.
"We are seasoned pros at this Zoom thing," said Higginbotham, noting that the team is collaborating mostly in a remote fashion because of the novel coronavirus. "I was afraid it would be hard for the team to gel without meeting in-person, but they have developed great chemistry nonetheless."
Although the circumstances this year are far from normal, Mizzou's NSAC team is hoping to keep things business as usual. "This year's group is as motivated as any other," said Higginbotham, who has guided Mizzou's NSAC team to three District 9 championships in a row and national finishes in the top three in 2018 and 2020. "They've done excellent work so far, and their dedication speaks to their resilience."
This fall, the NSAC students are performing secondary research on the dating app category and 18- to 24-year-olds, followed by primary research in the form of focus groups, one-on-one interviews and surveys. The creative team will use the insights and strategy derived from the research findings for the creative execution of the campaign in the spring.
In April, Mizzou's NSAC team will present their research and deliverables to Tinder at the District 9 competition. The winner of District 9 will move on to the semifinal round, with the top 8 schools from that group selected for the national finals. "Our goal for this year is to defend Mizzou's tradition of excellence and win our fourth district championship in a row," said Higginbotham. "But, more importantly, I'm excited to see how the team learns and grows."
2021 Mizzou NSAC Team
Account Manager: Audrey Gray
Strategist: Isabella Corona (Qualitative)
Strategist: Ashley Jaspers (Qualitative)
Strategist: Sophie Davies
Strategist: Morgan Donnohue
Strategist: Tessa Seibel
Creative Lead and Art Director: Tucker Murphy
Copywriter: Charlie Henderson
Copywriter: Reilly Parkhill
Copywriter: Ben Walker
Graphic Designer: Tessa McGartland
Graphic Designer: Emma McNail
Graphic Designer: Elizabeth Ustinov
Digital Strategist: Celia Rose
Digital Strategist: Natalie Rath
Media Planner: Emily Ditto
Media Planner: Molly DeLano
Content Manager: Linden O'Brien-Williams
Public Relations Account Manager: Emily Mclanahan-Hluzek
Video Producer: Nick Han
Updated: November 4, 2020
Related Stories
Expand All
Collapse All
---