Missouri Strategic Communication team advances to National Student Advertising Competition finals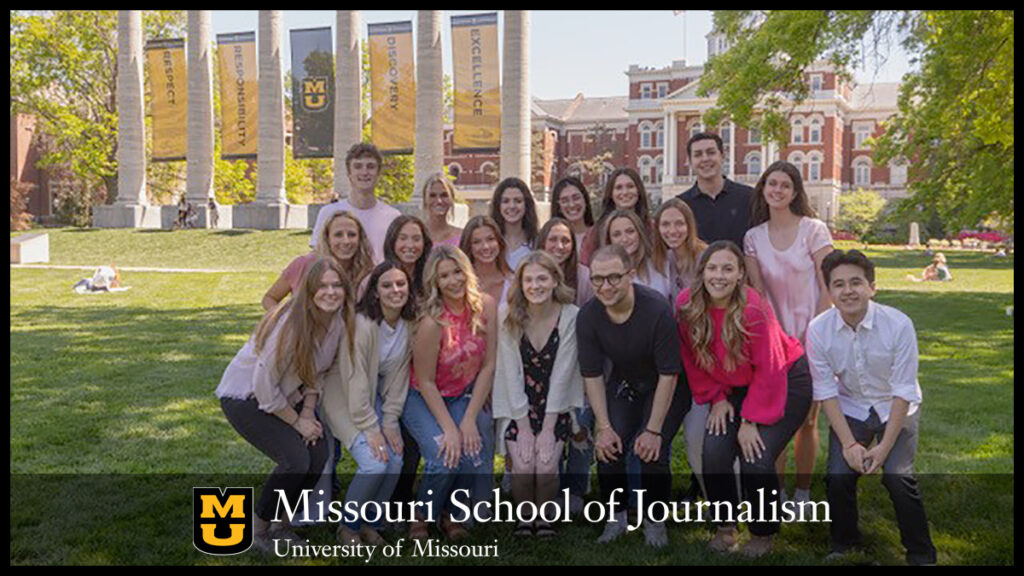 By Abby Werner
Columbia, Mo. (May 12, 2021) — The Missouri School of Journalism's National Student Advertising Competition (NSAC) team is one of eight collegiate teams that has been selected to compete in this year's national finals on June 3-4. More than 2,000 students from colleges and universities across the country entered the competition, run by the American Advertising Federation (AAF), which is the nation's oldest national advertising trade association.
The 2021 Mizzou team felt added pressure to make it to the national finals given the recent success of their predecessors.  This year's team didn't disappoint, winning AAF District 9 for the fourth year in a row and reaching the national finals for the third time in the last four years, including third place finishes in 2018 and 2020. 
Students were selected for their roles by Associate Professor Holly Higginbotham, the team's faculty adviser, at the beginning of the fall semester. The 20-person team acted as a mini advertising agency.
The client for NSAC this year was Tinder, a geosocial networking and online dating app that allows users to anonymously swipe to 'like' or 'dislike' other profiles based on their photos and a short bio.
Since Tinder was a platform that they were already familiar with, the team had to let go of their preconceived notions when performing research and creating their campaign. Doing so led them to a strategy and creative approach that was unexpected and well received by judges in the District 9 competition. 
"When we submitted the campaign plan book and video pitch for judging, I knew the team had done some great work," Higginbotham said. The industry professionals who judged the District 9 competition agreed, telling the team that the campaign was "agency-level work."
"To get that kind of feedback from industry professionals was so validating to the team and a great reward for the hours and hours of effort they put into the work," she said. 
Those hours included doing concept testing with the target audience, something no previous Mizzou team has had time to do in an always tight campaign production schedule. Audrey Gray, the team's account manager, feels like that's what put their campaign over the top.
"We spent so much time making sure every single detail was perfect," Gray said. "And the fact that we were able to show the judges that our target audience resonated with what we created was amazing. I think our campaign was really a solution to Tinder's problem."
 The two team leaders were Gray and Tucker Murphy, the creative lead and art director. They were both proud of how hard every member of their team worked to make sure that everyone was excited for their final product.
"They were so nimble," Murphy said. "Anytime we got feedback, they just ran with it and made it work. At no point was anyone done working. Everyone just kept pitching in, putting in late nights until we were finished. They embody grit like no other."
NASC Team Members
Account Manager: Audrey Gray

 

Strategist: Isabella Corona
Strategist: Sophie Davies

 

Strategist: Morgan Donnohue

 

Strategist: Ashley Jaspers
Strategist: Tessa Seibel
Creative Lead and Art Director: Tucker Murphy

 

Graphic Designer: Tessa McGartland

 

Graphic Designer: Emma McNail

 

Graphic Designer: Elizabeth Ustinov

 

Copywriter: Charlie Henderson

 

Copywriter: Reilly Parkhill

 

Copywriter: Ben Walker

 

Video Producer: Nick Han

 

Digital Strategist: Natalie Rath

 

Digital Strategist: Celia Rose

 

Media Planner: Molly DeLano

 

Media Planner: Emily Ditto

 

Content Manager: Linden O'Brien-Williams

 

Public Relations Account Manager: Emily Mclanahan-Hluzek
Updated: May 13, 2021
Related Stories
Expand All
Collapse All
---