Missouri Students Give Strong Performance in District 9 Advertising Competition
Student-Led Strategic Communication Team Brings Home Awards for Best Plan Book Design and a Top 3 Finish
By Patrick LeBeau
Columbia, Mo. (May 4, 2016) — A dedicated team of Missouri School of Journalism strategic communication students was recognized for multiple accomplishments at the District 9 National Student Advertising Competition in Kansas City on April 15. Mizzou's NSAC team received third place in this year's competition, the second time in the last three years the team has placed in the top three.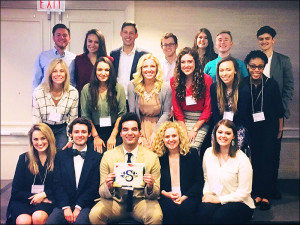 The American Advertising Federation sponsors the annual challenge, where college students across the nation compete to develop a winning campaign for a national client. For this year's challenge, a team of more than 20 strategic communication students worked tirelessly from September through April to develop a campaign for Snapple. The specific challenge for this year's competition was to increase Snapple sales throughout the United States while not alienating its current "Heartland" market in the Northeast, where most of its sales occur.
"I am extremely proud of our team of dedicated students for their strong showing at the District 9 National Student Advertising Competition," said Holly Higginbotham, Mizzou NSAC faculty adviser and assistant professor of strategic communication. "They devoted an impressive amount of time to the process and delivered a capstone-level campaign for this year's competition."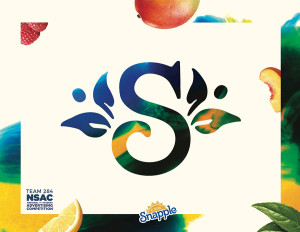 Mizzou's NSAC team also was awarded "Best Design" for its plan book design and layout during the district competition. Senior Brooke Burge led the winning design team.
"I was humbled to walk across the stage to accept the Best Design award on behalf of my amazing team," Burge said. "Hearing that my design team had impressed so many industry professionals made me so proud to be part of such a talented group of Mizzou students."
Fellow students Lani Tuitasi, Seinga Macauley, Curran Steck, Ben Meldrum and Stacey Roth comprised the rest of the winning design team.
Senior Taylor Christmas guided this year's team as creative director, and senior Lani Tuitasi served as brand strategist. Other students on the Mizzou NSAC team included AnnMarie Banasik, Brooke Burge, Jared Day, Ashley Diddell, Joe Dietrich, Jenn Fabian, Jenna Goldenne, Matt Hirsch, Patrick LaBelle, Seinga Macauley, Kara Maricic, Ben Meldrum, Abby Narishkin, Stacey Roth, Brad Spudich, Curran Steck, Claire Taylor, Hannah Tinnin, James West and Marta Witko.
Updated: September 24, 2020
Related Stories
Expand All
Collapse All
---