New Book on Ethics Addresses Challenges in Advertising, Public Relations, Marketing
Professors Margaret Duffy, Esther Thorson Hope 'Persuasion Ethics Today' Will Help Students and Practitioners with Difficult Questions
By Kiara Ealy
Columbia, Mo. (Feb. 3, 2016) — Two Missouri School of Journalism professors, Margaret Duffy and Esther Thorson, have published a new book that explores communication ethics in the fields of advertising, promotions, public relations and integrated marketing communication.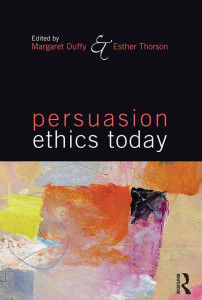 "Persuasion Ethics Today" (Routledge, 2015) aims to address some of the ethical questions students and professionals may face: How do we balance privacy with people's desire for personalized content and the availability of vast amounts of data? What are the effects of digitally altered photos and photo shopped images that present impossibly perfect images of beauty? How are people stereotyped and categorized and why?
The book is designed for undergraduate and graduate classes in advertising, public relations, journalism, media ethics, and media literacy. Duffy hopes the biggest takeaways from the book will help students, strategic communicators and media professionals navigate some of those difficult ethical questions.
"Rather than responding to ethical challenges by instinct or even established practices at an organization, students and professionals can begin to think of ethics not as something they have, but as something they do every day," Duffy said.
Duffy, Thorson, and several of their doctoral students have conducted extensive research in people's responses to media and ethics issues. In addition, they have worked with the Institute for Advertising Ethics, a partnership with the American Advertising Federation, the School of Journalism, and the Donald W. Reynolds Journalism Institute. Duffy is an IAE founding board member.
"The goal of the Institute is to foster research and education about dealing with ethical dilemmas, provide real-world examples, and encourage students and professionals to reflect on the issues and opportunities," Duffy said.
Along with examining ethical dilemmas, the book also covers the effects of negative political advertising, the potential ethical problems with health communication, challenges of global marketing communication in different cultures, and the special ethical issues regarding visual persuasion.
Duffy serves as executive director of both MOJO Ad and AdZou, the School's student-staffed advertising agencies. She teaches classes in strategic communication, research methods and media management and chairs the School's strategic communication faculty. Duffy's research involves examining new and interactive media, visual communication, narrative theory, news and persuasion ethics.
Thorson is the associate dean for graduate studies and research and serves as the director of research for RJI. Her work focuses on news effects, advertising, media economics and health communication. Additionally, Thorson has completed projects on Internet advertising, the choice of news sources for the 18-34 demographic, the emotional effect of negative news photographs and the impact of the Internet on traditional media use for news.
Duffy and Thorson have co-authored dozens of articles and research projects. In 2011, their first book, "Advertising Age: The Principles of Advertising and Marketing Communication at Work," was published.
Updated: September 15, 2020
Related Stories
Expand All
Collapse All
---