Esther Thorson Receives MU Director of Graduate Studies Outstanding Contribution Award
By Brian Trojahn
Strategic Communication Student
Columbia, Missouri (June 8, 2009) — The University of Missouri Graduate School recently presented Esther Thorson, associate dean for graduate studies at the Missouri School of Journalism, the fourth annual Director of Graduate Studies Outstanding Contribution Award. She was recognized at the Graduate School's award ceremony.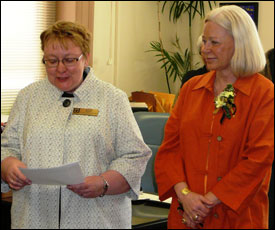 In her 16 years at the School, Thorson has expanded of the School's graduate programs in both scope and enrollment as well as has increased the number of doctoral students and doctoral faculty. The School's national reputation as a research powerhouse, as evidenced through a strong presence of student and faculty papers at national conferences, has increased under her leadership.
Members of the School's graduate faculty nominated Thorson for the award. Noted associate professor Glenn Leshner in his letter, "Esther Thorson is the ideal leader of the graduate program of the School of Journalism." He credits her for exponentially increasing research productivity through increased funding and enhanced facilities.
Doctoral student Jeremy Littau noted Thorson's positive impact on students and her ability to push them to accomplish much through their research in his nomination letter. "Esther Thorson is one of the most inspiring people I've had the privilege of learning from," Littau said.
Thorson joined the Missouri School of Journalism faculty in 1993. In addition to her role as graduate dean, she also serves as the director of research for the Donald W. Reynolds Journalism Institute. Her numerous national and local awards include the 2008 Outstanding Woman In Journalism and Mass Communication Education award at the annual meeting of the Association for Education in Journalism and Mass Communication; 2004 Distinguished Educator Award from the American Advertising Federation for her outstanding contributions to advertising education; the 2003 Outstanding Contribution to Research Award from the American Academy of Advertising for her 20 years of contributions to the field of advertising research; the Missouri Curator's Award for Scholarly Excellence; and a Faculty-Alumni Award from the Mizzou Alumni Association.
Updated: May 4, 2020
Related Stories
Expand All
Collapse All
---