Missouri Journalism Associate Dean Receives Outstanding Educator Award
Columbia, Mo. (Sept. 18, 2008) — Missouri School of Journalism Associate Dean Esther Thorson received the 2008 Outstanding Woman In Journalism and Mass Communication Education award at the annual meeting of the Association for Education in Journalism and Mass Communication (AEJMC) held last month in Chicago.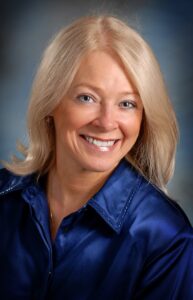 Given by Commission on the Status of Women (CSW) and AEJMC, the award recognizes a woman who has represented fellow women in the academy through personal excellence and high standards in journalism education. The prestigious award is given for exceptional merit, not on an annual basis.
Cory Armstrong, CSW co-chair, said that Thorson has supported and advocated for women in mass communication through her teaching, research and mentorship.
"She was an exceptional choice for this award," Armstrong said.
Thorson has published extensively on the news industry, advertising, news effects and health communication. Her scholarly work has won many research and writing awards, and she has advised more than 35 doctoral dissertations. She serves on an extensive list of journal editorial boards. Thorson is also the recipient of the American Advertising Federation's Distinguished Advertising Education Award, the American Academy of Advertising's Outstanding Contribution to Research Award, a Mizzou Alumni Association Faculty Award and the University of Missouri Curators' Award for Scholarly Excellence. She is the only female Fellow of the American Academy of Advertising.
Best known for her interdisciplinary work, Thorson has collaborated with scholars around the world during her more than 30-year career. Examples of her interdisciplinary work include:
Publishing the book Internet Advertising: Theory and Research (Lawrence Erlbaum, 2007) with co-editor David Schumann, business professor at the University of Tennessee;
Publishing the book Health Communication in the New Media Landscape (Springer, 2008) with co-editor Jerry Parker, associate dean at the University of Missouri School of Medicine;
Working with Murali Mantrala, an MU business professor, and Shrihari Sridhar, a doctoral student, on a study that has shown how reduction of the size of newsrooms across America is the direct cause of plummeting newspaper advertising revenues-a loss that now raises the threat of bankruptcy for many newspaper companies; and
Serving as director of research at the Donald W. Reynolds Journalism Institute, where she is leading a variety of efforts to identify business models that may revive American newspapers.
Thorson's nomination letter was submitted by two colleagues at the School, Professor Lee Wilkins and Associate Professor Margaret Duffy.
"In considering Dean Thorson's astonishing record of achievement, three words come to mind: dedication, brilliance, and leadership," Wilkins and Duffy said in the nomination letter. "She is a committed and tireless teacher and mentor, an exceptional researcher and scholar, and a leader in every aspect of her professional life."
Thorson has been associate dean for graduate studies at the School since joining Mizzou in 1993. During the 2007-2008 academic year, she served as acting dean.
Updated: April 29, 2020
Related Stories
Expand All
Collapse All
---