University of Wisconsin-Madison Honors Graduate Studies Dean Thorson with Nelson Award
Madison, Wis. (May 9, 2011) — Esther Thorson, the associate dean for graduate studies at the Missouri School of Journalism, recently received the Harold L. Nelson Award for achievement in mass communication research from the School of Journalism and Mass Communication at the University of Wisconsin-Madison.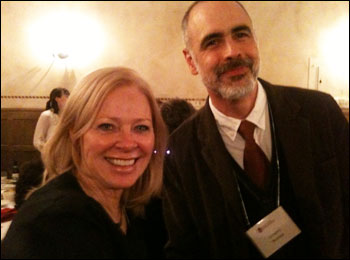 Thorson was a faculty member at Wisconsin-Madison for 12 years from 1981-1993. She began a research program there that involved news media professionals at local television WISC-TV and at the Madison State Journal. Both of Thorson's former research partners were present at the ceremony. Neil Heinen, editorial director at WISC, received the School's Distinguished Service Award, and Frank Denton, editor of the Florida Times-Union in Jacksonville, attended the festivities.
Thorson recently was identified as the second most published academic in the American Academy of Advertising, where she is the only female Fellow. She has published more than 100 scholarly articles on the news industry, advertising, news effects, newspaper economics and health communication and has edited six books. Thorson serves on eight journal editorial boards. She applies her research, along with that of her colleagues, in newsrooms and advertising agencies.
Thorson continues to work extensively with industry collaborators. She serves as director of research for the Donald W. Reynolds Journalism Institute at the Missouri School of Journalism. She has chaired more than 40 doctoral dissertations, and her students serve as faculty across the U.S. and abroad.
Other organizations have honored Thorson for her many accomplishments. She is the recipient of the American Advertising Federation's Distinguished Advertising Education Award, the American Academy of Advertising's Outstanding Contribution to Research Award, a Mizzou Alumni Association Faculty Award and the Missouri Curator's Award for Scholarly Excellence.
Updated: May 29, 2020
Related Stories
Expand All
Collapse All
---