Three Missouri School of Journalism doctoral students win coveted scholarship from American Academy of Advertising
Columbia, Mo. (June 28, 2022) — Evgeniia Belobrovkina, Ting-Hao Tsou, and Weilu Zhang have been awarded the American Academy of Advertising's (AAA) Graduate Student Conference Scholarship. The award allowed the three Missouri School of Journalism doctoral students to travel to St. Petersburg, Florida, in March to present their research in person at the annual AAA conference, which showcases research that "drives continued progress in the practice of effective, innovative, and responsible advertising."
"This recognition is another example of the strength of our doctoral program," said Earnest Perry, associate dean for graduate studies and research at the School of Journalism. "This is the type of hard work done daily by our students and their faculty mentors. I'm very proud of what they have achieved."
Belobrovkina, Tsou and Zhang presented a paper about gender stereotypes in online public service announcements about breast and prostate cancer, a paper that also served as the students' application for the scholarship.
"Eventually, we found that men are more often presented as heroes, while women were more often presented as victims," said Tsou. "At the same time, men would be shown in the workplace while women were staying at home."
"The paper was written under the guidance of our inspirational research advisor, Dr. Shelly Rodgers, and was welcomed with much interest at the conference," added Belobrovkina, who also emphasized the importance of travel scholarships in the pandemic era. "Thanks to this kind of scholarship, graduate students probably feel more encouraged to visit conferences in person than virtually when there is a choice."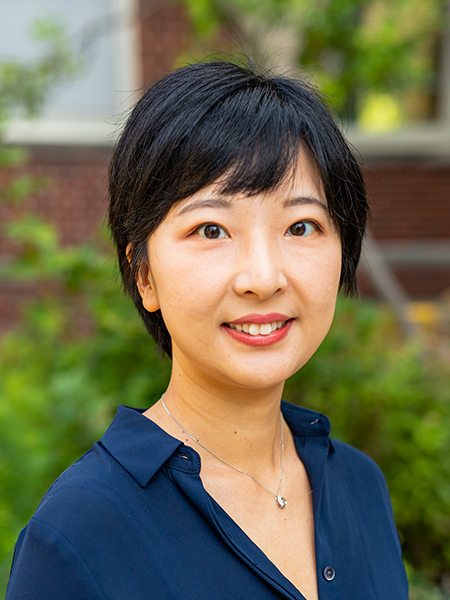 Tsou and Zhang both earned master's degrees in Taiwan before coming to Mizzou to pursue doctoral degrees, while Belobrovkina earned a bachelor's degree from the Russian State Social University in Russia and went on to receive a master's degree in public health at Mizzou before joining the School of Journalism's doctoral program. The trio leapt at the opportunity to present at the conference, which also gave them the opportunity to meet peers from around the country conducting advertising research.
"I really like this conference — I always say it's my academic family," said Zhang, who had previously attended the 2018 conference in her first year of doctoral study. "It's really important to learn from peoples' work and get ourselves out there. As a student, it can be hard to have the opportunity to get to know other scholars, so this is a great chance to do that."
Graduating this month, Zhang has accepted a tenure-track faculty position at the University of Kentucky, where she will continue to perform strategic communication research. Belobrovkina and Tsou are also deeply engaged with strategic communication research, though with different focuses: Belobrovkina, who accumulated seven years of professional public relations experience in Russia's healthcare system prior to studying at Mizzou, is interested in designing persuasive health messages. Tsou's interests lie in exploring the role of technology, such as virtual reality, in advertising.
The students are advised and mentored by Shelly Rodgers, the Maxine Wilson Gregory Chair in Journalism Research, who co-authored the paper at the conference and whose work examines how advertising communicates to underserved and vulnerable communities, among other topics.
"These awards speak to the high caliber, dedication, time, and effort of our doctoral students and program under the direction of Associate Dean Perry," Rodgers said. "I am fortunate to have the pleasure of working with such motivated and brilliant doctoral students who always do more and aim higher. That's the sign of a true scholar and a budding star."
Updated: June 28, 2022
Related Stories
Expand All
Collapse All
---