Shelly Rodgers and the power of communication: The Missouri School of Journalism professor finding the human stories in advertising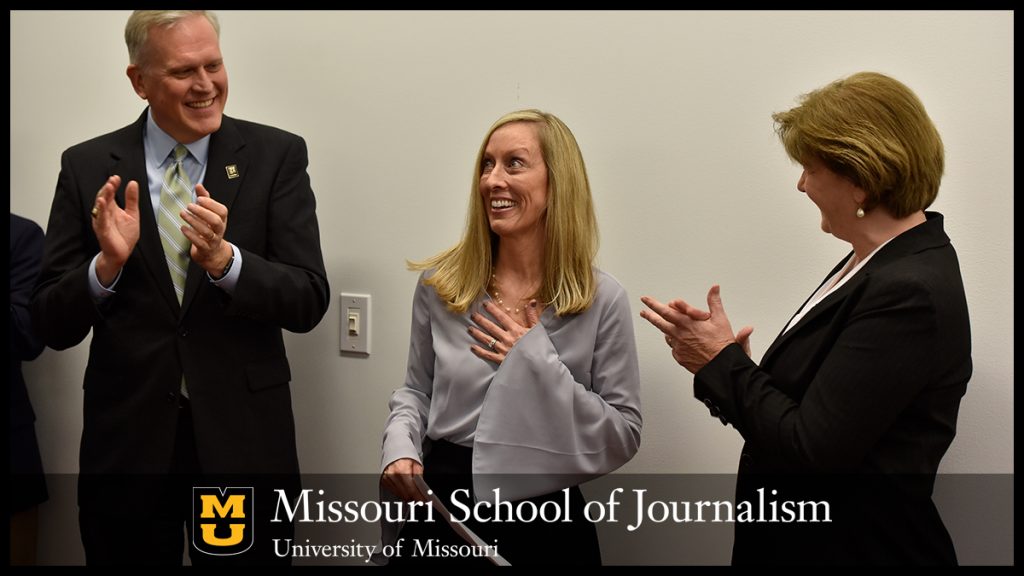 Journalism Dean David Kurpius (left) and Commerce Bank Chairman and CEO Teresa Maledy (right) surprised Shelly Rodgers, strategic communication professor, with the news that she received the 2018 William T. Kemper Fellowships for Teaching Excellence. Photo: Nate Brown
Columbia, Mo. (Jan. 6, 2022) — Shelly Rodgers' renowned research works at the convergence of advertising and communication to underserved and vulnerable populations.
"Throughout my career, I've felt a responsibility to call attention to — and try and create solutions for — situations where advertising and communication fail vulnerable audiences or don't represent them properly," Rodgers said.
She reaches those audiences in a number of ways. She has run workshops, for example, to teach STEM graduate students how to communicate their research to the public, not only for their own benefit, but for the people who sometimes find themselves at the mercy of that research: those who walk into a doctor's office and find themselves lost, unable to decipher the often complex and insular lingo of hard science and medicine, or those who are uncertain about anti-virus measures like vaccines and masks.
Another example is a recent study exposing the similarities in narratives about breast cancer versus prostate cancer in public service announcements and other health messaging, similarities that she said might do a disservice to the many differences between the two diseases and peoples' experiences with them. "They look like the same stories," she said, "and they shouldn't."
Finding the humanity in advertising
Much of Rodgers' wide-ranging research focuses on a multidimensional view of advertising, one that examines not just what is good for marketers, but what is good for the public.
"Consumers are a lot more aware of things than we give them credit for," Rodgers said. "They have a sense of right and wrong, and they have boundaries. When those boundaries are pushed too far, it hurts both the public and advertisers."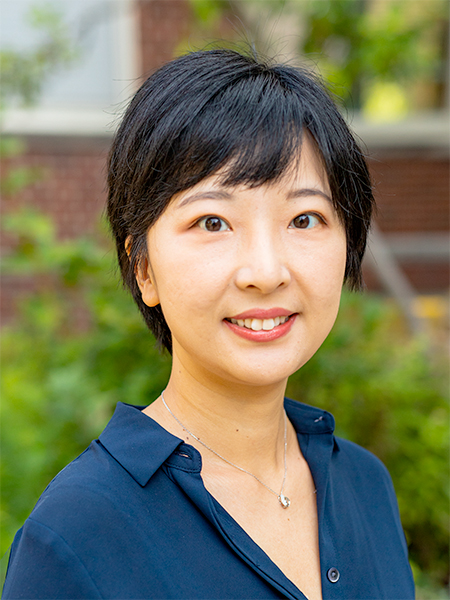 In her role as the Maxine Wilson Gregory Chair in Journalism Research, she hopes to highlight the disparities that often occur in the worlds of advertising and communication. One such study looked at how artificial intelligence on social media targets Black men and women, specifically examining how targeting by race can reinforce racial disparities and stereotypes. Rodgers and doctoral student Weilu Zhang determined that this race-based AI marketing, known as ethnic affinity targeting, can influence consumer behaviors and well-being, suggesting a need for more specific regulation of the practice.
Regardless of the project, however, Rodgers is always looking for the human perspective in the increasingly algorithm-driven world of advertising. In another recently-published study, she worked with doctoral student Evgeniia Belobrovkina to examine how LGTBQ+ people are portrayed in targeted marketing.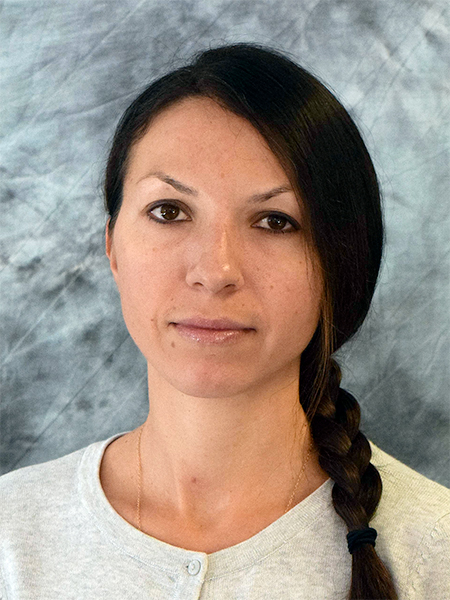 The study was part of a larger project advocating for the use of photovoice — in which participants take photographs and add brief narratives to the images to bring attention to issues in their communities — in advertising research.
"Photovoice was originally a method for public health research, especially for vulnerable or marginalized groups," said Belobrovkina. "But we felt very strongly that the method could be used to get important perspectives on how people are represented in advertising, especially from groups that can be hard to reach. In advertising, one of those groups is the LGBTQ+ community, because they tend to not trust researchers."
As a kind of proof-of-concept, the researchers adapted the photovoice method to study LGTBQ+ representation by instructing participants (all identifying as LGBTQ+) to photograph advertisements that they felt were either ethical or unethical for any reason. When the participants were asked to discuss their images, the results surprised both Belobrovkina and Rodgers.
"I was blown away by the concepts that came through," Rodgers said. "Advertisers are stuck in stereotypes from the 1970's about these communities."
Belobrovkina noted a particularly revealing example of a targeted ad for plain, flat sandals on social media, which one woman felt played on a dated stereotype of lesbians prizing comfort over fashion.
"This woman felt the ad was telling her that if she's a lesbian, she can't look beautiful — that she's supposed to wear plain shoes," Belobrovkina said.
Rodgers and Belobrovkina are working on a more in-depth paper on LGBTQ+ stereotypes in advertising that they hope will raise awareness among marketers of the need for change in the industry's depictions of the community.
But regardless of the project, what unites everything Rodgers does is the knowledge that communication is powerful, that it can bridge gaps between industries and the communities they serve and can change lives.
"The research that I've done over the last two decades, from examining potential bias in news reporting to discrimination caused by ethic affinity targeting from AI, has tried to point out these issues related to inclusion, diversity, and equity to the worlds of academia and industry. This is work I'm passionate about and there is still a lot to be done."
Updated: January 6, 2022
Related Stories
Expand All
Collapse All
---